News
Latest updates from the campaign:
Tuesday, October 27, 2020 10:01 PM
10/27: FRIDAY IS SIGN & (AMERICAN) FLAG WAVING DAY! This Friday will mark four days until the election. Please join us downtown if you can.
This time will be even more fun, because WE'LL ALL HAVE AMERICAN FLAGS TO WAVE!! Let's get REALLY patriotic here! This country is about ALL our voices. Let's make sure our message about the future of America and the power of voting is heard loud and clear. Sebastopol has a 54% voter turn-out (as of yesterday). Let's make it 100%!!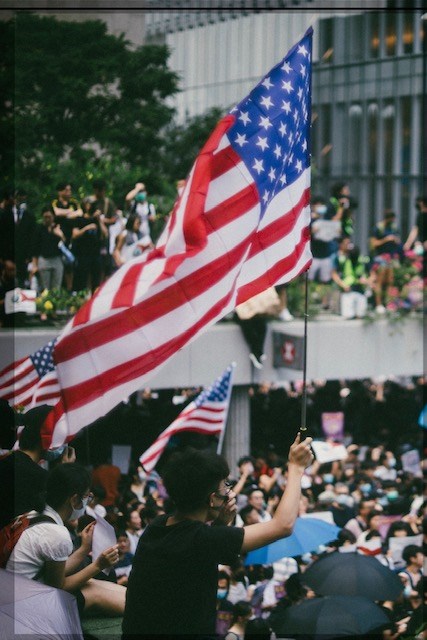 ---
Monday, October 26, 2020 4:13 PM
10/26: EMERGENCY PREPAREDNESS CLASS WED 10/28 -(Posting includes video.) Learn about Map Your Neighborhood. Terrific program.
Reach out to Skip Jirrels (Sebastopol Public Safety Outreach Coordinator) for information and to register. sjirrels@cityofsebastopol.org.
---
Monday, October 26, 2020 3:08 PM
10/26: PROPOSITION CONFUSION? Check out my recommendations. I did a deep dive and ....
... attempted (with relative success) to arrive at some clarity about the 2020 propositions.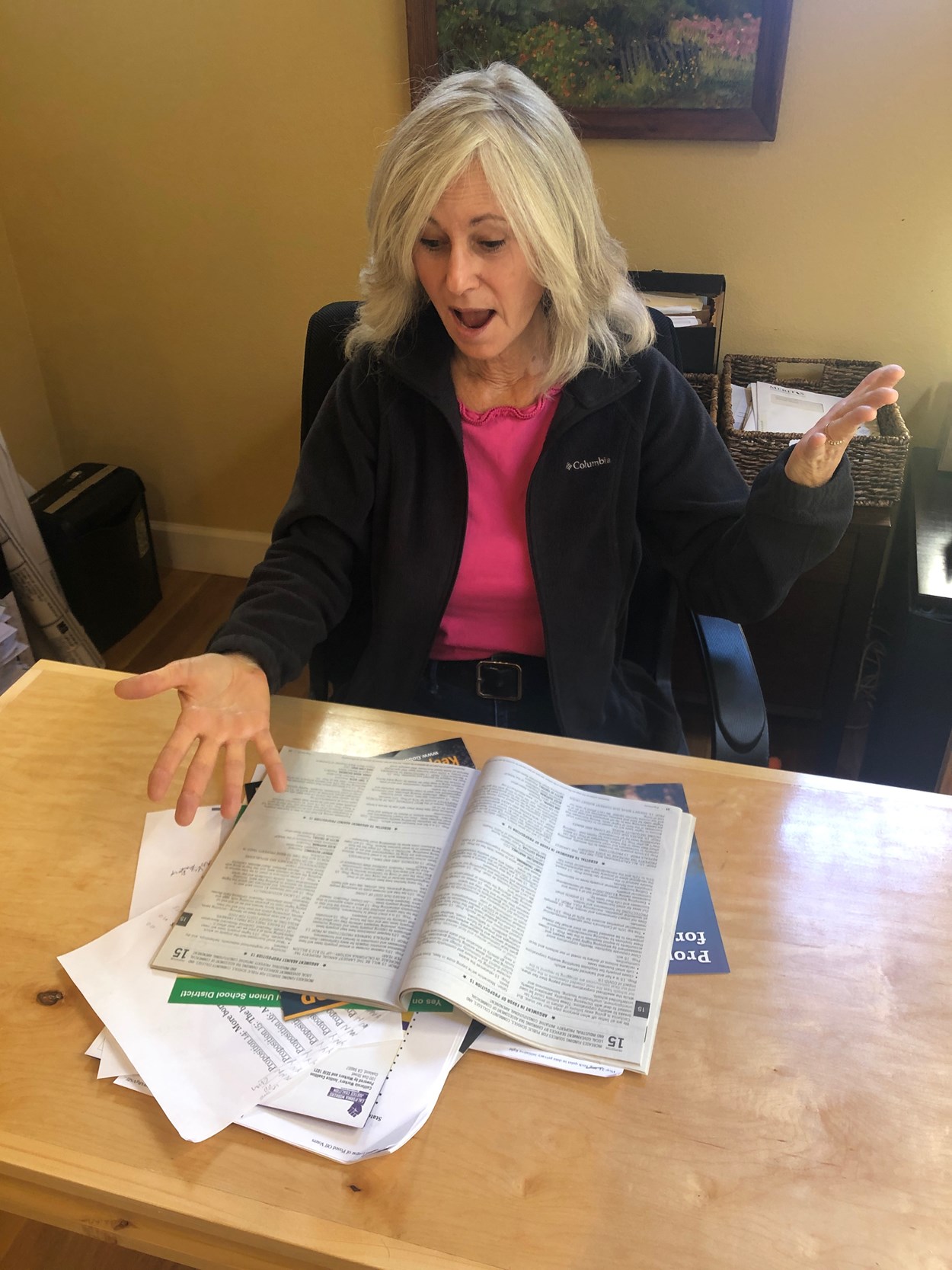 ---
Sunday, October 25, 2020 4:49 PM
10/25: FRIDAY IN DOWNTOWN SEBASTOPOL. Talk about democracy. Quite a mix of voices and opinions (and even some music)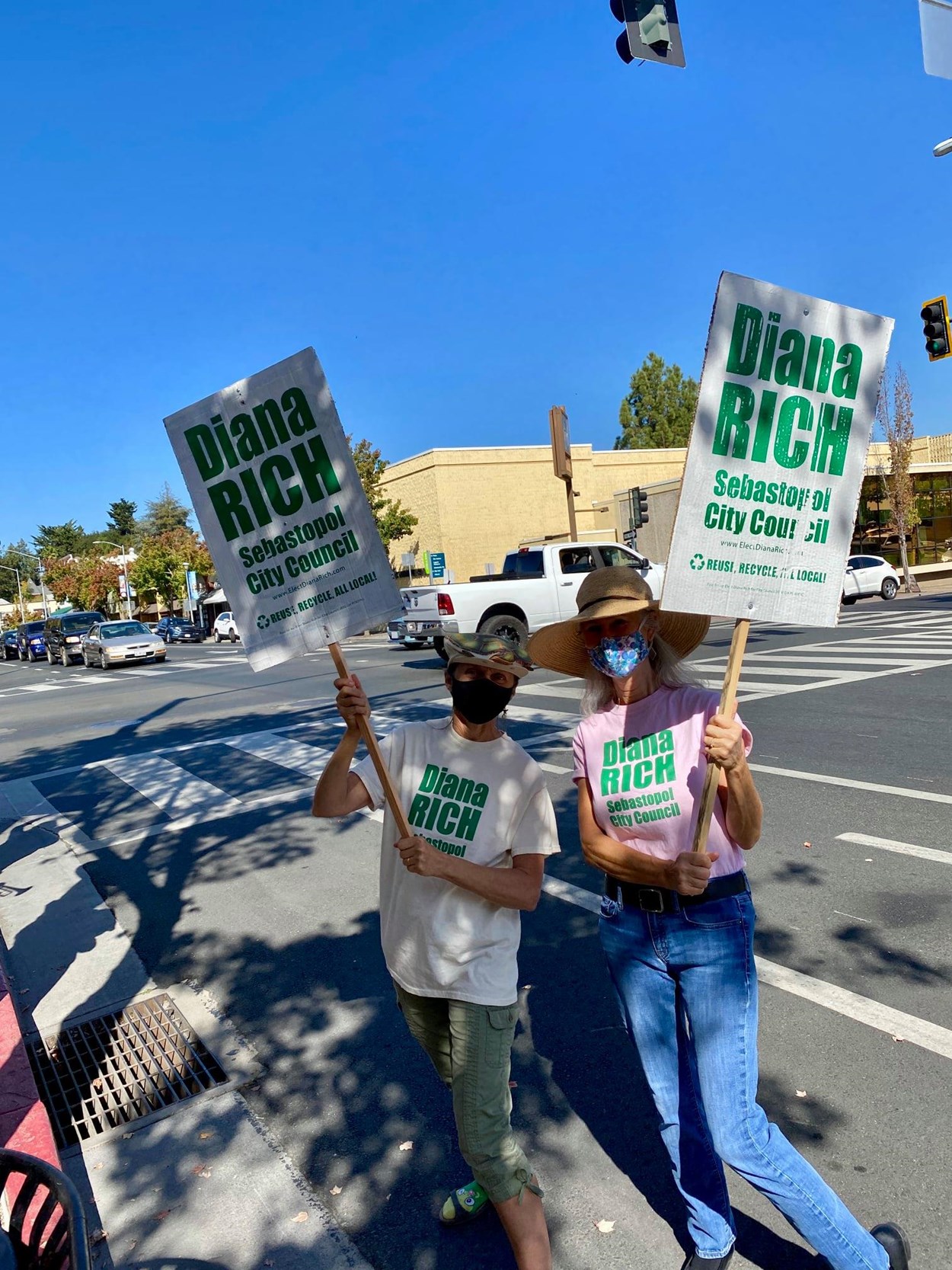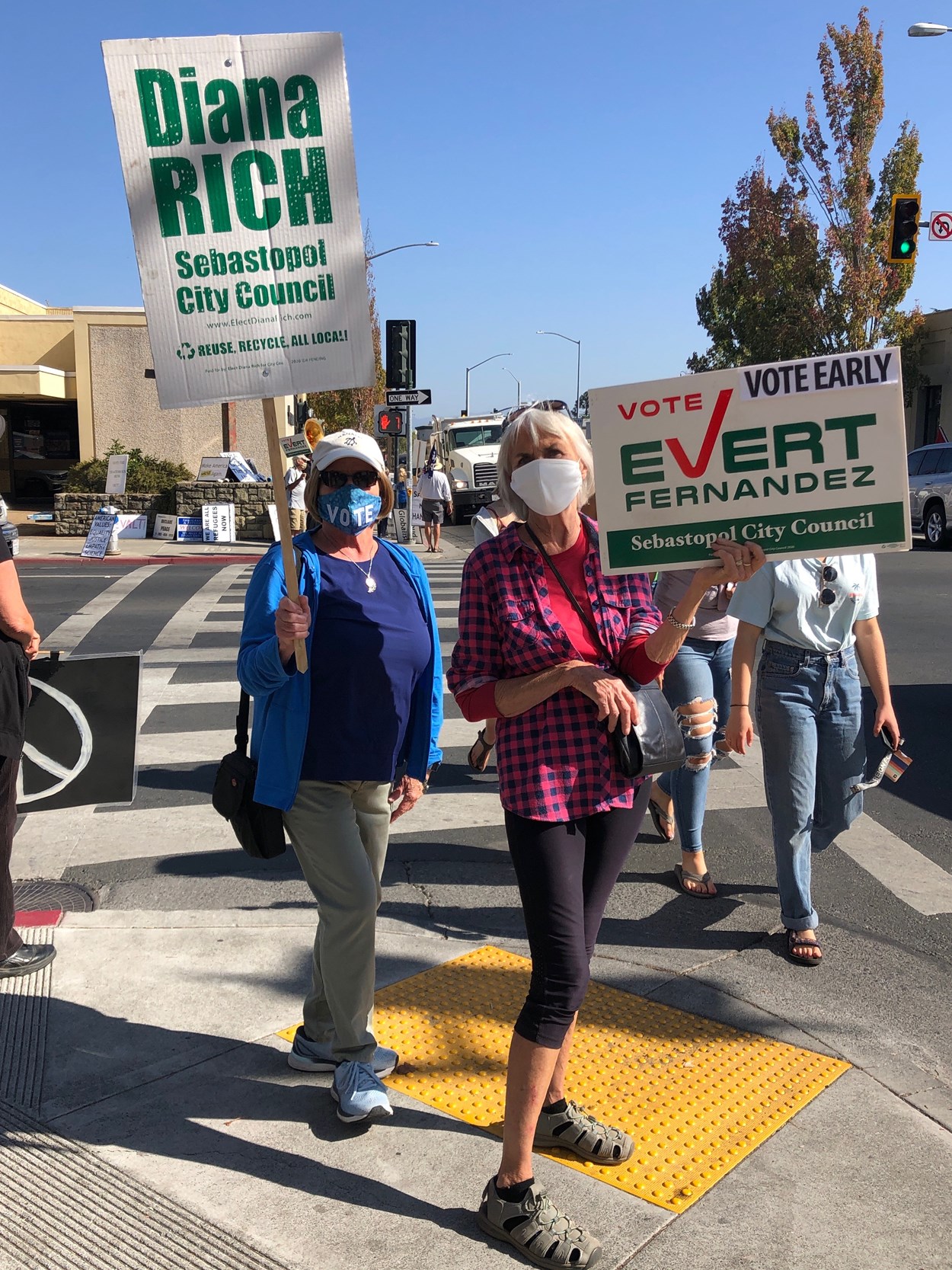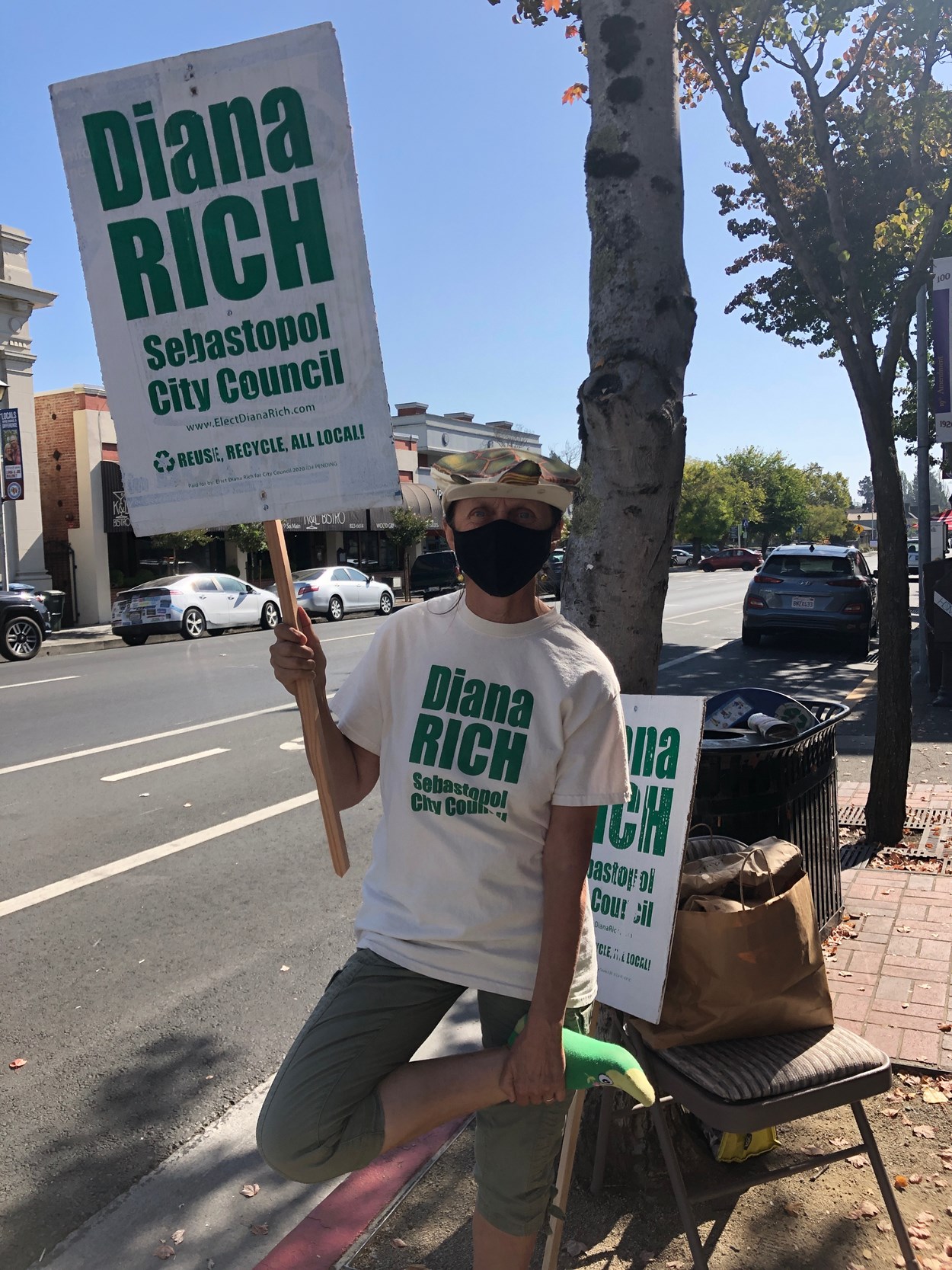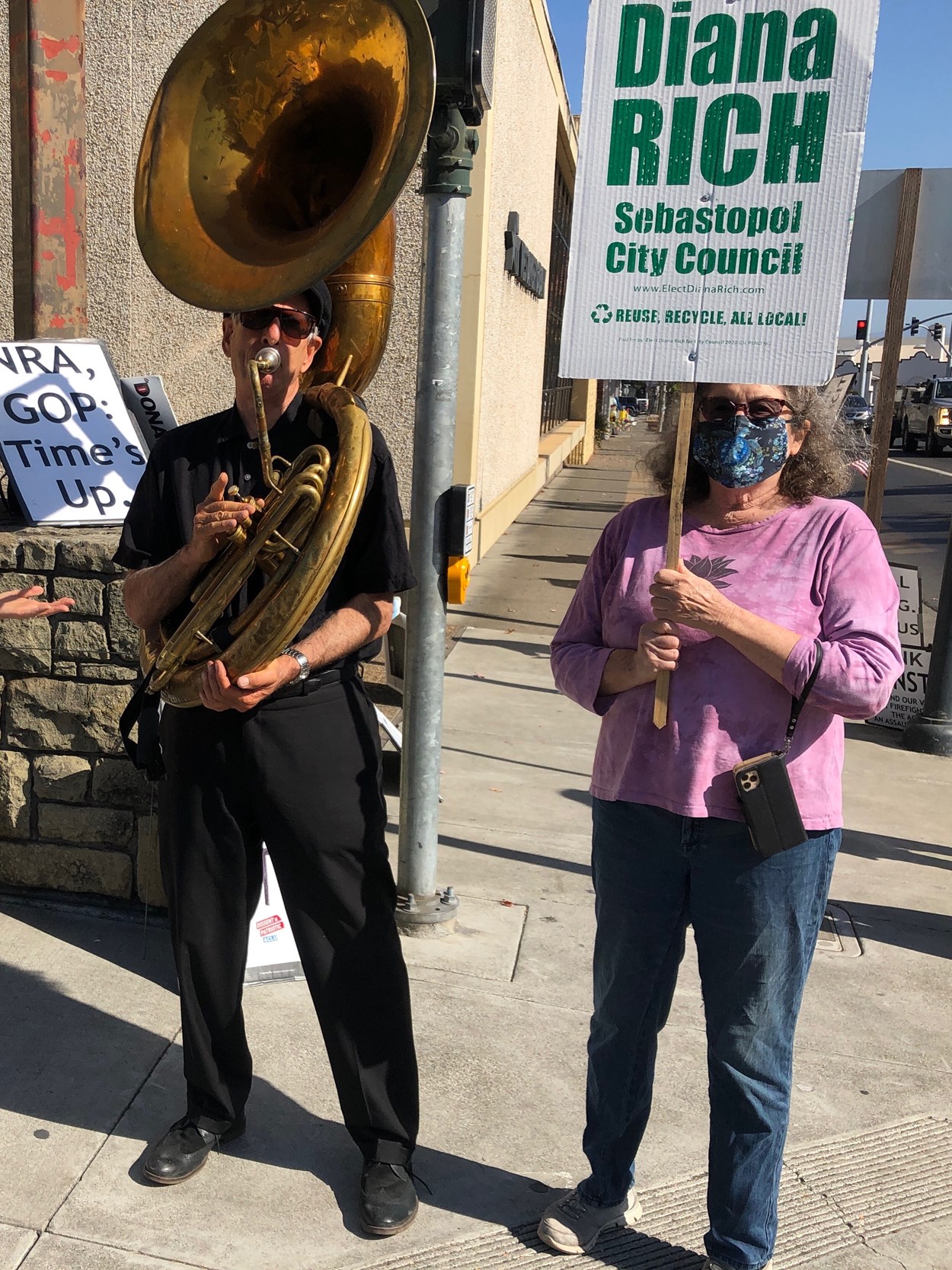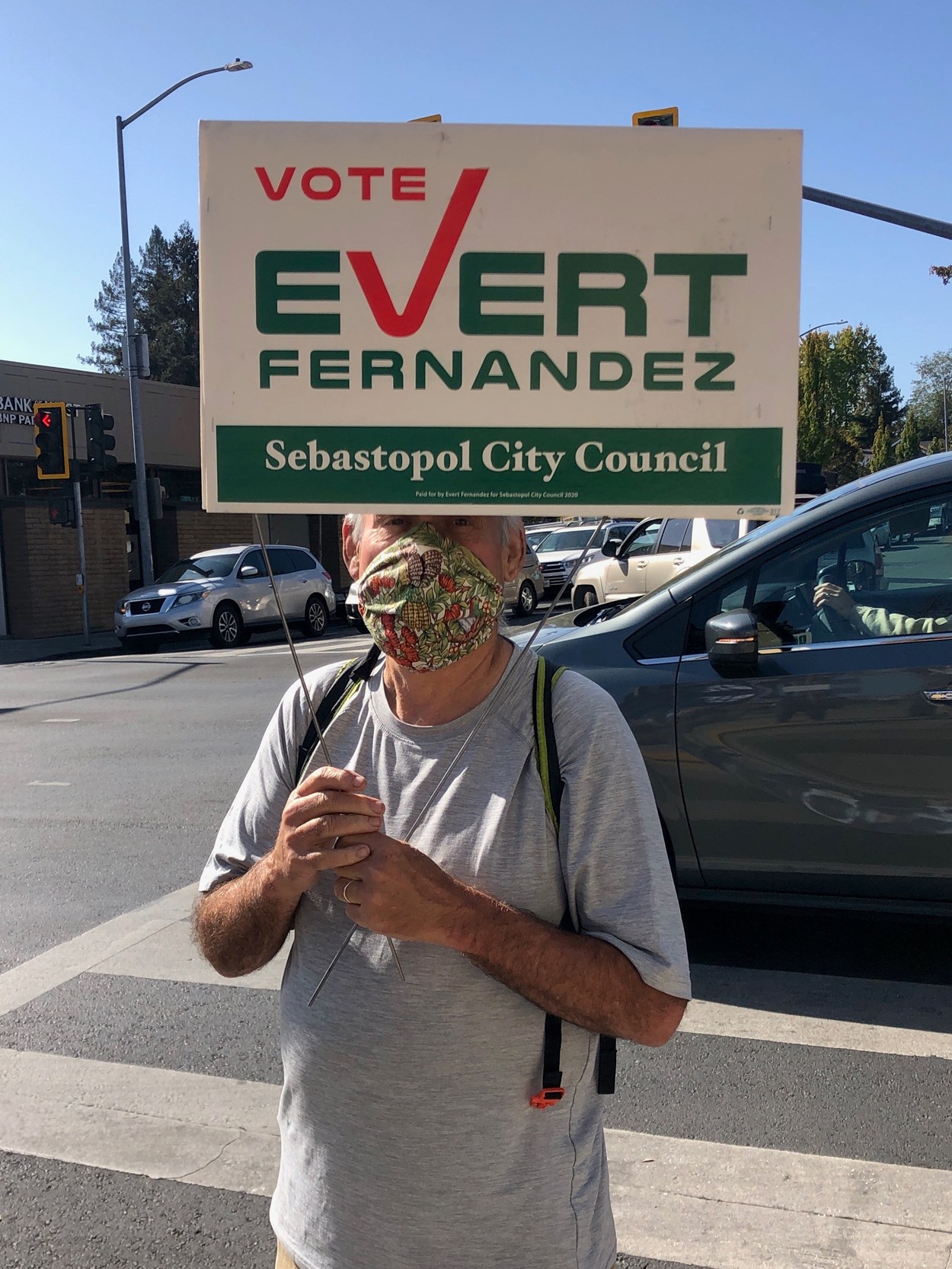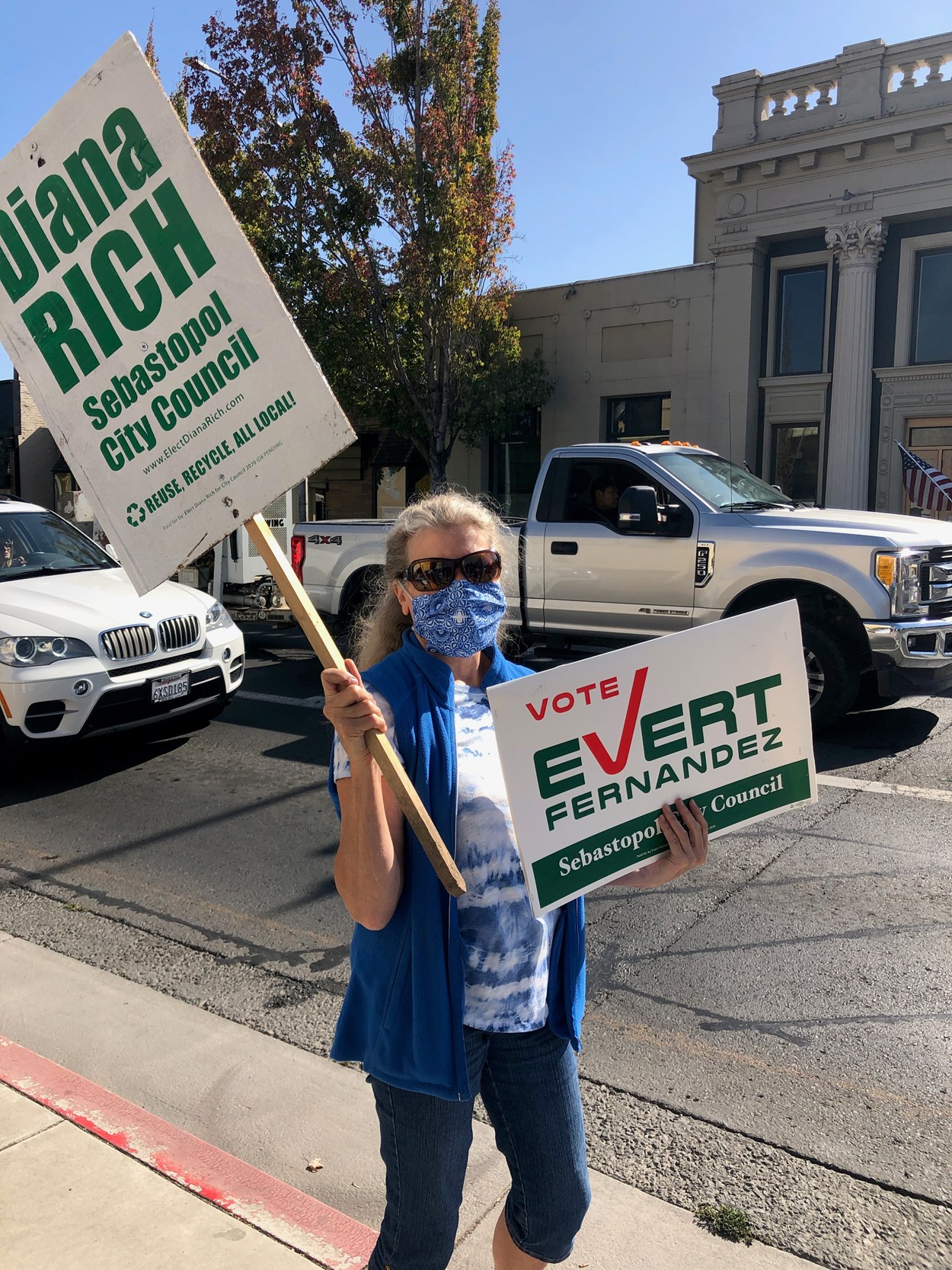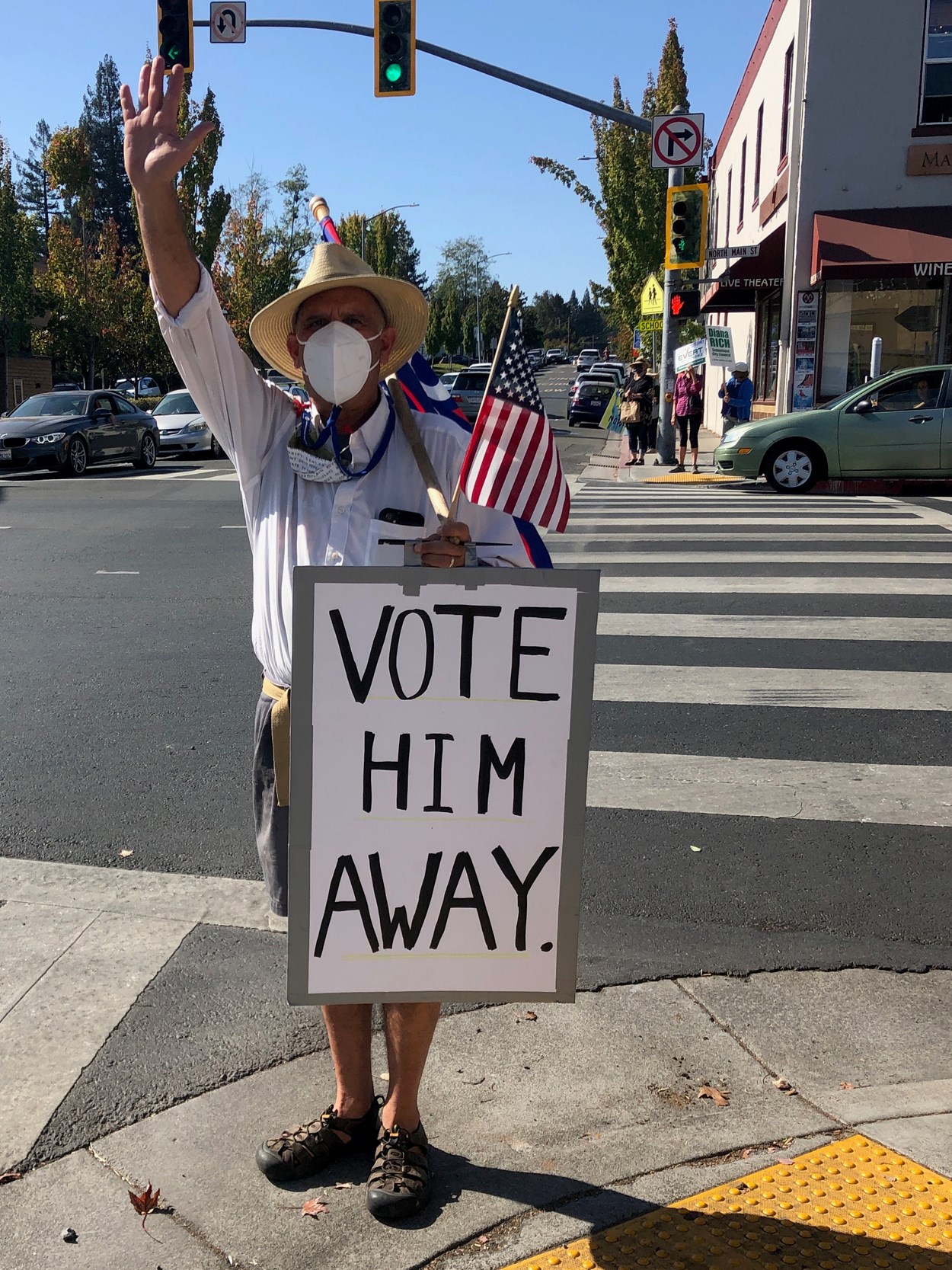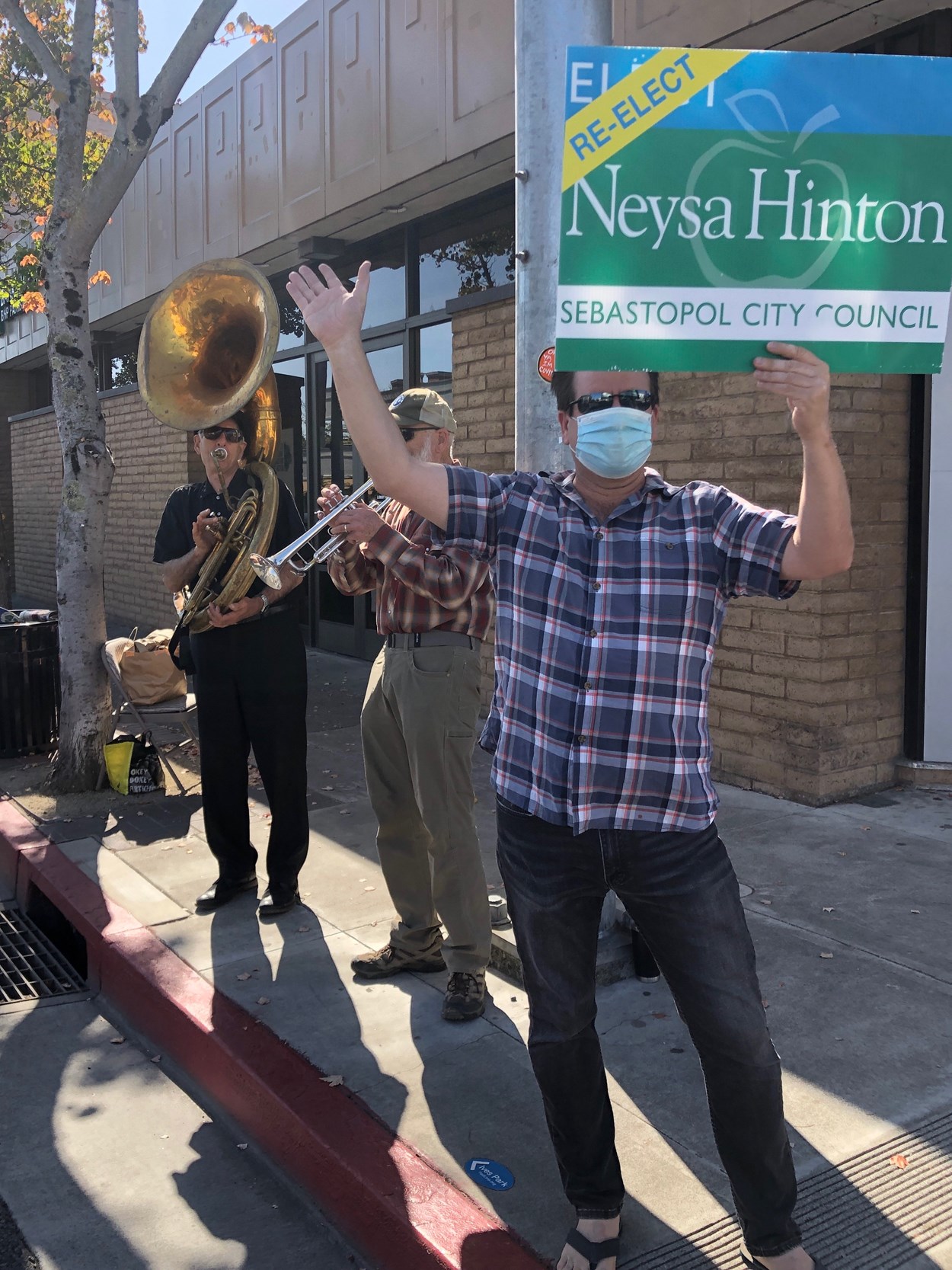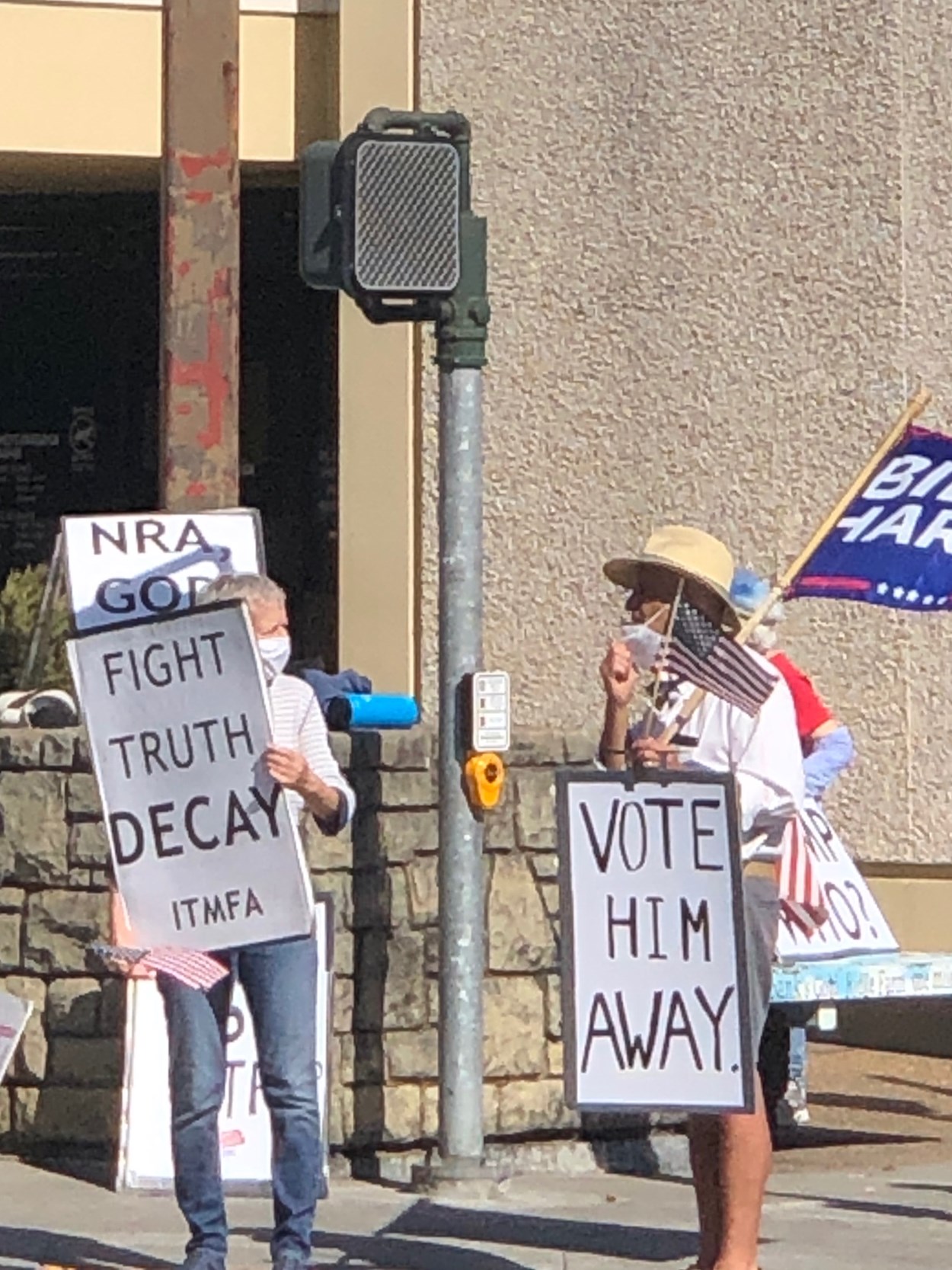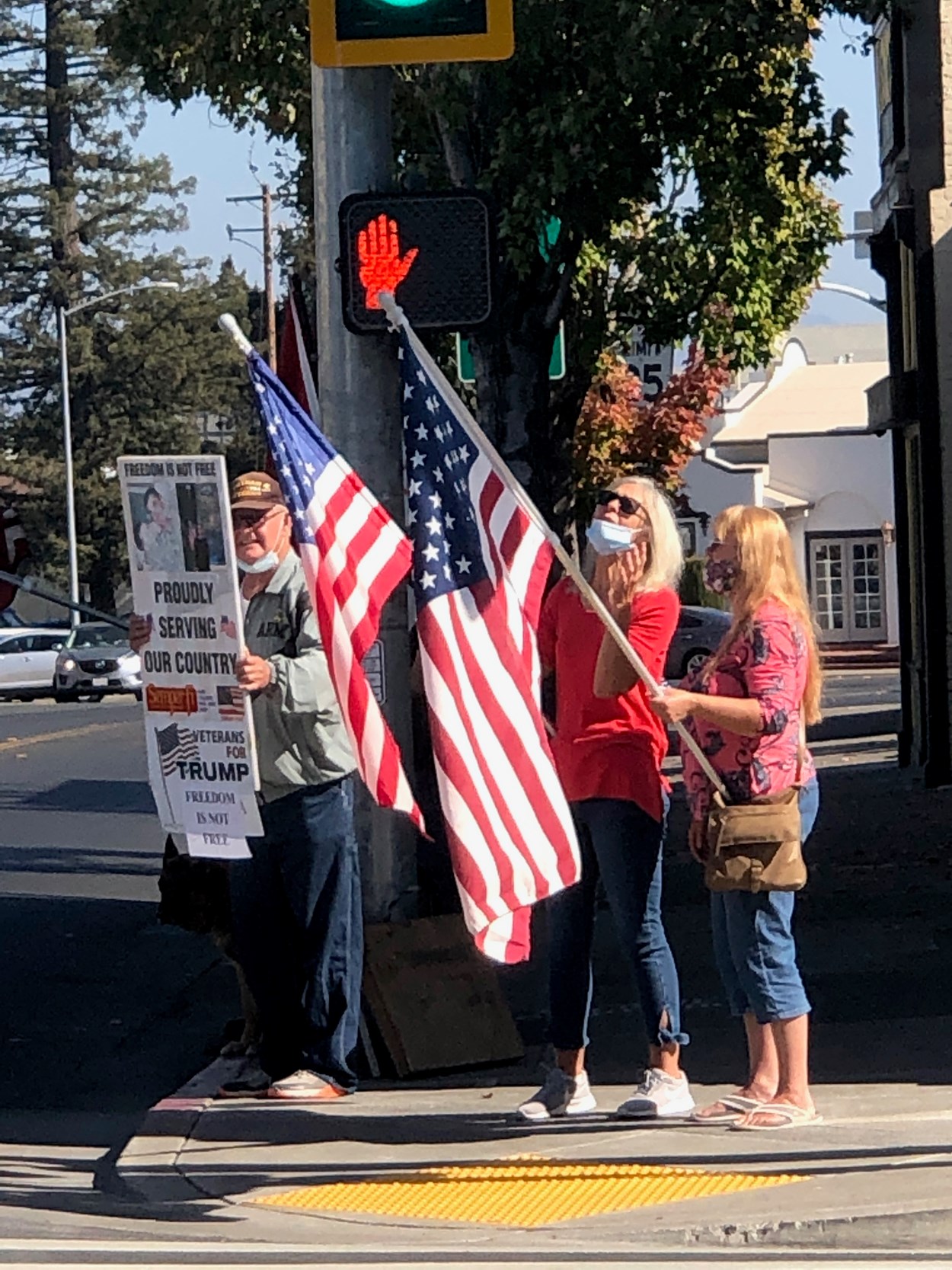 ---
Saturday, October 24, 2020 4:43 PM
10/24: TINY HOME VILLAGE. Creative housing solutions, anyone?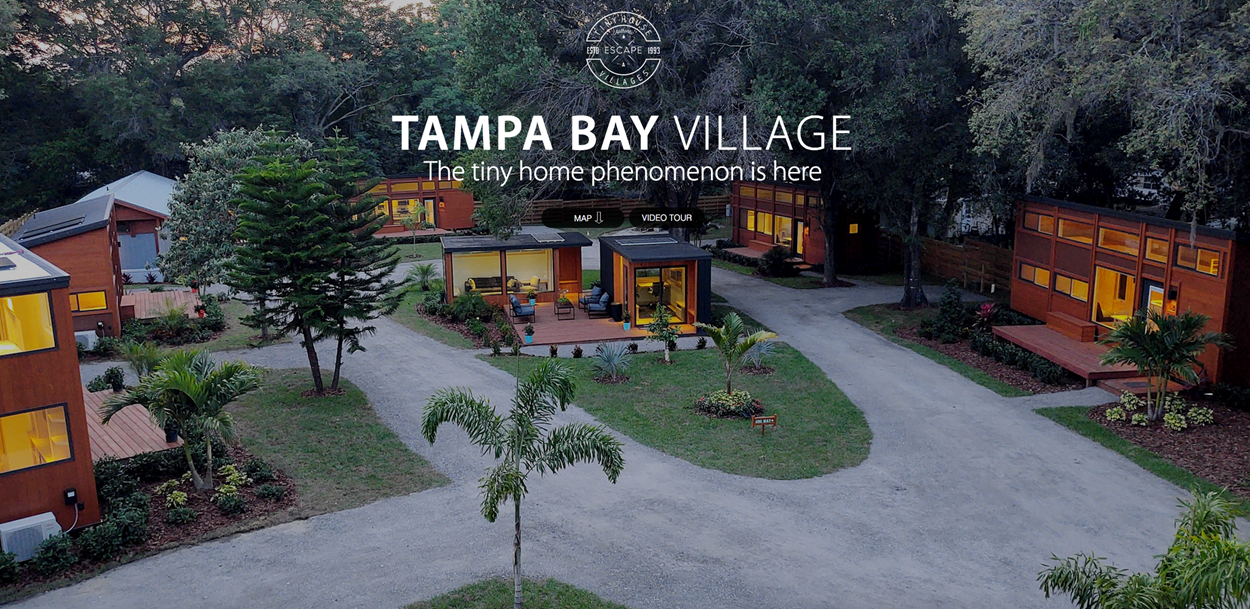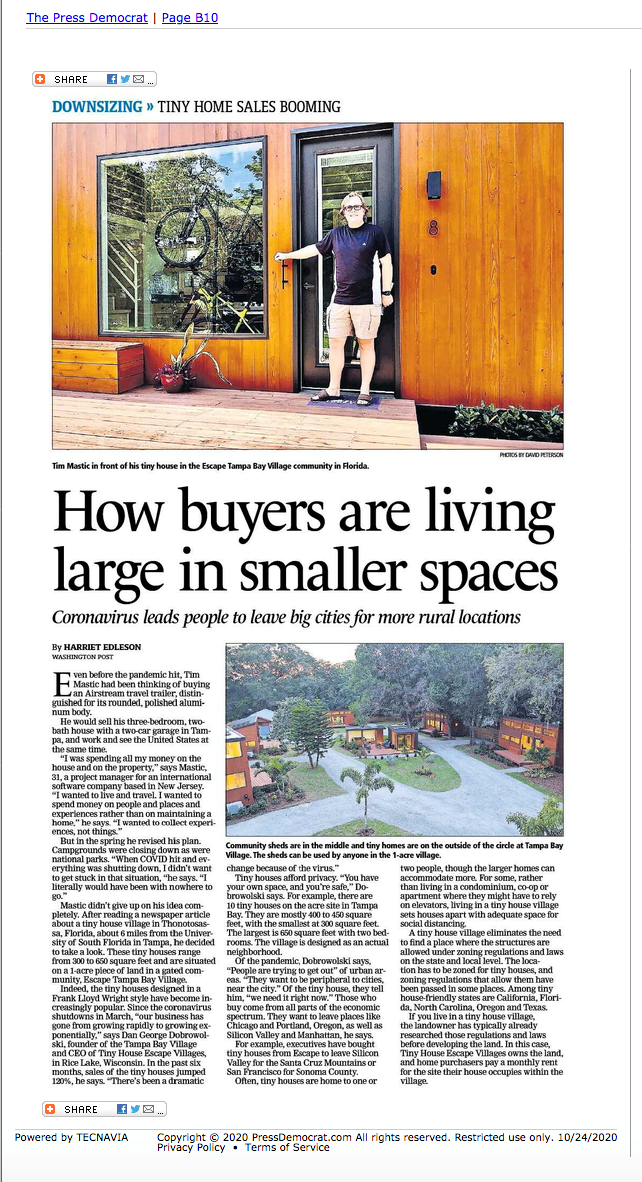 ---
Friday, October 23, 2020 4:41 PM
10/23: HIGH SCHOOL CONSOLIDATION? Two upcoming meetings: Oct 28 and Nov 4.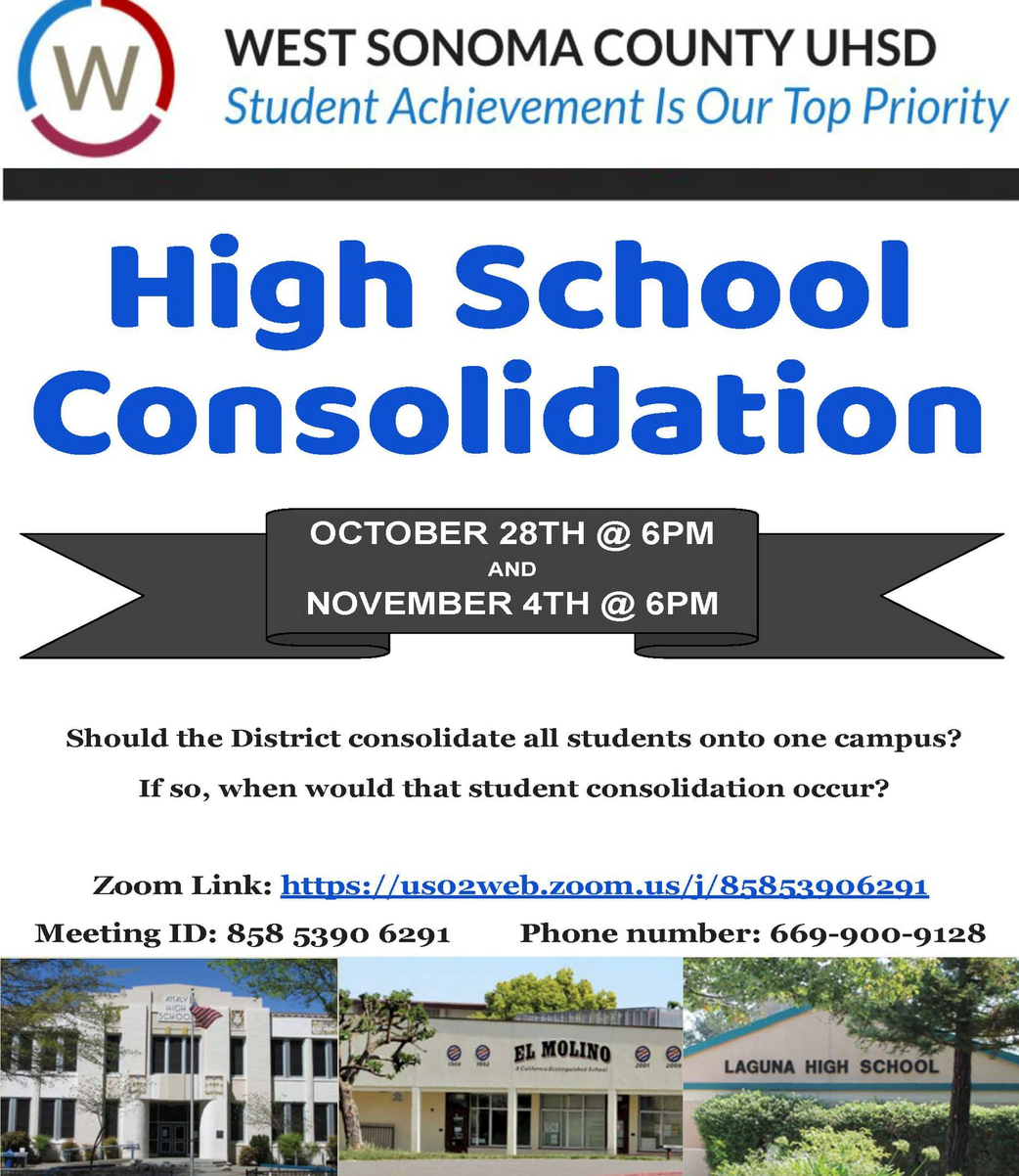 ---
Friday, October 23, 2020 2:17 PM
10/23: VOTING PROCESS & SECURITY. Are you wanting information about the 2020 voting process and security? Check out the resources...
....on my webpage here.
---
Friday, October 23, 2020 2:14 PM
10/23: HOW MANY BALLOTS HAVE BEEN PROCESSED? As of yesterday (October 22), 38% of Sebastopol City voter ballots had been processed. That's about....
...2100 out of the total 5566 registered voters in the City of Sebastopol. It turns out that compared to prior years, that's a big number with 12 days left to the election. But, looked at another way, there are about 3500 Sebastopol City voters who still need to turn in their ballots! Please get the word out...people need to vote NOW.
---
Thursday, October 22, 2020 5:12 PM
10/22: SIGN WAVING TOMORROW! Yes, we're doing it again downtown tomorrow from noon to 1pm and from 5pm to 6pm. Join us!
Meet at the corner in front of Bank of the West. Campaign t-shirts (optional) and signs provided. It's a super fun way to encourage our locals to VOTE, VOTE, VOTE!!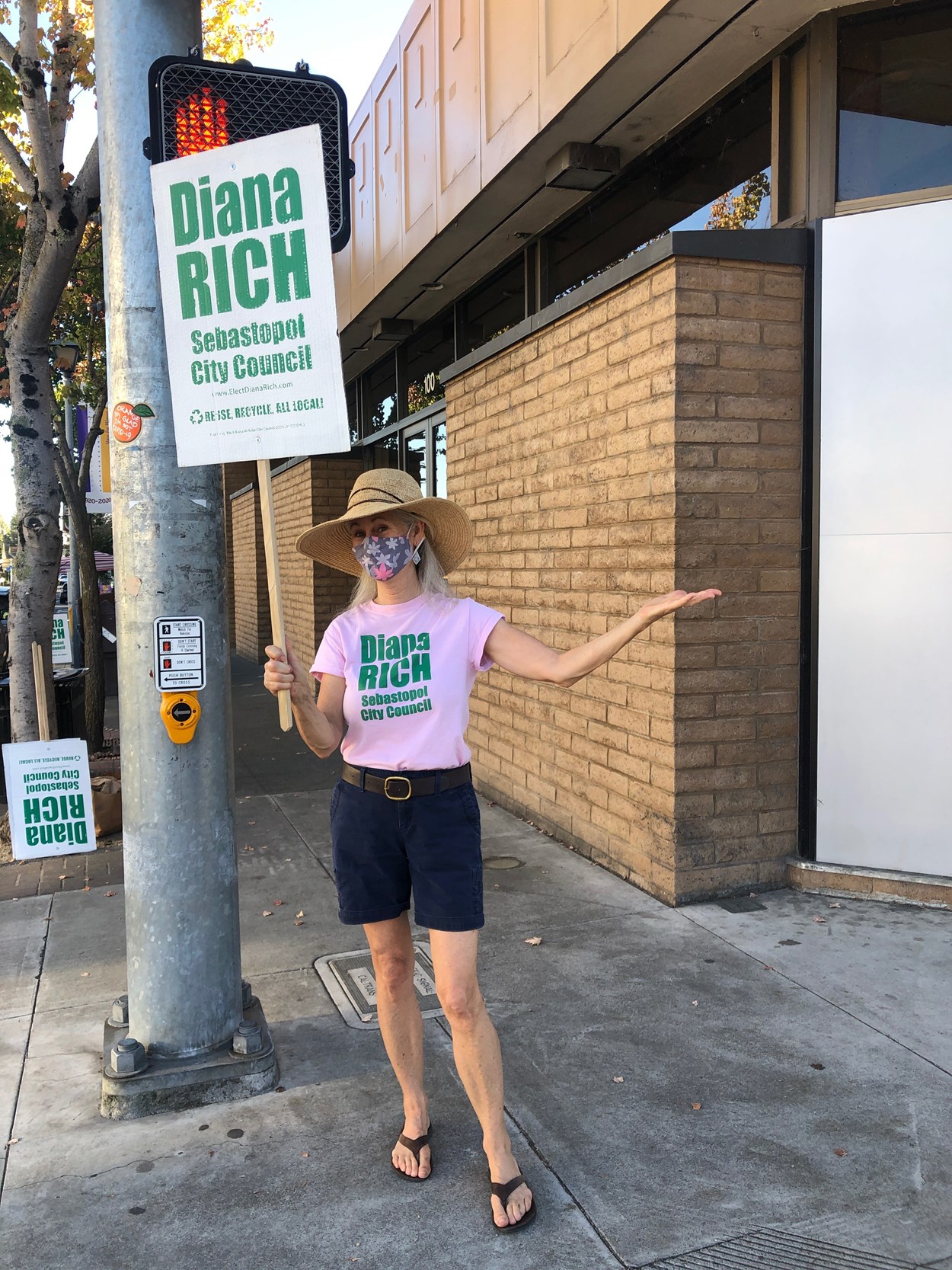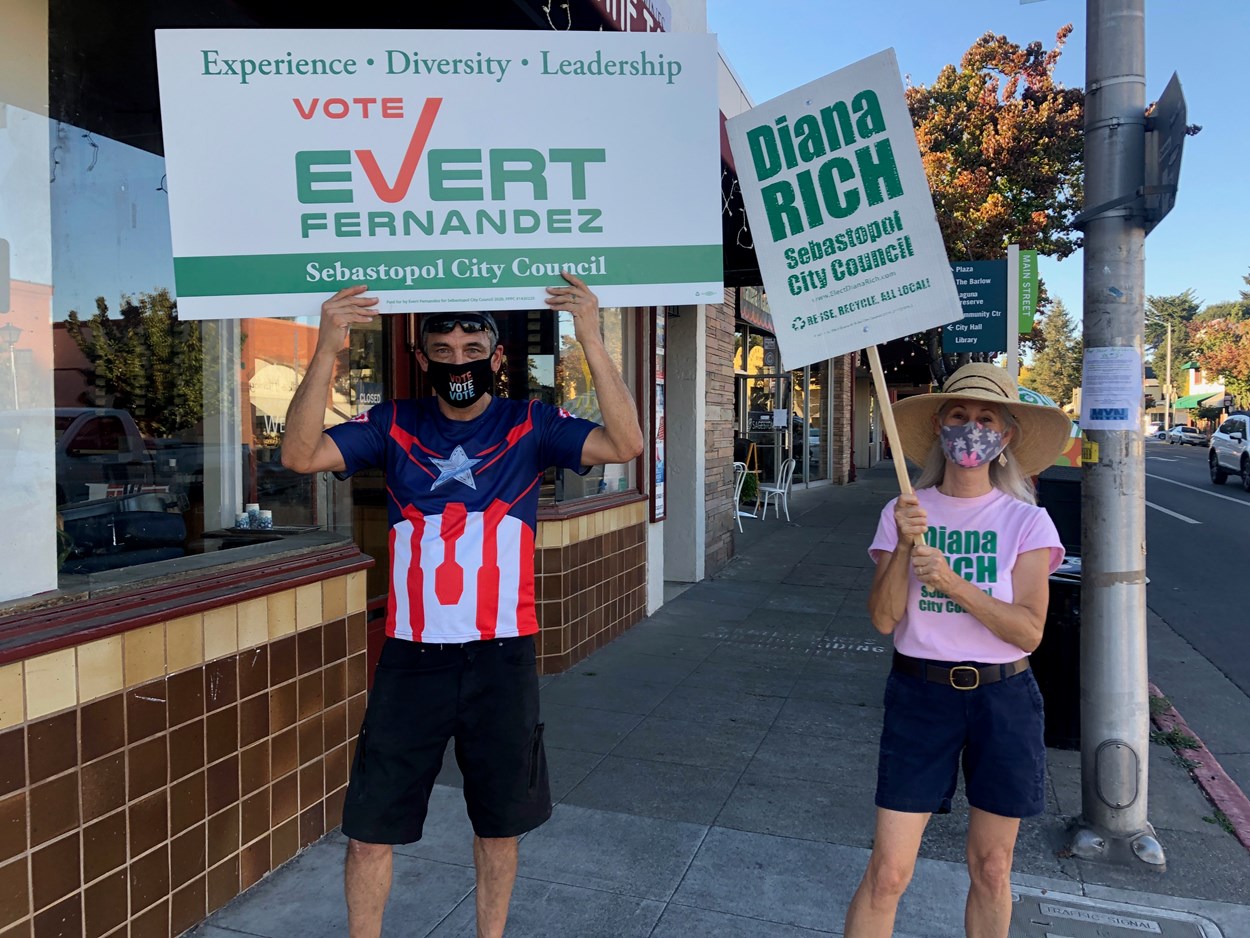 ---
Wednesday, October 21, 2020 7:48 PM
10/21: GREEN NEW DEAL & NO FOSSIL FUEL MONEY PLEDGE: Proud to report that I signed both!
Thank you to Sunrise Analy High School for introducing me to these very worthwhile commitments.
---
Wednesday, October 21, 2020 1:37 PM
10/21: CANDIDATES FORUM THIS FRIDAY@6pm. This is the last one scheduled.
Moderated by KOWS radio host Laura Goldman. Listen live online at KOWSFM.com/listen. (Format will be radio-only in real time, with a zoom video available for review later.) See you there!!

---
Tuesday, October 20, 2020 9:00 AM
10/20: PROPOSITIONS. Looking for my perspective? Check out the website's Issues/Propositions page....
It includes a list of resources you can use to educate yourself. Remember to make your own decision, and vote as you see fit. Independent thought, informed and prepared to take responsibility for individual actions and consequences, will get us the best results!!
---
Tuesday, October 20, 2020 7:00 AM
10/20: ENDORSEMENT by Barry Cherkov of WaccoBB.net. Thanks!!!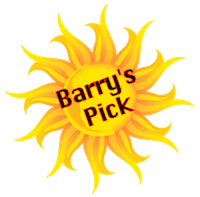 ---
Monday, October 19, 2020 7:00 PM
10/20: VOTING INFO from Senator Mike McGuire. This Wednesday Oct 21 at 6pm. Register now.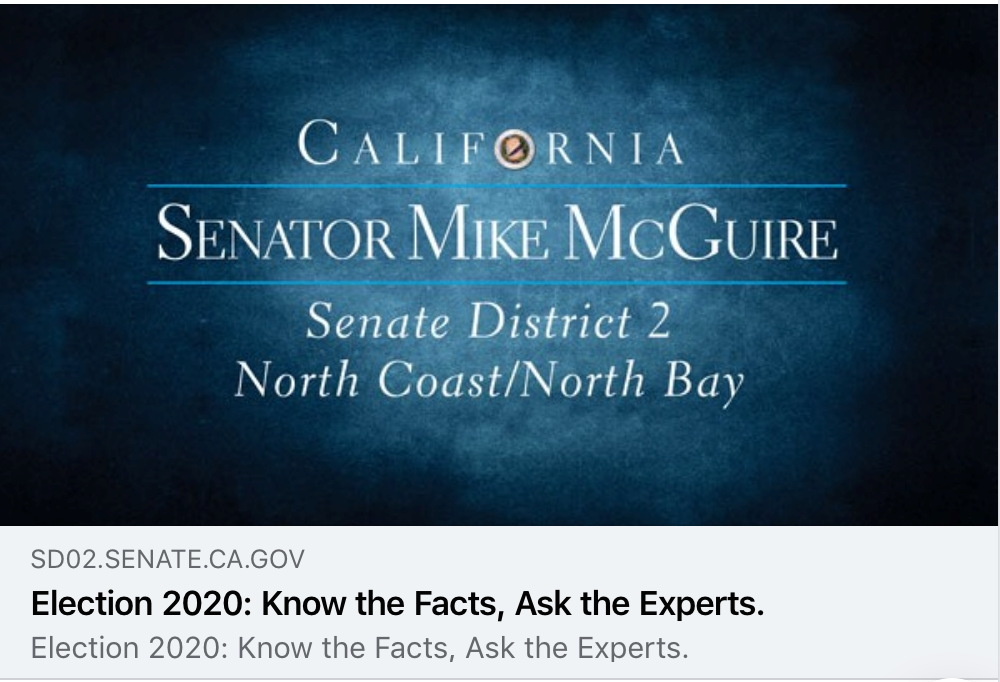 ---
Sunday, October 18, 2020 8:00 PM
10/18: YES ON MEASURE P TOWN HALL. Check out the video...
Moderated by Santa Rosa City Councilmember Chris Rogers, with our own Supervisor Lynda Hopkins participating, along with Supervisor Shirlee Zane, Councilmember Olvaldo Jimenez, and past IOLERO director (and Sebastopol resident) Jerry Threet, who is undertaking our local police audit.
---
Saturday, October 17, 2020 10:00 AM
10/17: SONOMA WEST TIMES. Thanks for helping voters learn about the candidates! Read the article...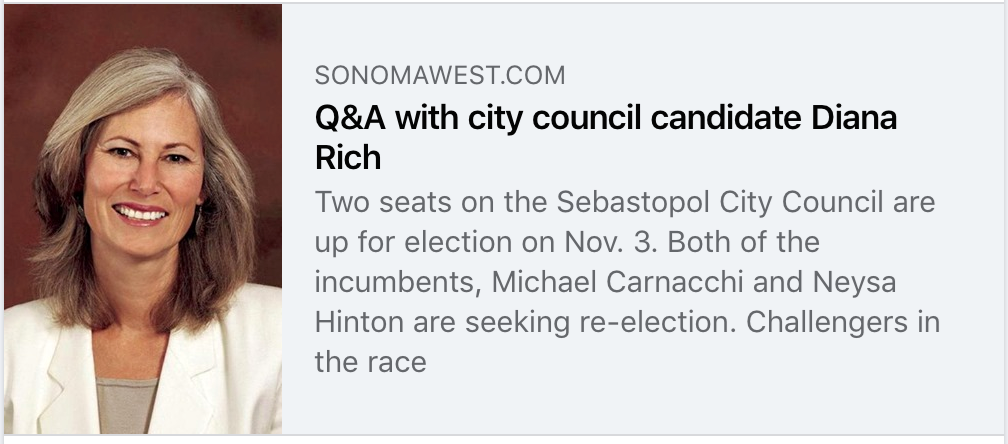 ---
Wednesday, October 14, 2020 11:16 PM
10/14: GET OUT THE VOTE SIGN WAVING - MORE!! It was SO hot today!!
GET OUT THE VOTE SIGN WAVING - MORE!! It was SO hot yesterday!! Lots of people waving and honking and smiling. Very encouraging! Join us Friday? Noon-1pm and 5-6pm. Fridays are fun - lots of activity downtown (but plenty of space for social distancing). Thank you Sebastopol!!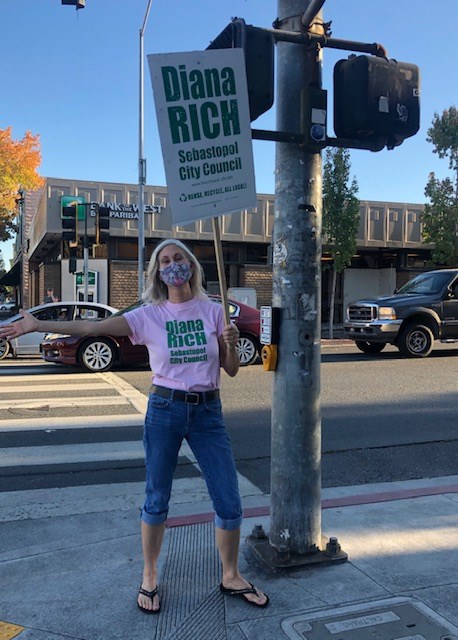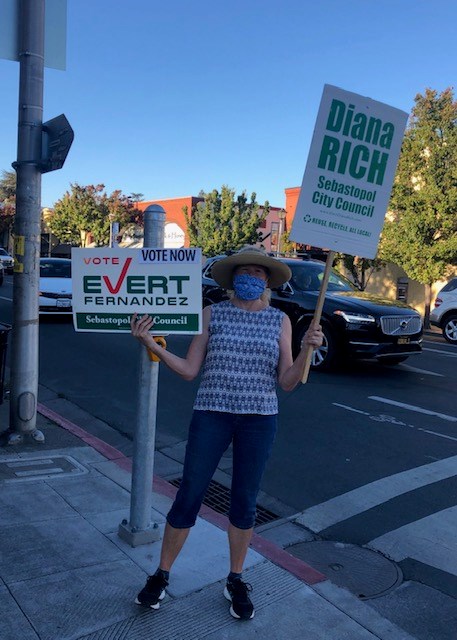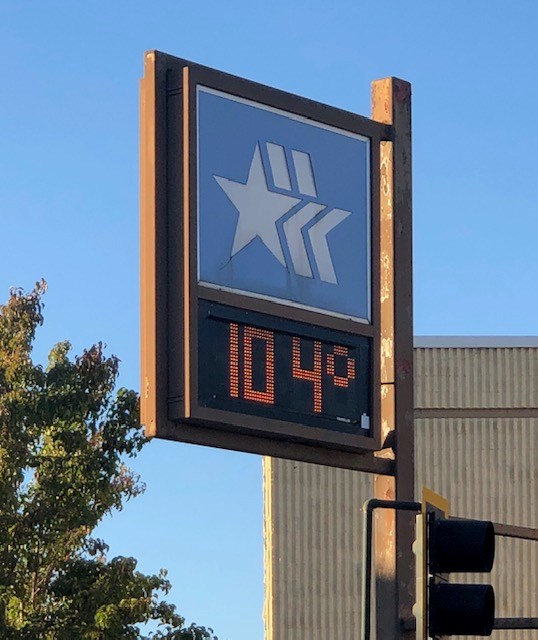 ---
Tuesday, October 13, 2020 12:40 PM
10/13: ANOTHER DEEP DIVE INTO THE PROPOSITIONS. Different perspective. Not saying I agree with everything here, but it's helping to educate me about t
Hope it does the same for you. Any input? Feel free to share. (As an aside, I do REALLY like the name of this organization...)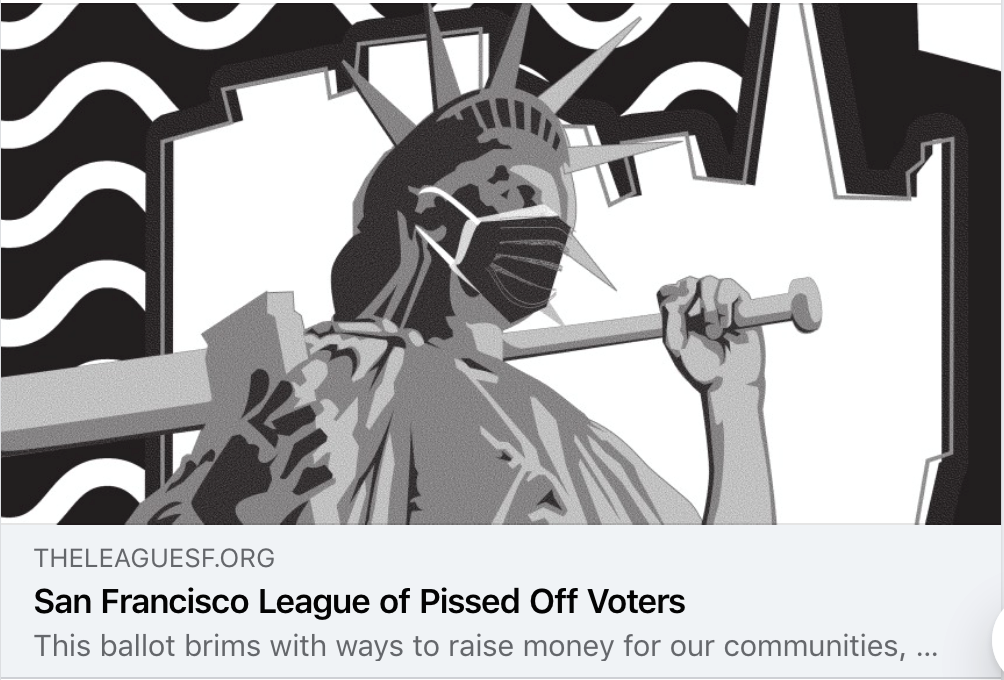 ---
Monday, October 12, 2020 12:13 PM
10/12: NEXT UP: GET OUT THE VOTE SIGN WAVING THIS WEEK! Wed Oct 14 & Fri Oct 16 (11:45am-12:15pm & 4:45pm-6:15pm)
Meeting Place: Downtown, in front of Bank of the West
Bring: Your mask and a fun attitude (yes, eyes can smile!)
Provided: T-Shirts & signs (we'll hand them out there)
Social Distancing? Of course! Safety first, folks
RSVP? Not required, but very much appreciated.
Was Last Friday Fun? Yes, SO fun!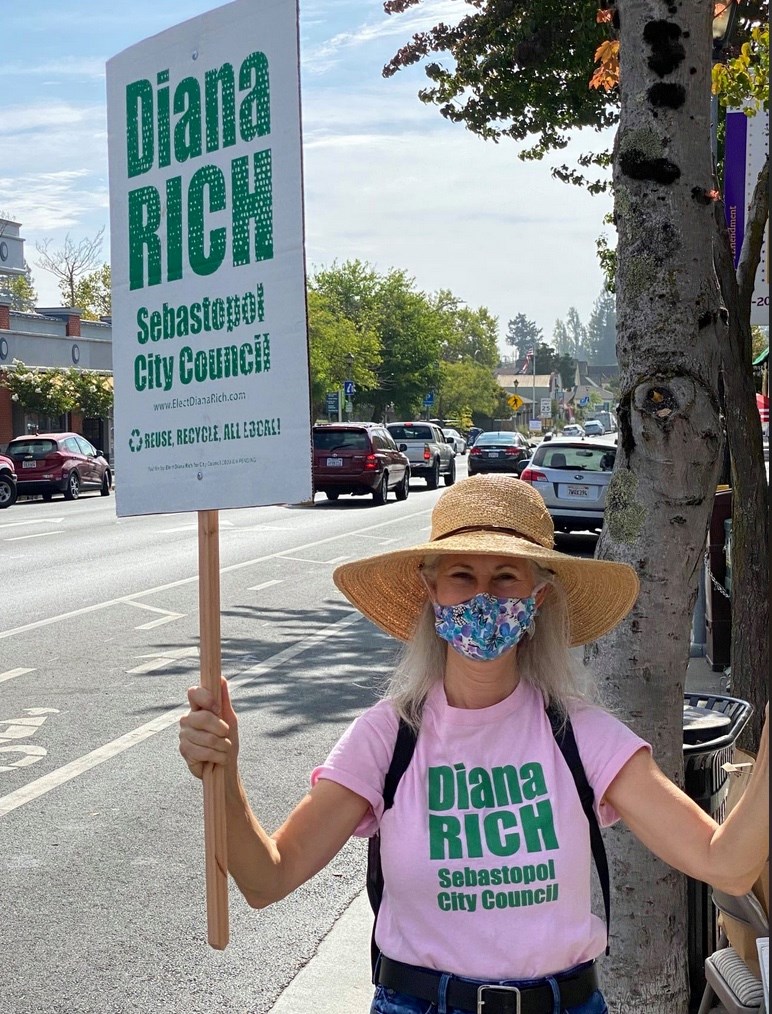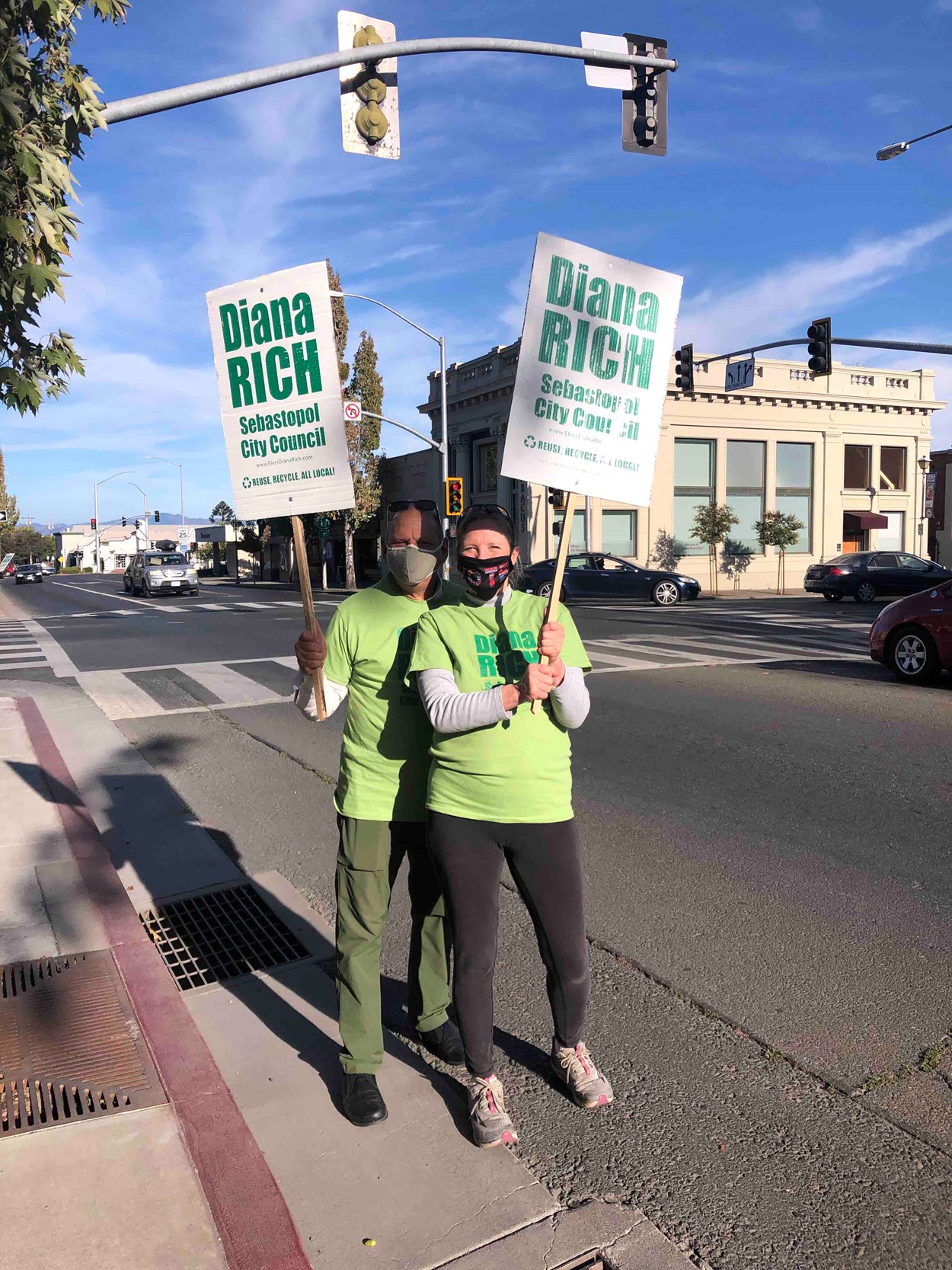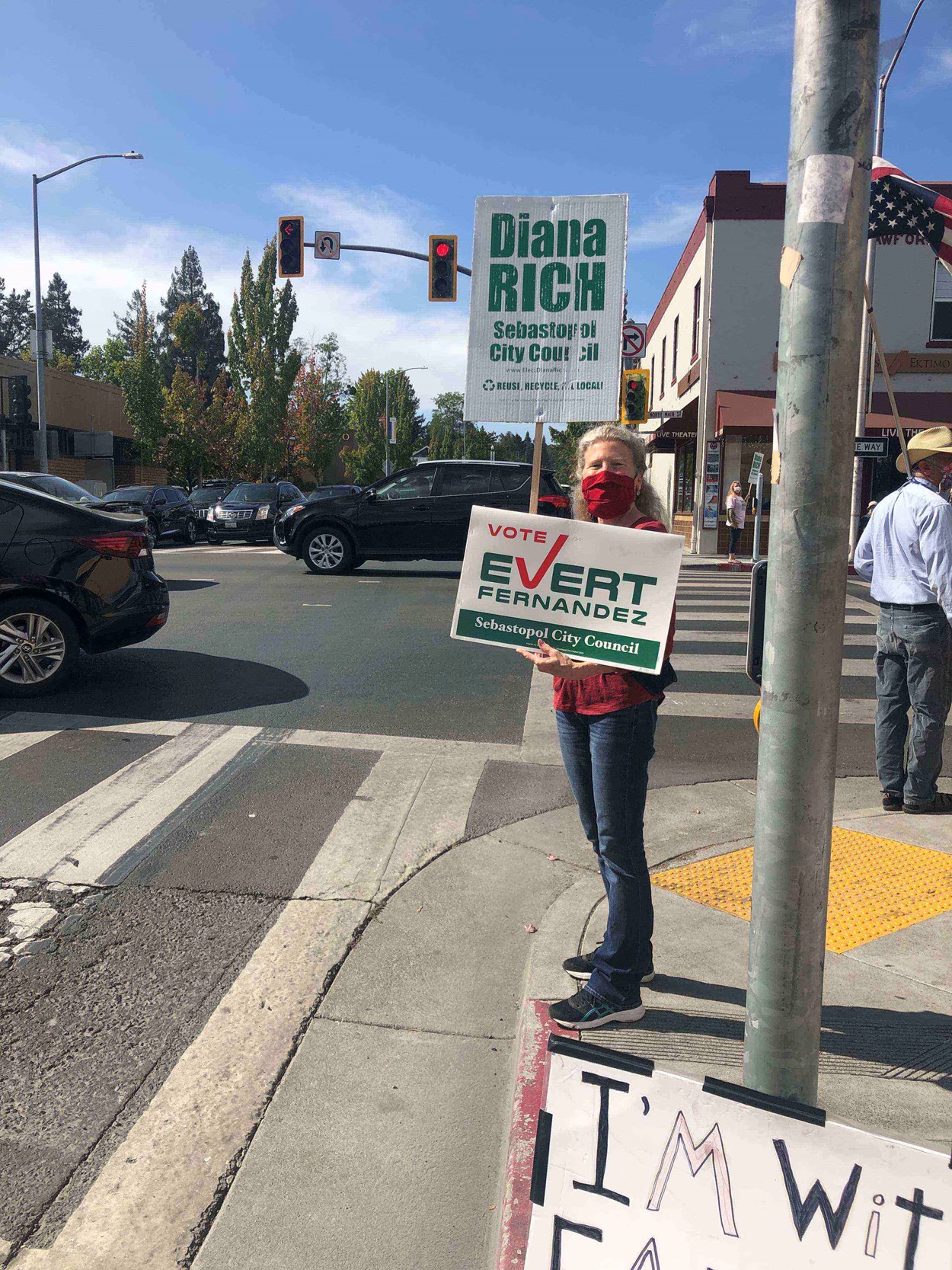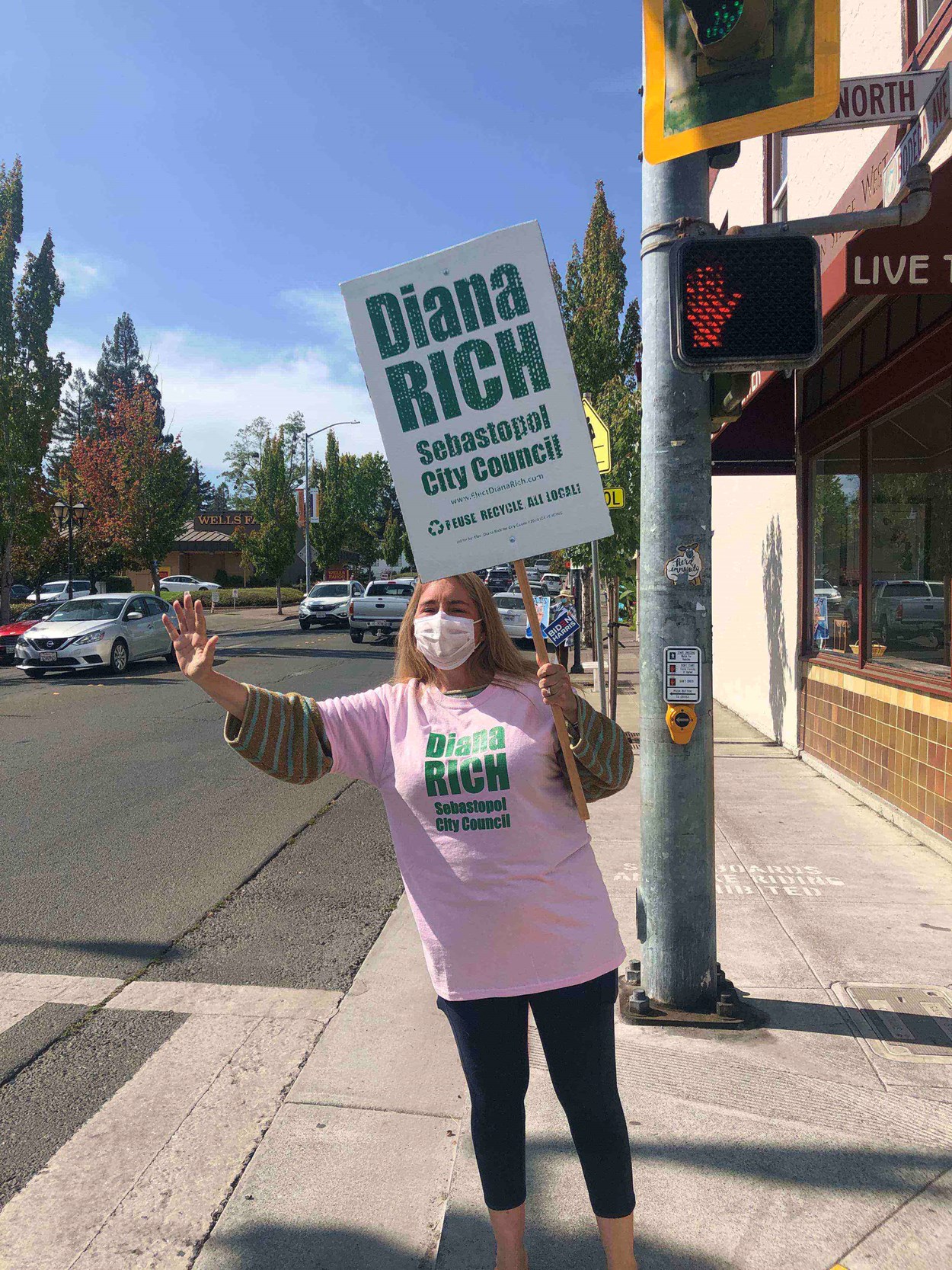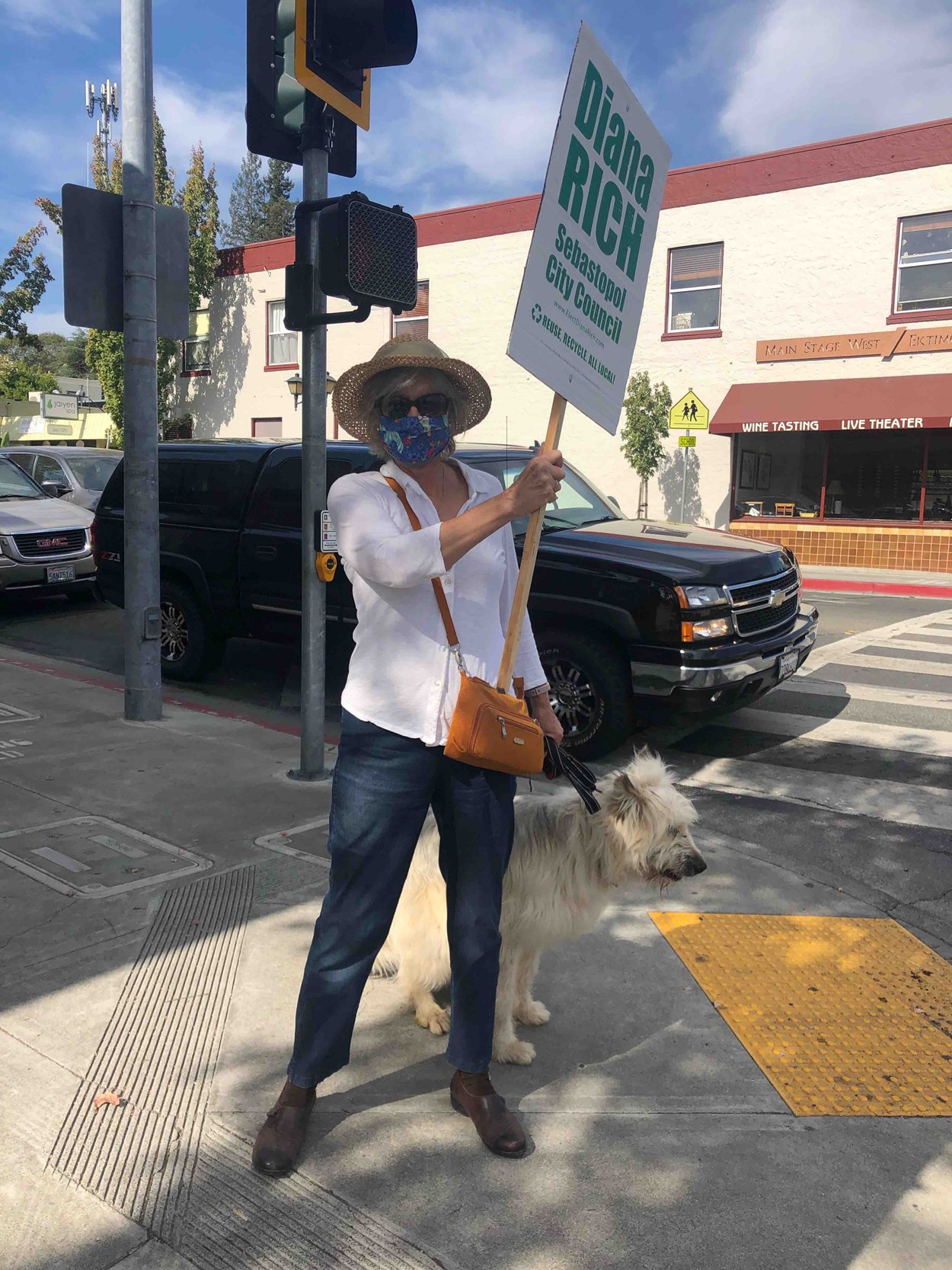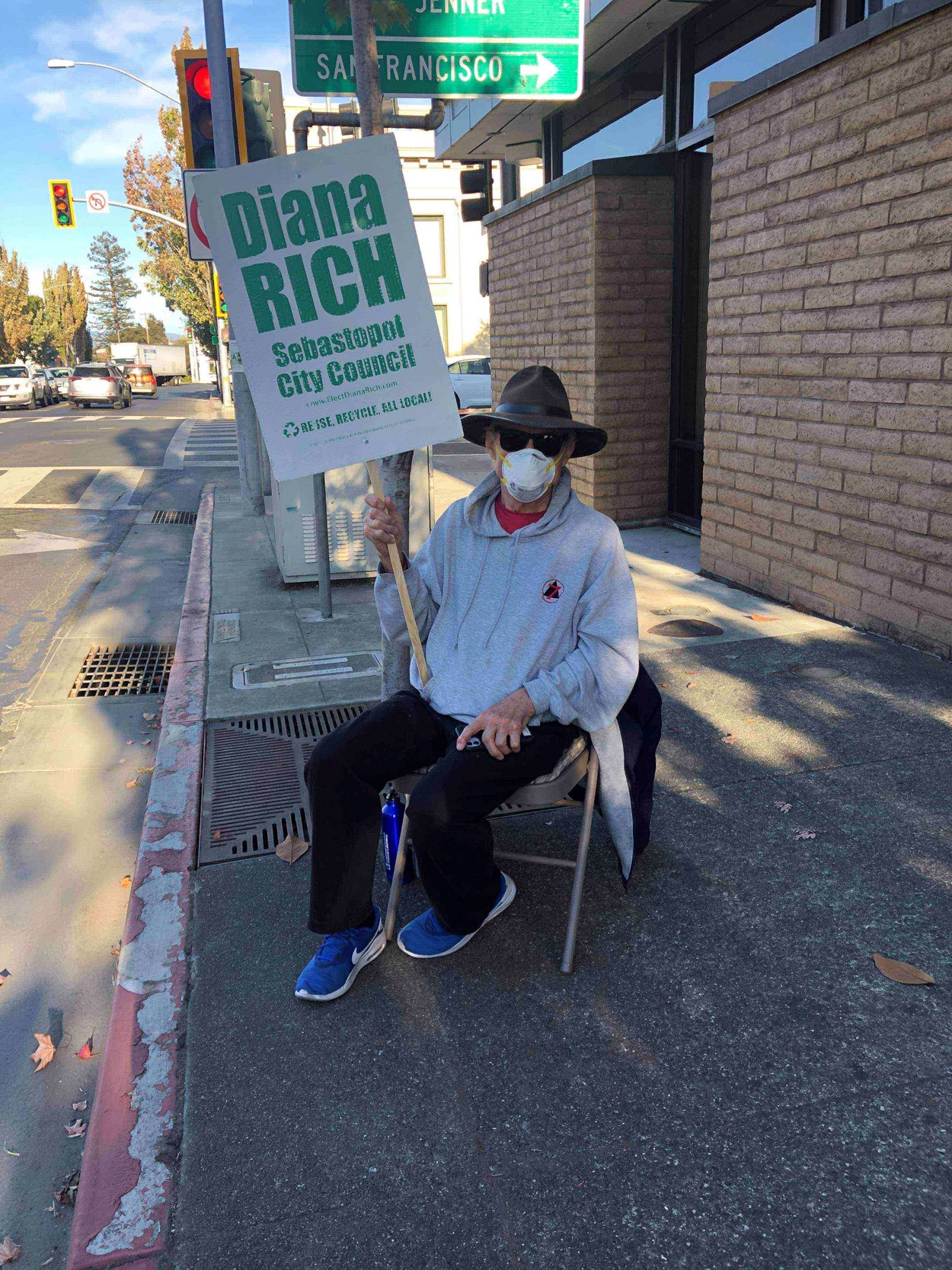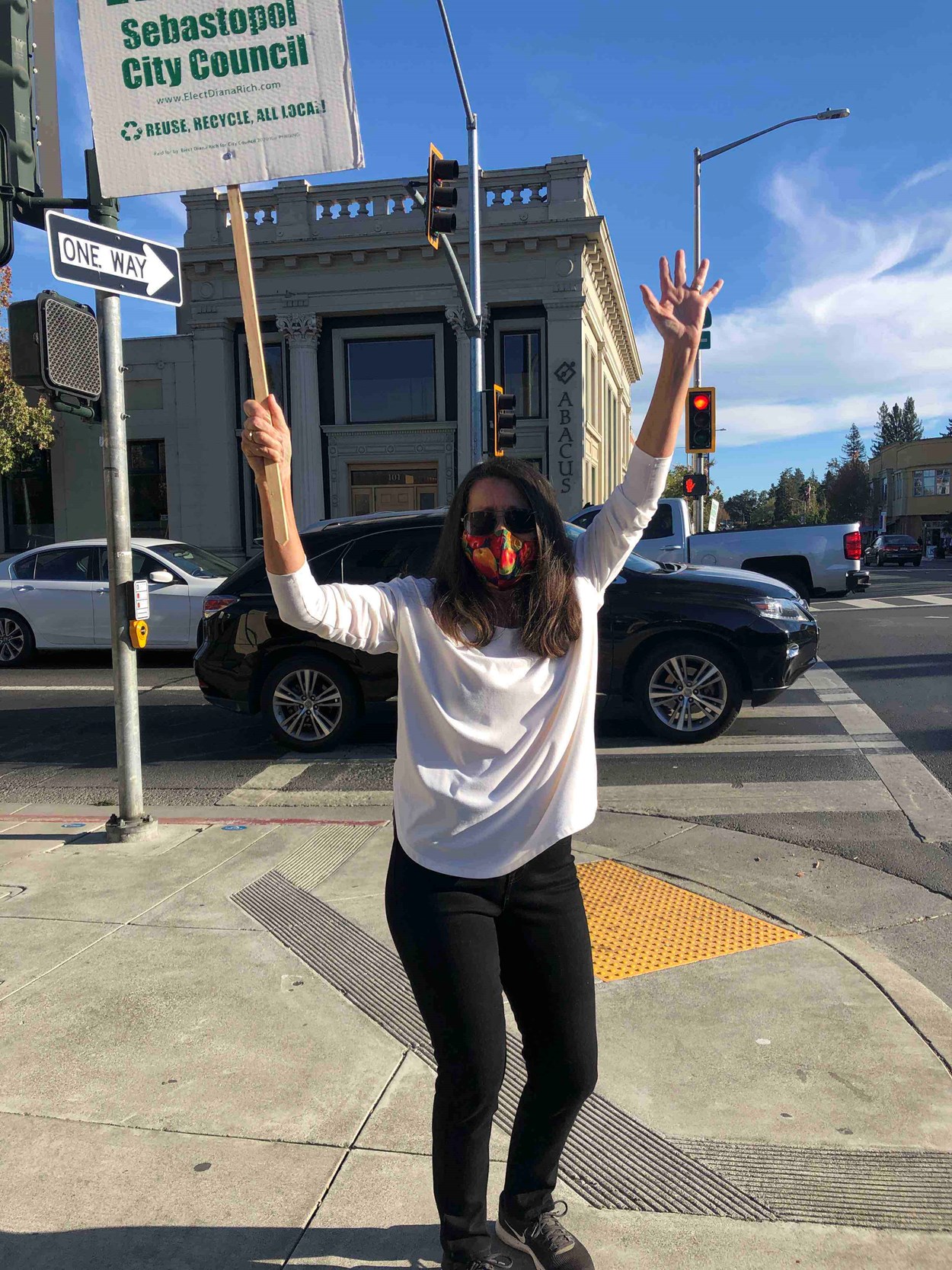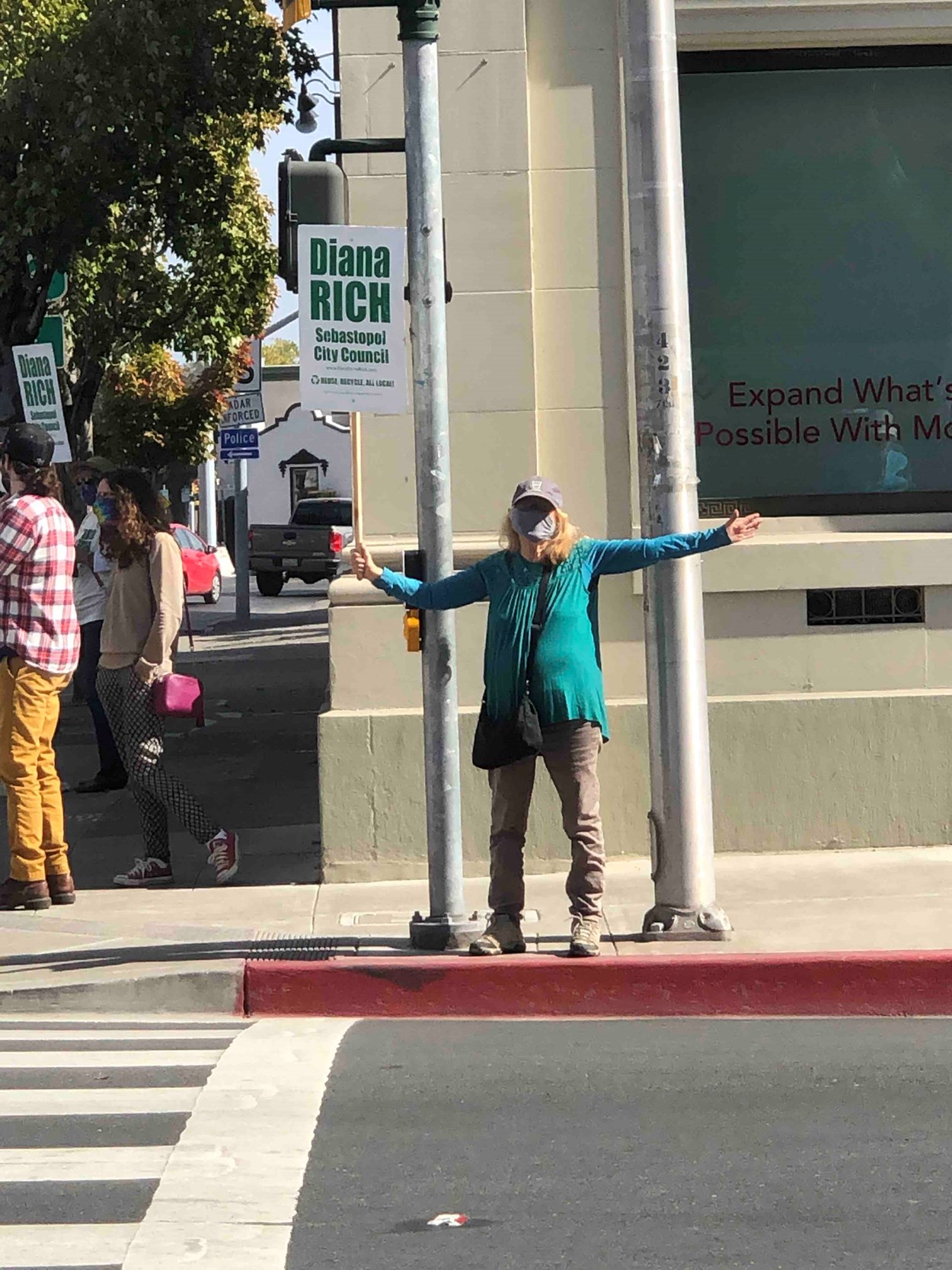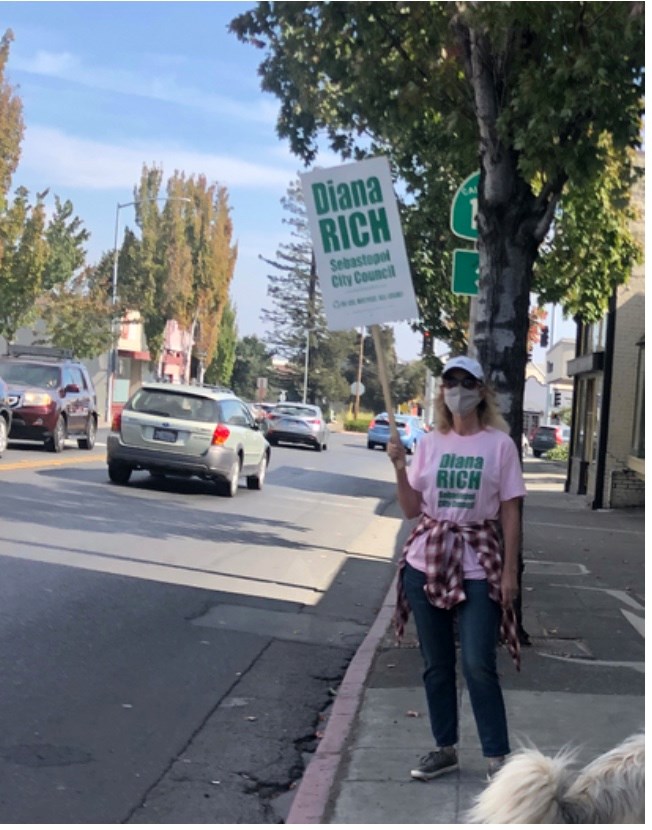 ---
Sunday, October 11, 2020 12:29 PM
10/11: GENERAL VOTER INFORMATION/FAQ UPDATED: See full details under the "Participate" tab on this website. And remember: VOTE VOTE VOTE!!
VOTE VOTE VOTE!!!!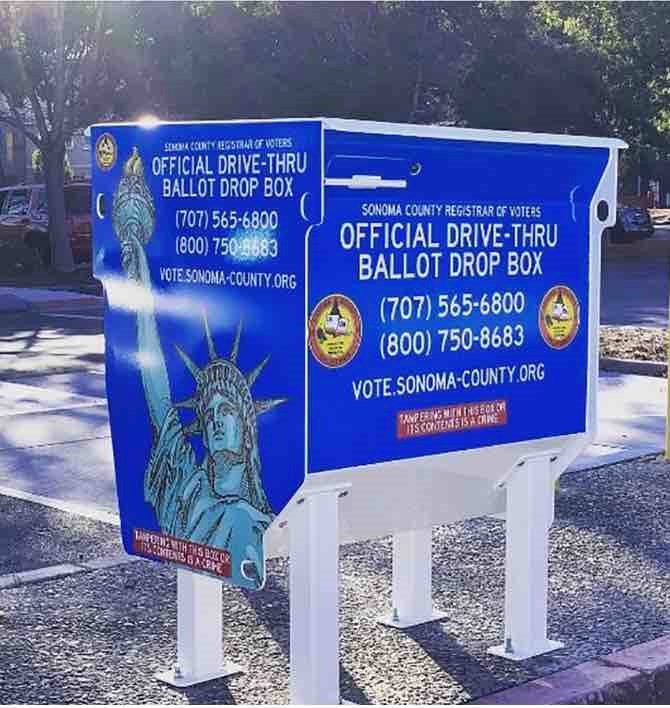 ---
Friday, October 9, 2020 9:56 AM
10/9: DEMOCRACY IN ACTION! HONK IF YOU SEE US! Get out the vote flag-waving today in downtown Sebastopol.
11:30am-1:30pm and 4:00-6:00pm. We'll be out there with our signs. Democracy in action!! Vote, vote, vote!!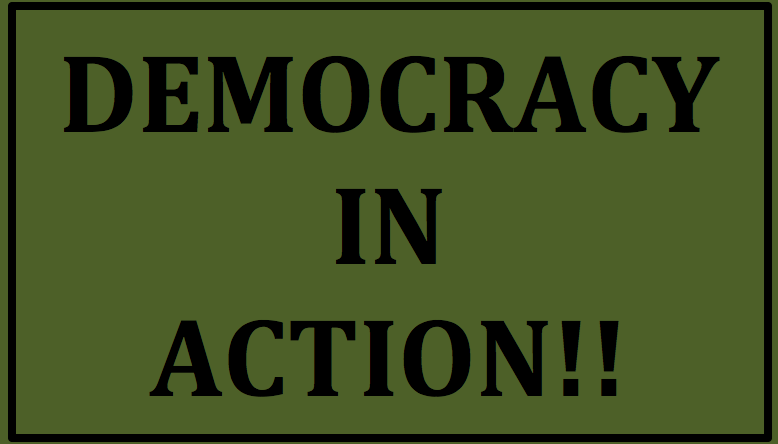 ---
Friday, October 9, 2020 9:00 AM
10/9: PROPOSITIONS - SF CHRONICLE. Analysis and Recommendations.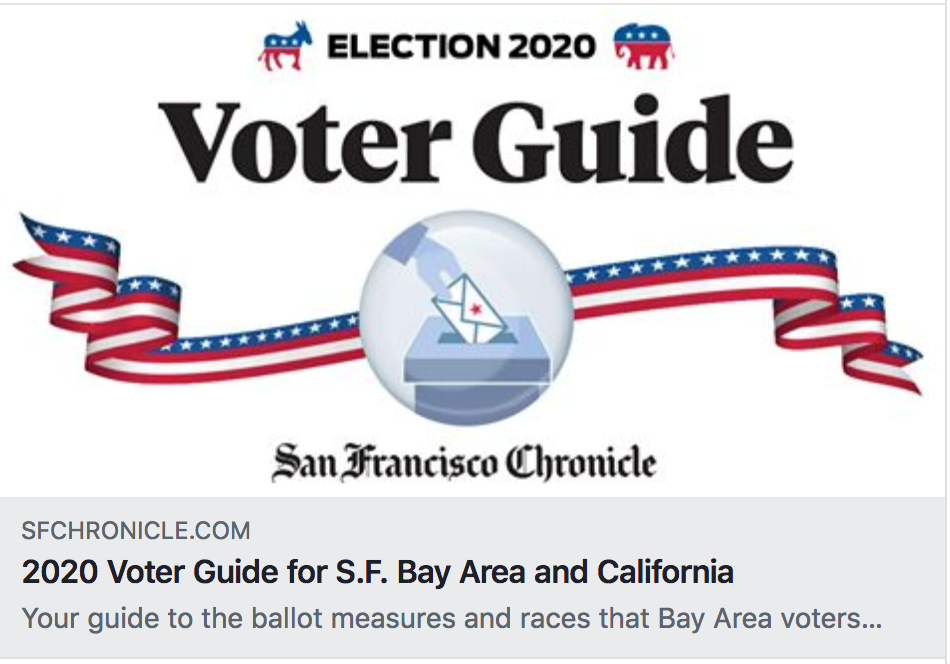 ---
Friday, October 9, 2020 8:00 AM
10/9: PROPOSITIONS- PRESS DEMOCRAT. Analysis and Recommendations.
---
Thursday, October 8, 2020 9:56 PM
10/8: ENDORSEMENT by SUNRISE ANALY HIGH SCHOOL.
I am so honored to have been selected by this amazing politically engaged local student group that is fighting for climate and social justice.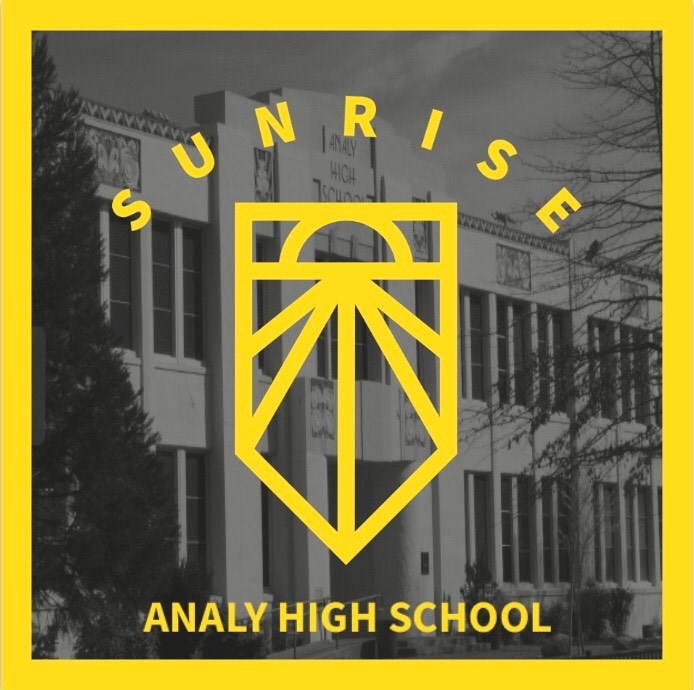 ---
Wednesday, October 7, 2020 8:57 PM
10/7: SIGN WAVING TIME! My ballot arrived! Did yours? It's sign waving time!
Join us this Friday downtown (7-9am, 11:30am-1:30pm, 4-6pm). Free t-shirts! Let's get out the vote! Contact Diana at electdianarich@gmail.com or 707 861-0032 to say you'll be there.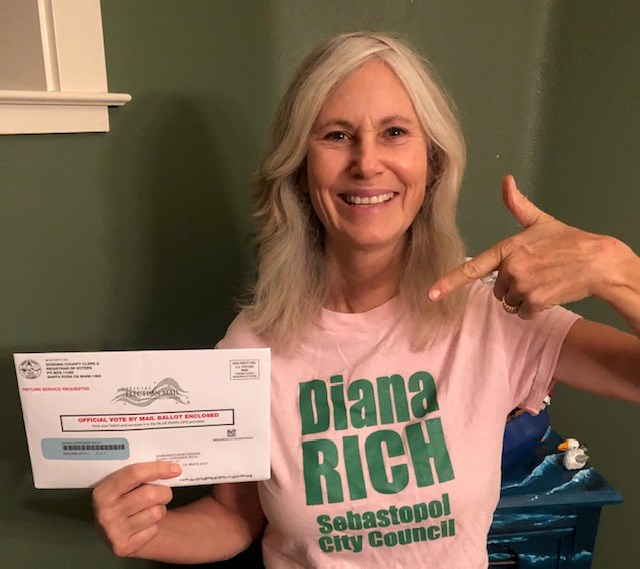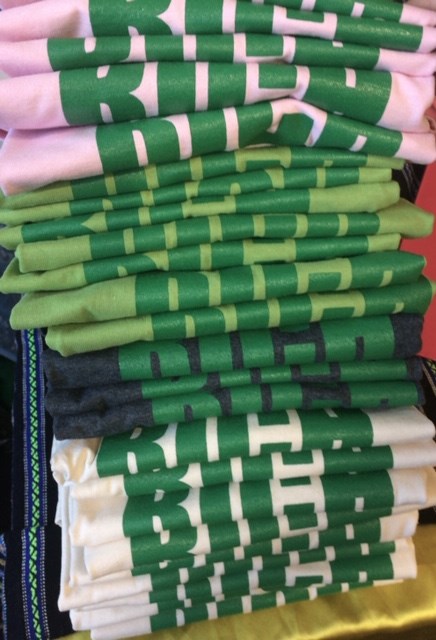 ---
Wednesday, October 7, 2020 4:34 PM
10/7: ENDORSEMENTS UPDATE. So honored to have all these organizations supporting my campaign!

---
Wednesday, October 7, 2020 3:29 PM
10/7: MY VOTE COUNTS. Great video produced by local filmmaker Jason Windsor, supported by Sebastopol Center for the Arts. Message? VOTE!
---
Wednesday, October 7, 2020 2:00 PM
10/7: HELPFUL. One minute video on each proposition. Neutral. Balanced. Informative. A must-watch.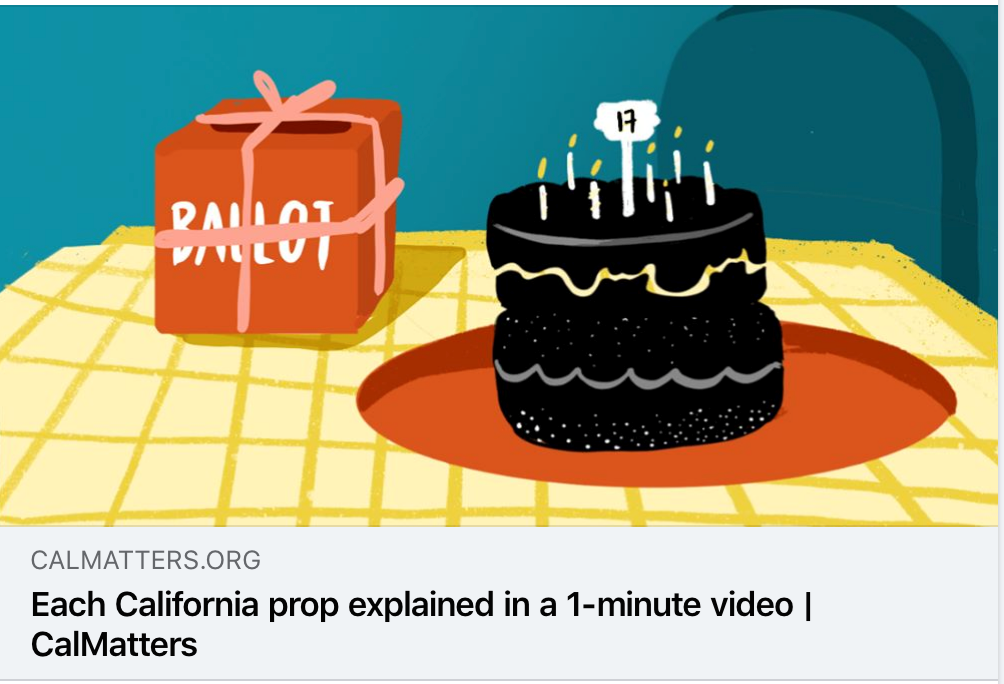 ---
Tuesday, October 6, 2020 3:39 PM
10/6: ENDORSEMENT. NORTH BAY ASSOCIATON OF REALTORS. Wow! Thank you!!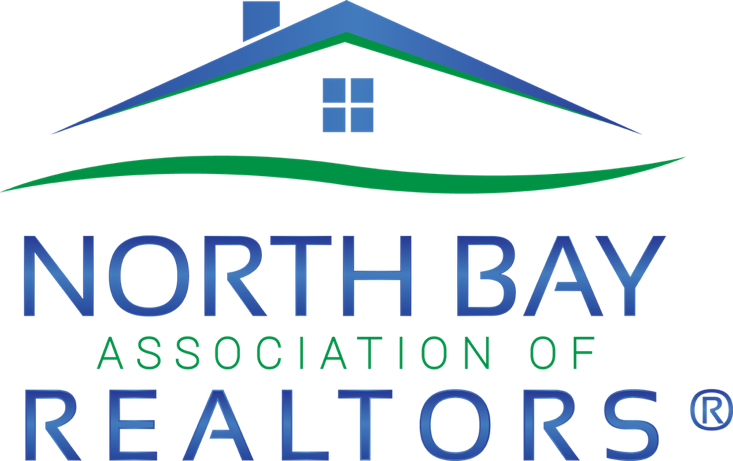 ---
Monday, October 5, 2020 2:00 PM
10/5: ENDORSEMENTS FROM ELECED OFFICIALS. I admire each of them. Their endorsements mean a lot!
Lynda Hopkins, Supervisor, Fifth District, Sonoma County
Patrick Slayter, Mayor, City of Sebastopol
Una Glass, Vice Mayor, City of Sebastopol
Sarah Glade Gurney, Sebastopol City Councilmember & Former Mayor
These are personal endorsements for Diana. Any titles and/or organization affiliations that are included below are for identification purposes only and do not indicate endorsement by the organization itself.
---
Monday, October 5, 2020 11:50 AM
10/5: HOW TO KNOW IF YOUR BALLOT HAS BEEN MAILED. You can track your ballot by signing up through the Sonoma County Registrar of Voters. The link...
...the link is below. Then you can get an email like the one I just got!
"This is a message from Sonoma County Registrar of Voters. Your ballot for the upcoming 2020 General Election has been mailed to you. Normal delivery time is 5-7 business days.
If you are a military or overseas voter, your ballot should have already been transmitted to you.
Questions? Call (707) 565-6800 or email rov-absentee@sonoma-county.org.
Manage Contact Preferences | Unsubscribe
You are receiving this email because dianagrich@gmail.com was used to sign up for Ballot Delivery Notifications at
https://sonoma.ballottrax.net.
To keep our e-mails out of your spam/junk mail folder, please add us to your address book.
Delivered by BallotTrax
9501 E Northfield Blvd
Denver CO 80238"
---
Sunday, October 4, 2020 5:00 PM
10/4: PROPOSITIONS. Chart that compares financial backing for each proposition.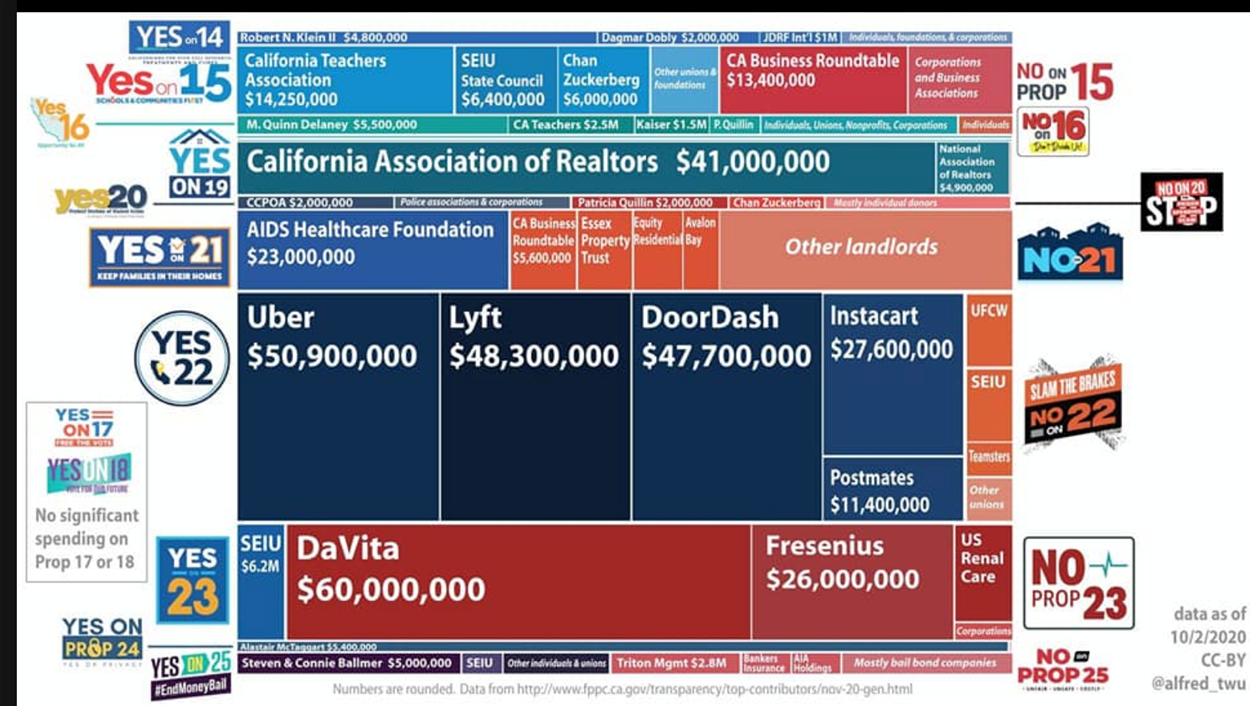 ---
Sunday, October 4, 2020 1:04 PM
10/4: CHILDREN ARE OUR FUTURE. So resilient. A "must watch" video. This SO warms my heart and gives me hope for all of us.
---
Saturday, October 3, 2020 3:51 PM
10/3: TOWNSY APP IS LIVE! Check it out. Local news, shopping, events! Our own Laura Hagar Rush has outdone herself this time...
...She's the driving force behind this local app that offers news, shopping, events, all LOCAL. Elegant, visually appealing, user-friendly. Check it out! (And while you're at it, review the Q&A she's posted for me (hooray!) and all the other candidates.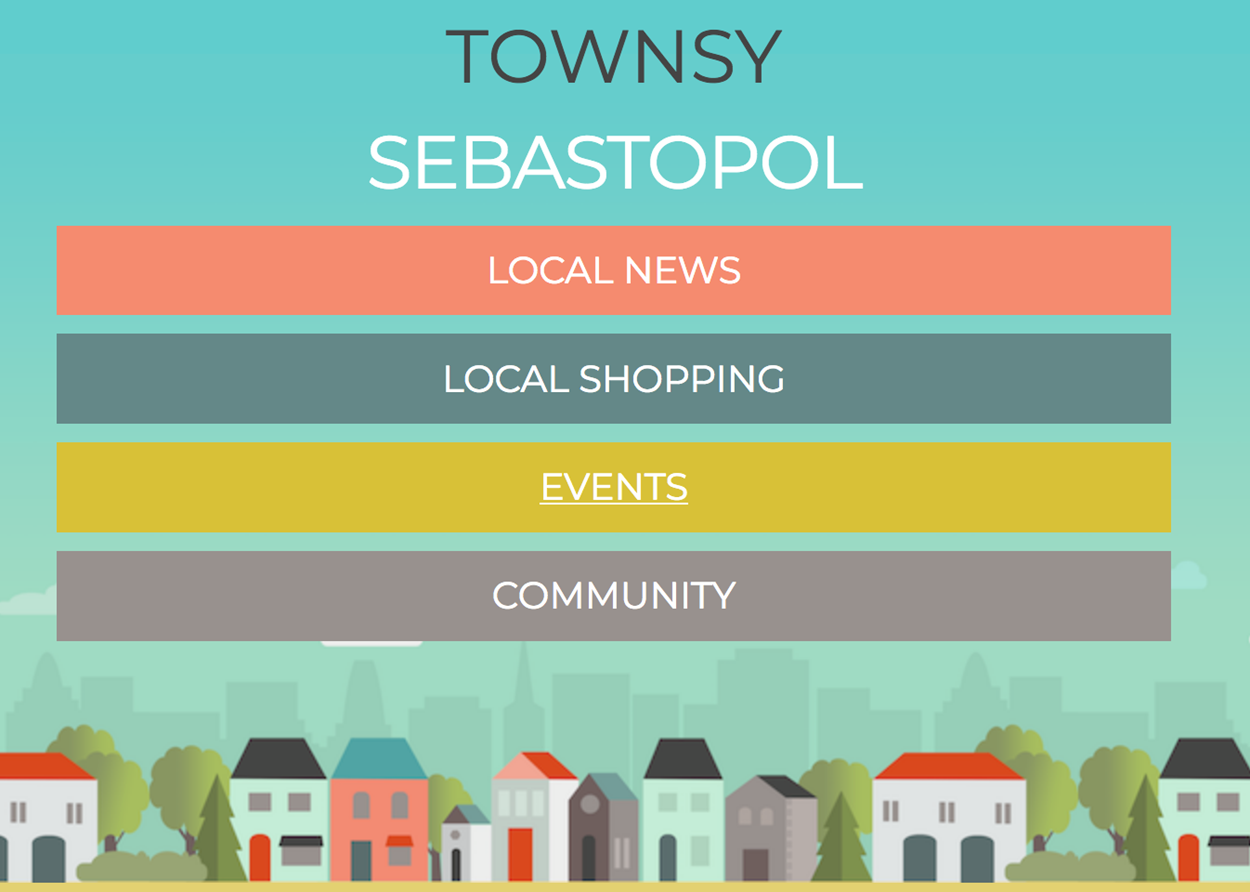 ---
Saturday, October 3, 2020 7:00 AM
10/3: MEET & GREET/Q&A. Thu Oct 8@7pm. Sign up now. Ballots arrive this week (Wow!).
Spoiler alert: Yes, there are other Meet & Greet/Q&A dates available. You can even request your own date and time!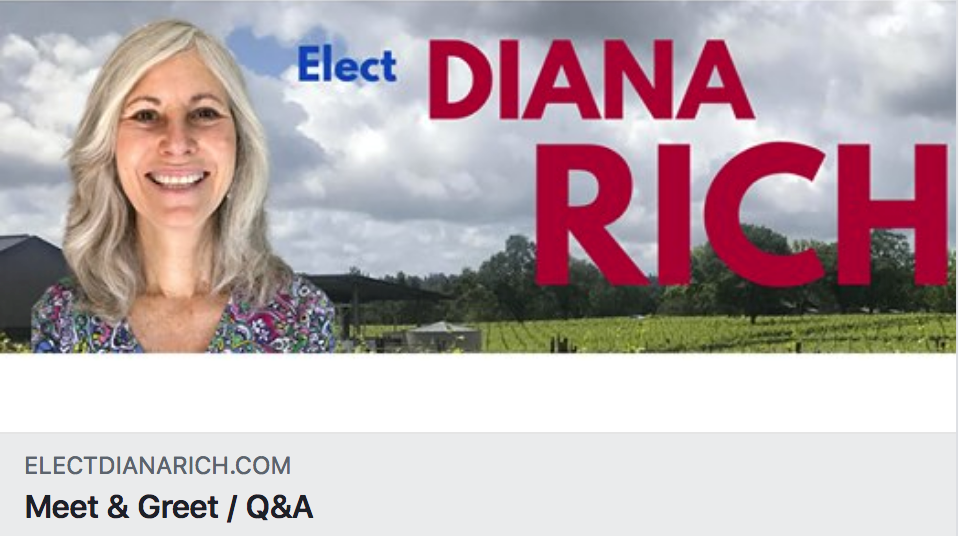 ---
Friday, October 2, 2020 4:01 PM
10/2: QUESTION: CAN I STILL VOTE IN PERSON EVEN IF I RECEIVE A MAIL-IN BALLOT? ANSWER: YES. I just called the Registrar of Voters in Santa Rosa ...
...in Santa Rosa (565-6800). My question: When I receive my ballot in the mail this coming week, what do I do if I would prefer to have my vote treated as an in-person vote? The answer (drum roll please) is: Take your ballot to an in-person voting location and turn it in, saying you want to exchange it for an in-person ballot. They'll hand you a new ballot and you can vote right there on-site. And no, it doesn't matter if you've already opened the mail-in ballot and written on it. Just don't seal it up and sign it, because then it will look final and might cause some problems.

---
Thursday, October 1, 2020 4:00 PM
10/1: ONE-STOP WEATHER SITE: For those of you who want one website with all the key data, this is your lucky day. This "forecasts" page on the Nationa
...wind, heat, humidity, current and projected. Just enter "Sebastopol CA" in the search bar and you'll have the data you need (the prompt on the search bar suggests you have to enter latitude and longitude, but you do not). One missing element - no air quality index...for that you'll have to turn to Purple Air...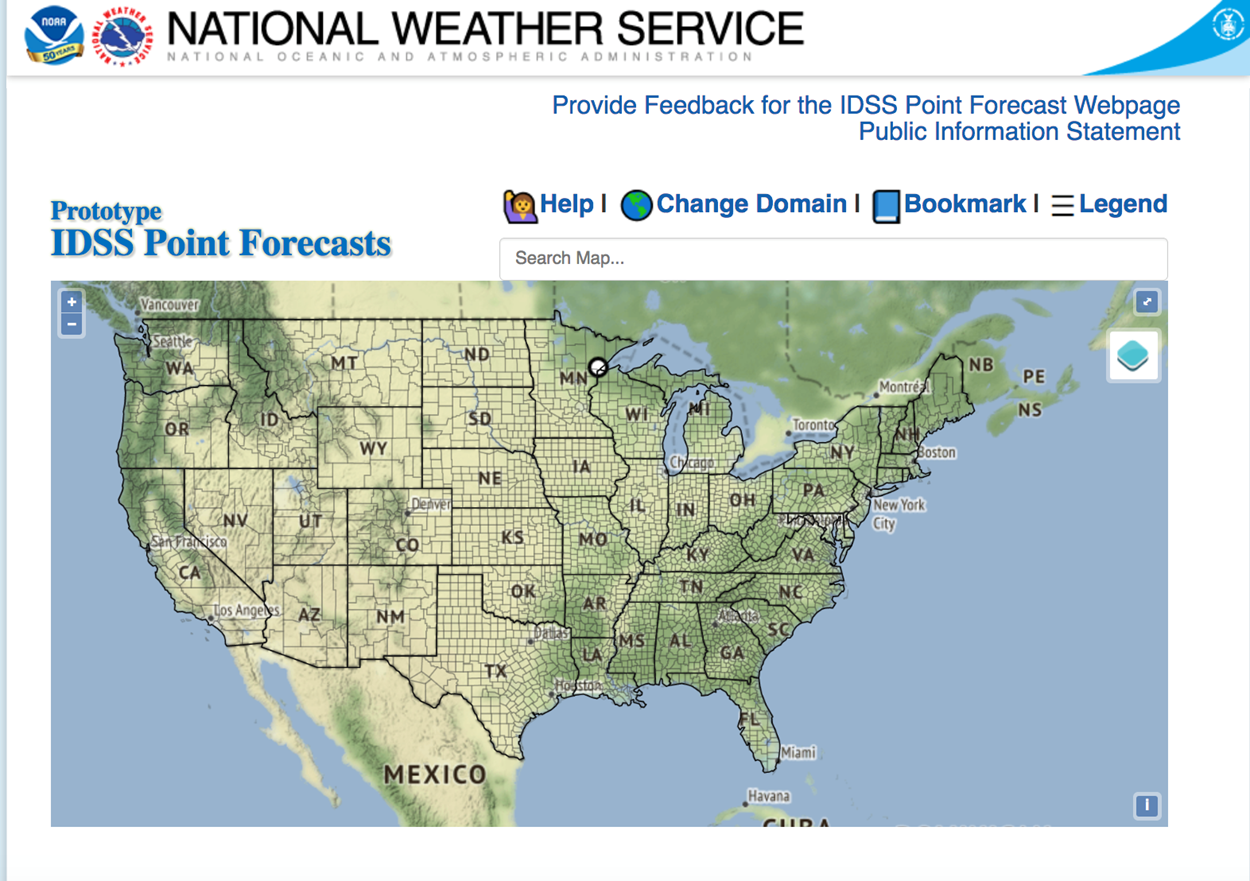 ---
Thursday, October 1, 2020 10:00 AM
10/1: #VOTE. Now more than ever. Our future depends on it.
And vote in person if you can -Biden tells us that's the best way to prevent manipulation of this election.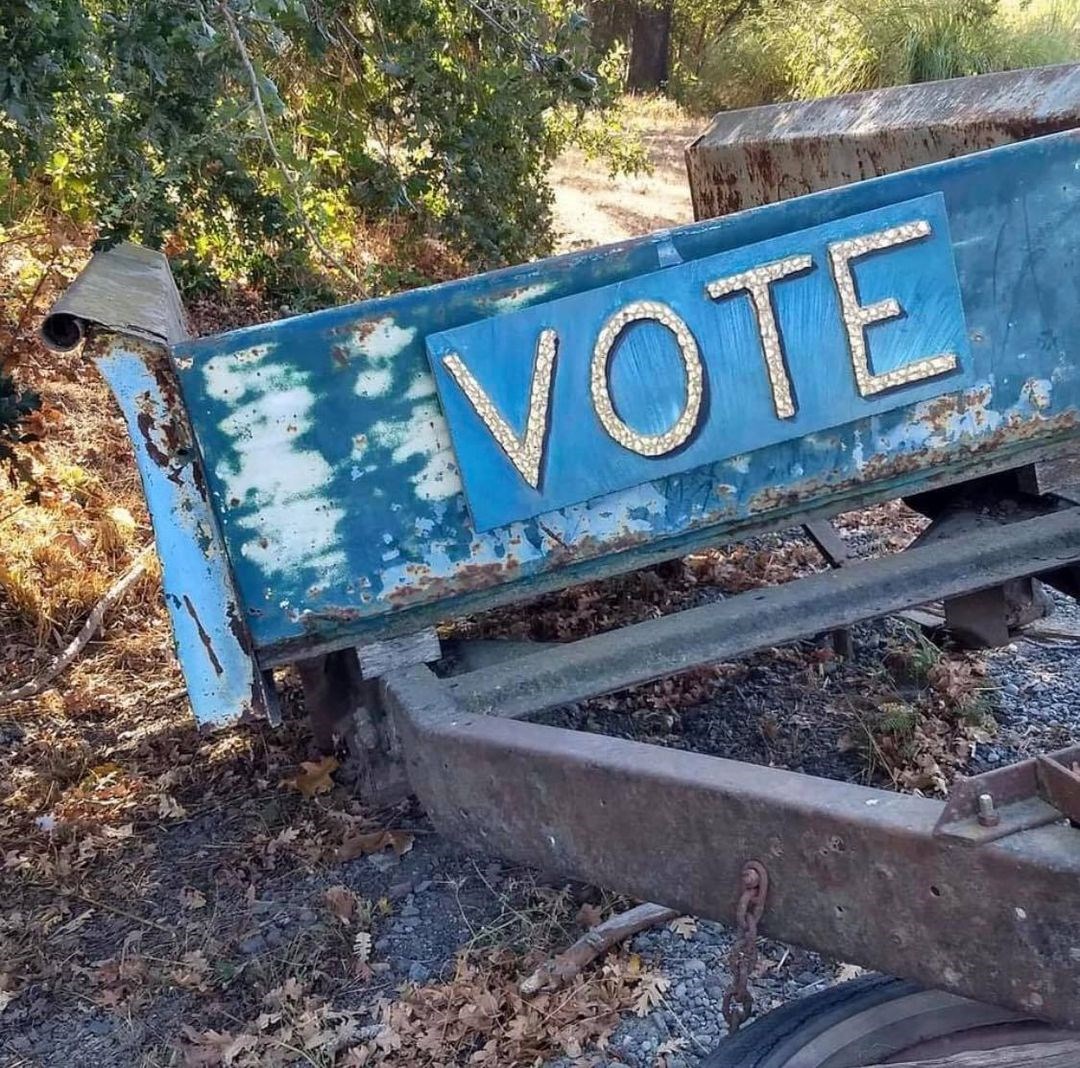 ---
Wednesday, September 30, 2020 5:00 PM
9/30: ON THE LIGHTER SIDE. This helps. Deep truth and so funny.
---
Wednesday, September 30, 2020 1:00 PM
9/30: BIDEN HAS TO WIN: From Thomas Friedman: "To get back a semblance of unity and sanity, Biden has to win.
... Vote for Biden — do it by mail early if you must, but if you can, please, put on a mask and do it in person.... Do it as if your country's democracy depends on it, because it does."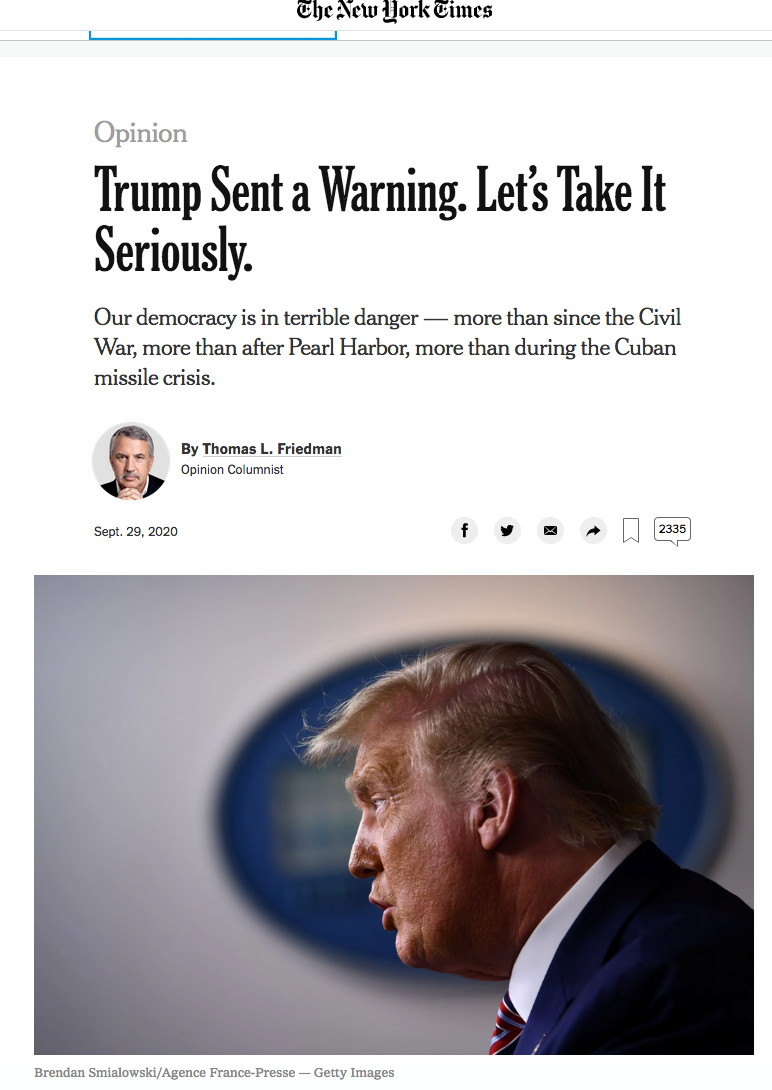 ---
Tuesday, September 29, 2020 10:06 AM
9/29: TONIGHT@6:30pm: CANDIDATE'S FORUM - Sebastopol City Council.
Watch in "real-time" or the video after! YOUTUBE: https://www.youtube.com/channel/UCvppI3yS3Hcus_mTECDsbFA FACEBOOK: https://www.facebook.com/lwvsonomacounty/live/ SUBMIT QUESTIONS NOW: lwvsonomacounty@gmail.com. Mention it's for the Sebastopol Forum.
---
Tuesday, September 29, 2020 9:56 AM
9/29:RED SUN... SO WEIRD. This morning. Smoke-filled skies and ash drifting down around us...small bits of other people's lives, blowing into ours...
My heart hurts for all of us. We are living through such difficult times...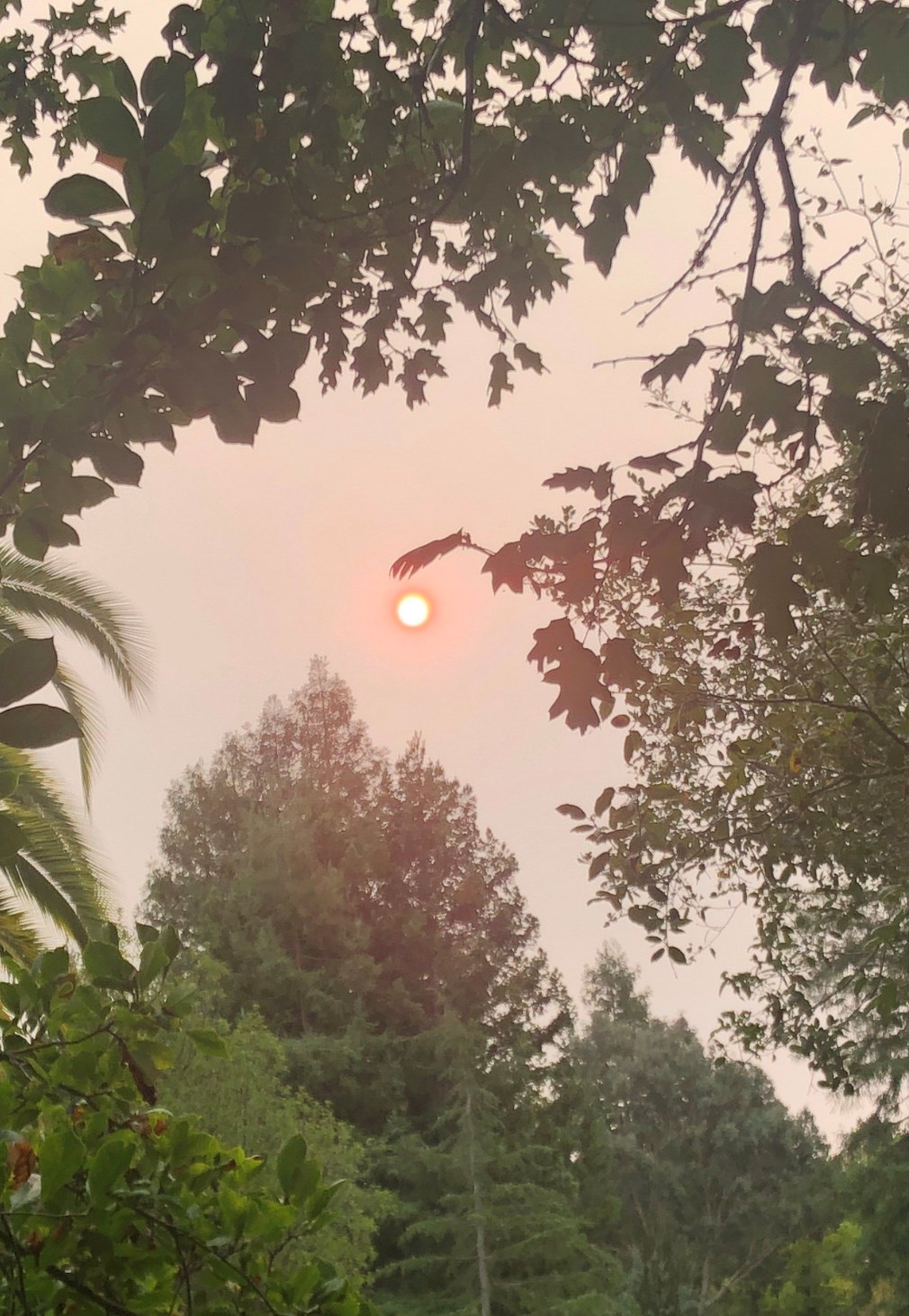 ---
Monday, September 28, 2020 7:34 PM
9/28: CANDIDATE'S FORUM TOMORROW (Tue 9/29)@6:30pm....
...Hosted by the
Sonoma County League of Women Voters

.
All Sebastopol candidates will be participating
. Tomorrow evening, September 29, at 6:30pm.
Please join us either in "real-time" or by checking out the recording after the fact. Thank you to the Women League of Voters for all their wonderful efforts to inform voters! I hope to "see" you all tomorrow night at 6:30pm.
TO WATCH THE FORUM: REAL TIME OR RECORDING: There are two ways you can watch the Forum in real time - on Facebook and on YouTube. The links are below. The Forum will be recorded (available at the same links), which means you can also go back and view it at a later date. For those of you who will be watching the presidential debate (also scheduled for tomorrow night (no, there was no way to get our Forum date changed...)), this is particularly good news, because it means you can view the recording later on, which I am REALLY hoping you'll do!!
SUBMIT QUESTIONS IN ADVANCE: The way the forum works is that each candidate has one minute for introductions, then a series of prepared questions are asked and each candidate has one minute to answer. (I know. Crazy, right? How much substance can really be squooshed into one minute??!! Oh well....). After that, the moderator looks through questions from the audience, and presents some of them to the candidates. Here's the good news: You can send your questions for the candidates in advance, right now actually. That means you can get your questions considered even if you aren't able to attend in real time. To the extent you want a specific candidate to answer your question, include that request in your email.
EMAIL TO SEND YOUR QUESTIONS FOR THE CANDIDATES (Do it now...why wait??):
---Make sure you say it's for the Sebastopol Candidate's Forum.
---Please mention that you're submitting your question in advance because you cannot attend real-time due to the conflict with the presidential debate.
---
Monday, September 28, 2020 10:39 AM
9/28: RESOURCES. This list draws information from various people (Lynda Hopkins, Chris Rogers, and others) but is modified by me.
-Current incident map: This is the interactive County of Sonoma map we've all come to know, updated regularly with evacuation zones mandatory and warning. To see the map,
click here
.
- For ongoing updates Supervisor Lynda Hopkins, on Facebook, is an excellent source. She posts updates immediately and has taken the stance that full information is what her constituents need.
-To listen to the live feed of CalFire dispatch, download the Broadcastify app on your phone, and to see all notifications/call for service, download the pulse point app as well.
---
Monday, September 28, 2020 9:00 AM
9/28: #SHADYFIRE UPDATE. Thank you Lynda Hopkins, for doing what you always do: keeping us informed.
It's a sad, sad time, but getting up-to-date information helps so much. Thank you!
From Supervisor Hopkins' Facebook Page:
County EOC UPDATE 8AM — 9.28.2020 — #ShadyFire
There was a significant spike in winds around 5:30am.
Multiple spot fires have hit several structures including a school – damaging 2 classrooms
Oakmont side – fire is on the south side of 12 but not yet inside of Oakmont.
Spot fire on Diamond Mountain prompted additional evacuation order of 2Q1.
Temporary Evacuation Points:
· Sonoma Raceway (For Cars and Camping)
· A Place to Play (City of SR)
· Sonoma State University – opening at 8am
· Petaluma Community Center – opening at 8am
· Petaluma Fairgrounds
· Santa Rosa Vets – Full
· Santa Rosa Fairgrounds – Relocating Animals
· Petaluma Veterans Building – Full
· Sonoma Marin Fairgrounds - Full
There will be a media briefing today at 11am. PIO will send out a media advisory shortly.
The Emergency operations center will continue to collaborate with our stakeholders, and work with our PIO's to provide timely updates.
Listening to the scanner, another rescue is underway for trapped civilians, and an ambulance was just dispatched for a civilian with a burn injury.
Please heed the evacuation orders. Your life is more important than your property — and so are the lives of the first responders, who risk their own to save yours.
---
Monday, September 28, 2020 1:05 AM
9/27:SADNESS. My heart goes out to our Santa Rosa neighbors. Watching the #ShadyFire and #GlassFire.
My brother-in-law and his family just evacuated to our house. Yes, Covid-19 is a risk, but family in need comes first. Wearing masks, not being able to comfort them with a hug is awful, but at least we can give them safe beds to sleep in tonight...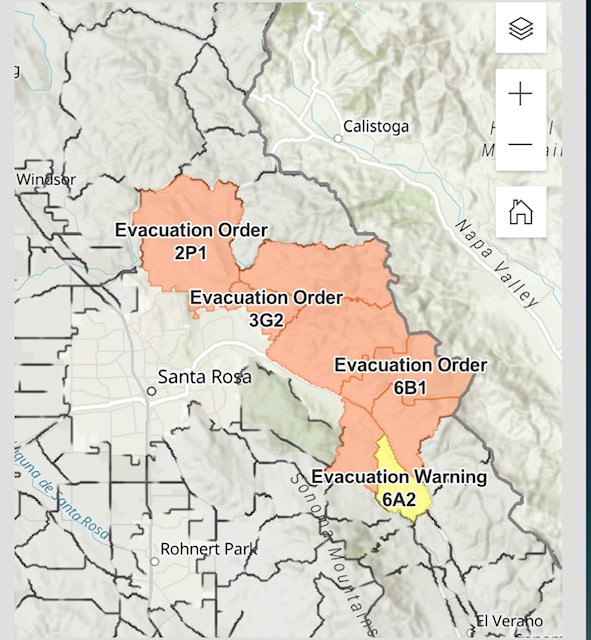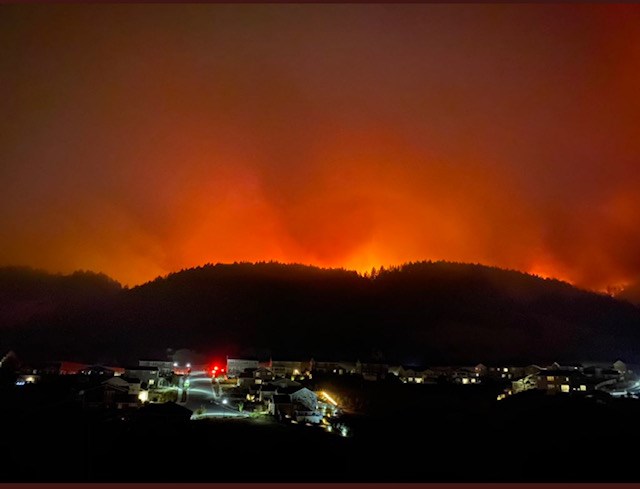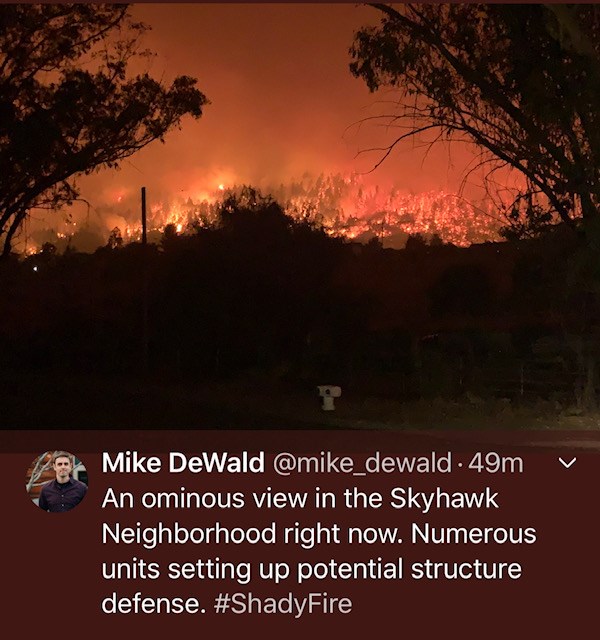 ---
Sunday, September 27, 2020 8:24 PM
9/27: THE ARYA CAM. What happens when you put a go-pro on your dog?
Yes, this is my dog Arya. Hold on to your seat...
---
Sunday, September 27, 2020 11:00 AM
9/27: NOT-SO-ELEGANT MOMENT. Sometimes you just have to laugh.
This newby campaigning can get a bit messy...and I'm not talking politically here.... This the consequence of a yard sign installation that went a little...well...wrong. Pouring water onto the dirt in order to soften it and then jabbing a digger bar into the puddle sounded like a good idea at the time....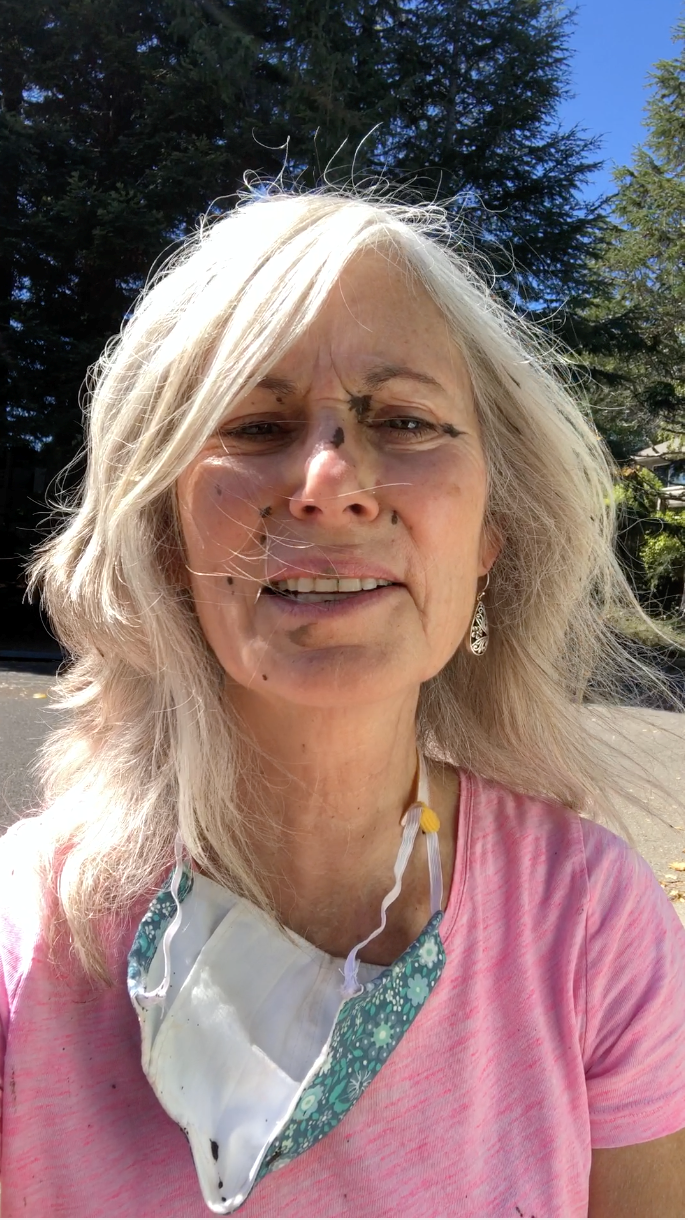 ---
Sunday, September 27, 2020 10:00 AM
9/27: NORAH JONES. Reminding us that a beautiful voice can transport us...
...beyond the sadness or stress of the present moment. Thank you, Norah.
---
Sunday, September 27, 2020 8:51 AM
9/26: RED FLAG WARNING. This texted to me today. Fire weather through Monday. No direct fire threat to us...just smoky air and heat...
No indication so far we'll get a PSPS in Sebastopol. Crossing my fingers (but staying prepared).

---
Sunday, September 27, 2020 8:47 AM
9/26: CELEBRATING AMAZING LOCALS. Fabulous couple Linda and Joe Maloney.
They have done so much for this community. Good friends. Good people. So deserving.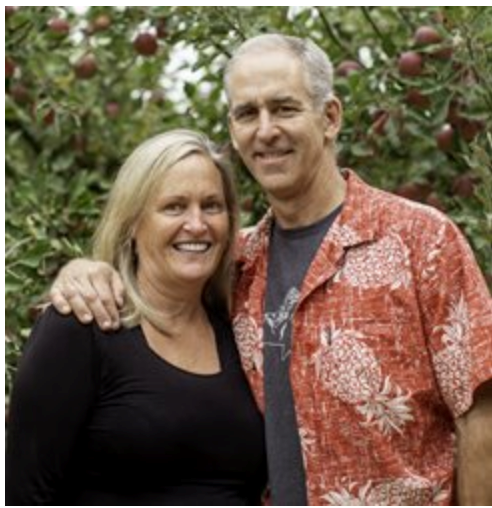 ---
Friday, September 25, 2020 9:36 AM
9/25: MEET & GREET/Q&A: interested? Want to talk to me/let me know your thoughts/just say hello in "virtual" real time?
Let's get it done! You can sign up here on the website - just choose the Meet & Greet/Q&A tab above. Or you can just call and leave a voice message: (707) 861-0032. We'll find a (creative and fun) way to make it happen. I'm fine with zoom, Facebook Live, or Covid-19 safe gatherings (outside, 10 or fewer total people, masked, BYO food/drink). I have some Thursday evening zoom/FB Live dates I've set up in October, but I am (VERY!) open to other dates/times/arrangements. I know, it's weird in this Covid-19 era. I'm a very social person, super curious about other people's opinions and perspectives. Normally I'd be out and about at gatherings anywhere and everywhere. But, hey, these aren't normal times and the normal options aren't available now.. so it's time to be creative problem-solvers, right??!! Bottom line: I would love to talk to you, and I absolutely know we can work together to make it happen!!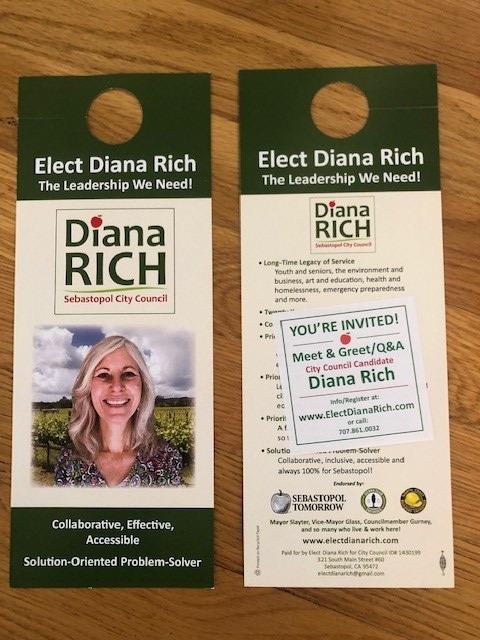 ---
Thursday, September 24, 2020 10:11 PM
9/24: BEAUTIFUL DAY IN THE NEIGHBORHOOD. That's what it feels like: Mr. Rogers Neighborhood.
Sunny, full of friendly smiles, clear clean air...the perfect place to live...
---
Wednesday, September 23, 2020 2:34 PM
9/23: ENDORSEMENT - SONOMA COUNTY CONSERVATION ACTION. Wow!
So excited to be selected by this amazing organization. Thank you!!!! Check them out here at this link:
---
Tuesday, September 22, 2020 8:58 AM
9/22: NATURE... Short video. Yesterday. Beautiful calm day at the coast.
---
Tuesday, September 22, 2020 8:54 AM
9/22: DISINFECT YOUR CELL PHONE! Quick video. It turns out mobile phones are germ transfer pros!
Yuck! I'll definitely be adding this to the rest of my Covid-19 routine...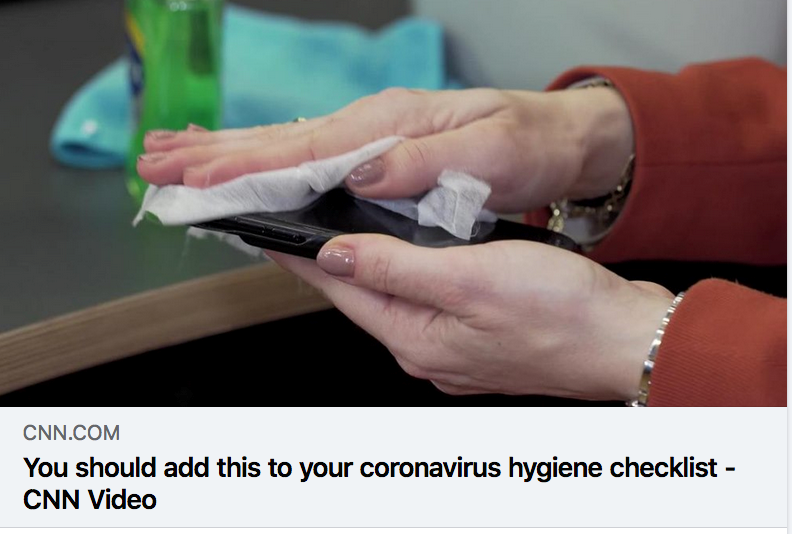 ---
Monday, September 21, 2020 10:00 AM
9/21: VOTING! Amazing this year. First, ALL registered voters will be mailed ballots (not just those who requested mail in ballots).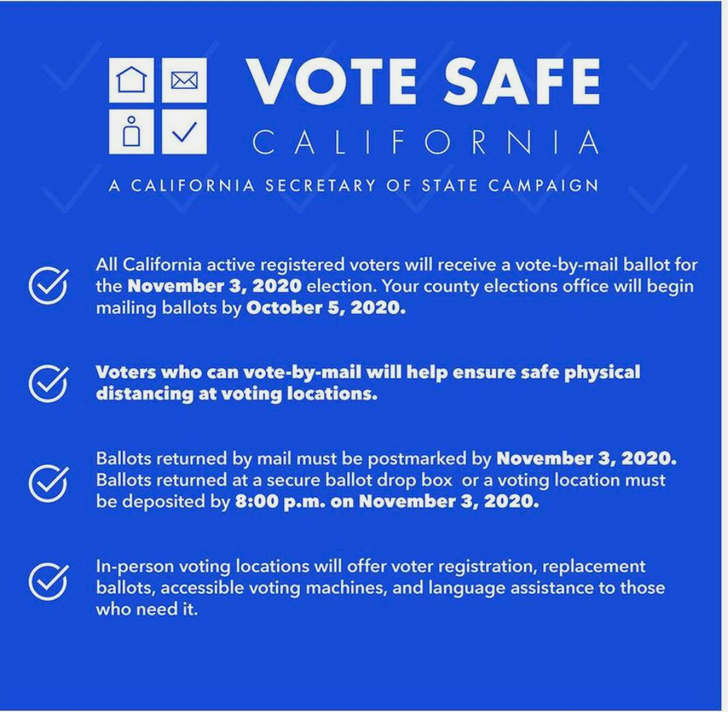 Look for your ballot the week of October 5. Secondly, as of October 6, there will be a secure ballot drop-off box available to us at Sebastopol Center for the Arts. Wow! And there will be an in-person voting option beginning October 31 at the Sebastopol Community Cultural Center. Impressive!!!
---
Saturday, September 19, 2020 8:15 PM
9/19: GREAT DAY OF BLOCK-WALKING. I had some wonderful conversations..about housing, youth engagement, communication, and collaboration.
And I got to visit streets I haven't explored in my twenty years in Sebastopol. We have so many wonderful neighborhoods. I loved the charming gardens and outdoor seating spaces I came across today. And of course it's good to know that we've got some "Hippie Parking" spots in town!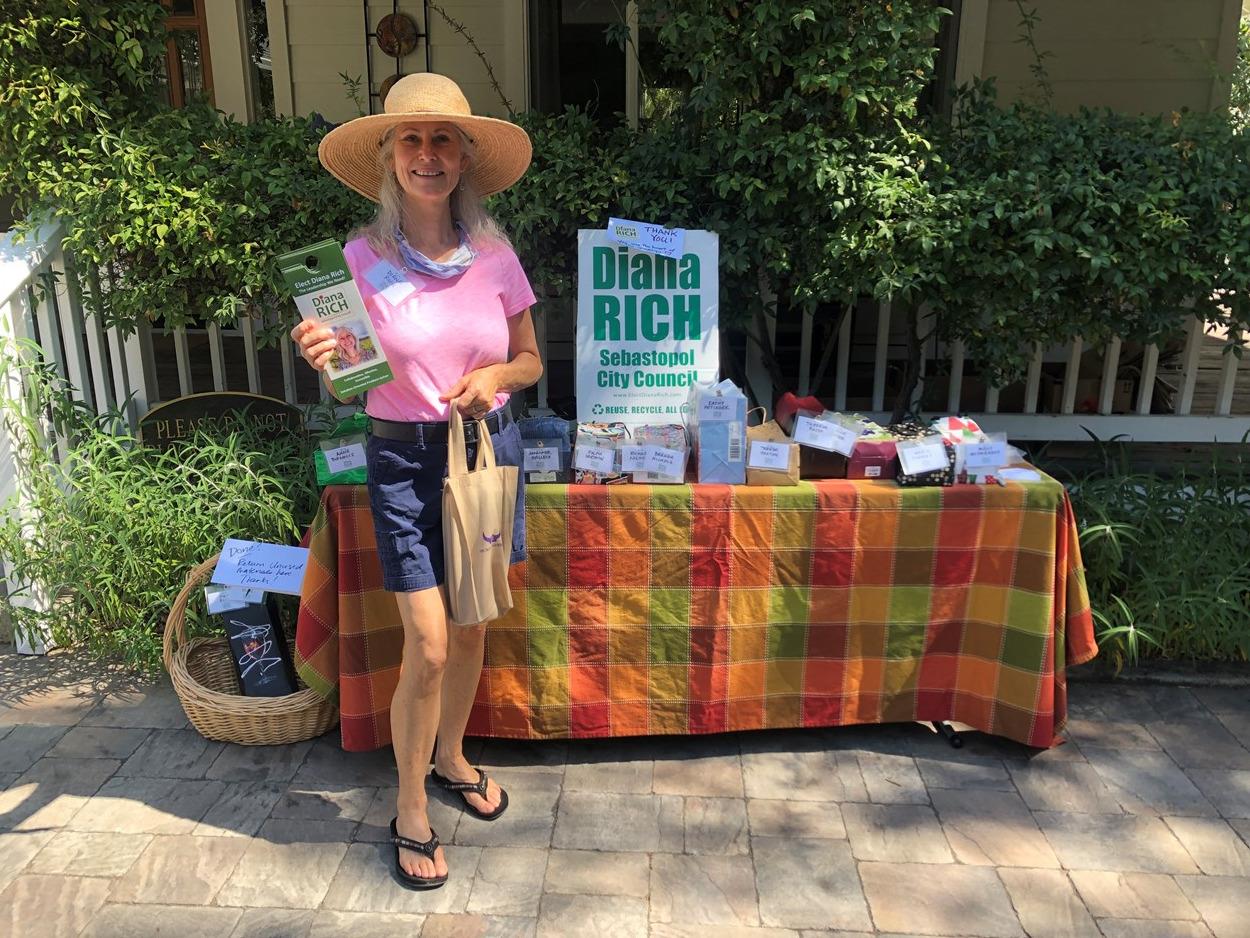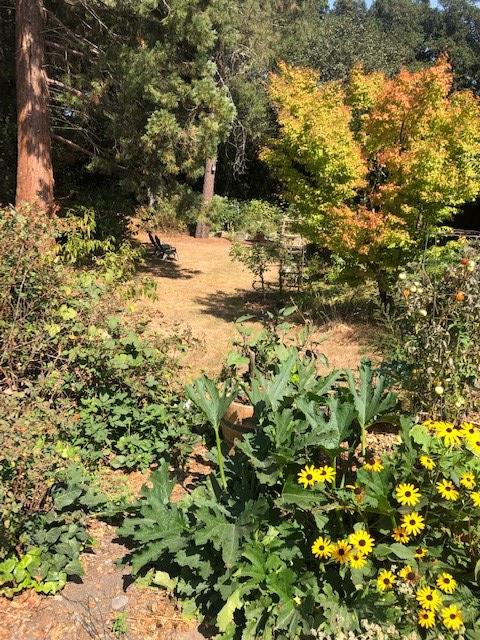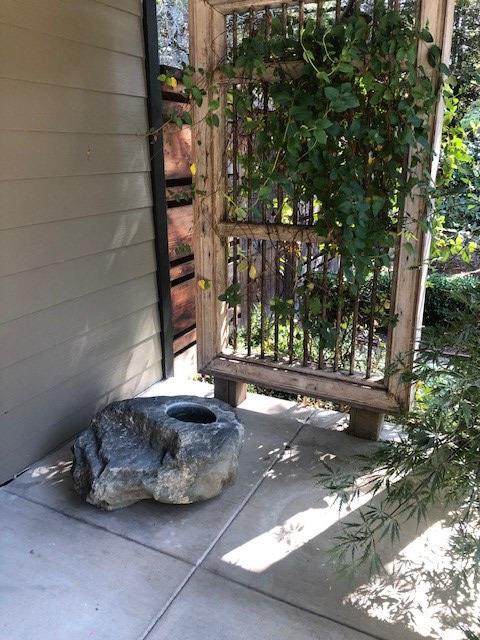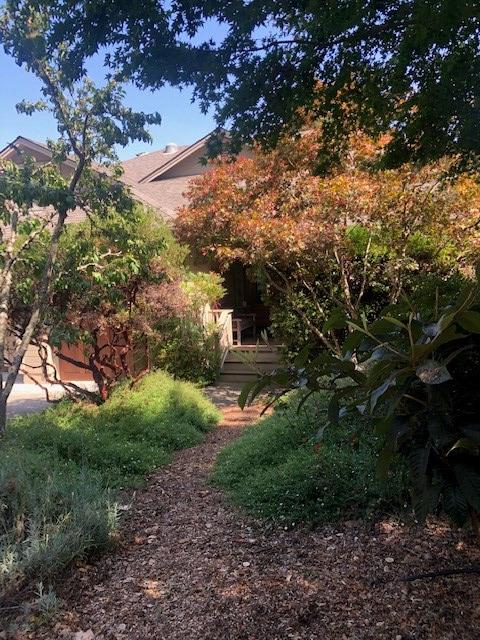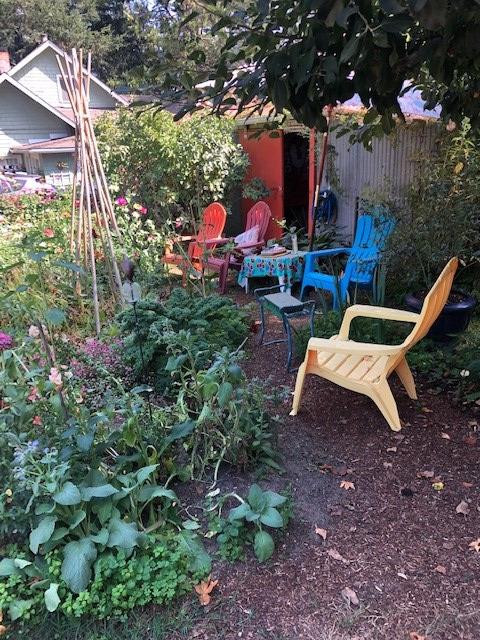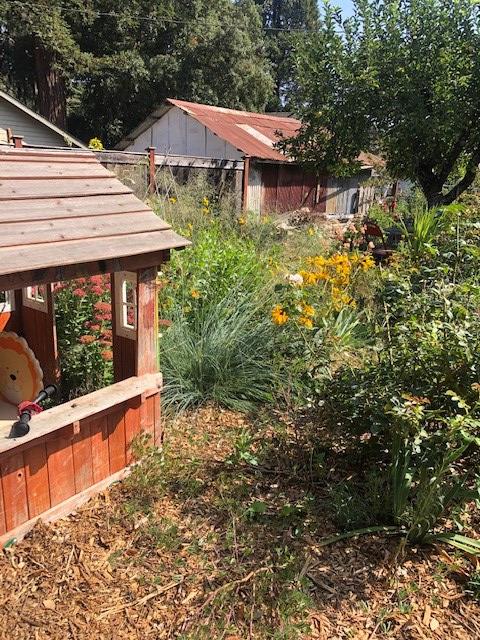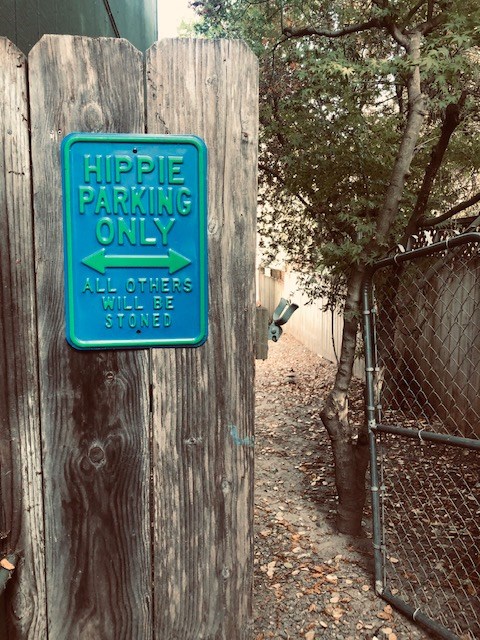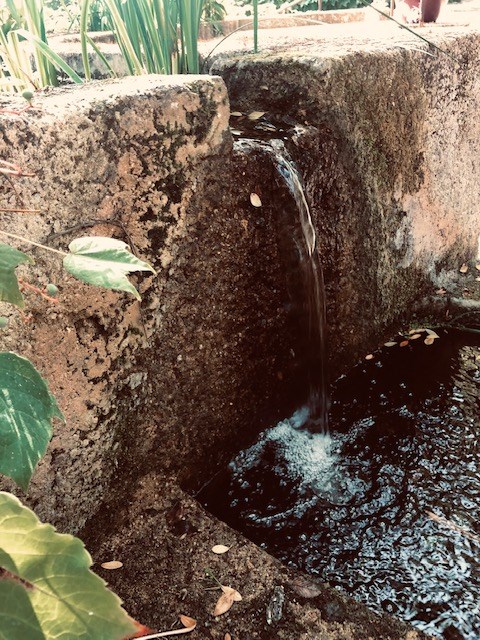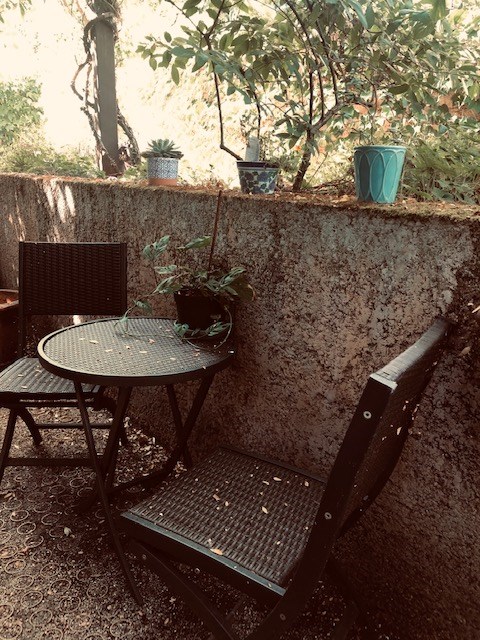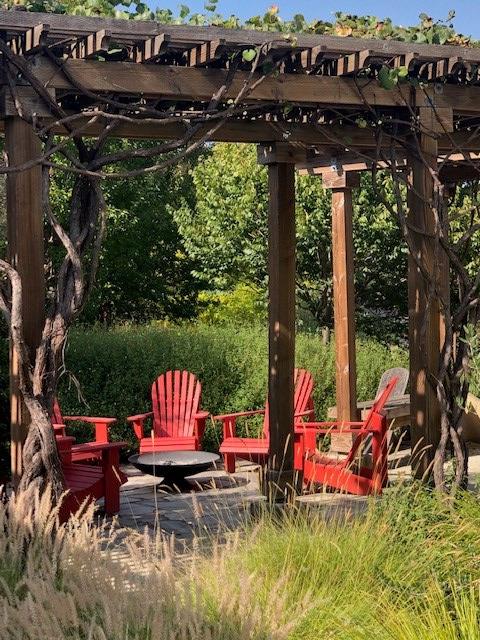 ---
Saturday, September 19, 2020 11:06 AM
9/19: BLOCK WALK TIME! All signs say GO: the air is clear, sun is out, even the rooster crowing in my neigborhood: Its time to walk!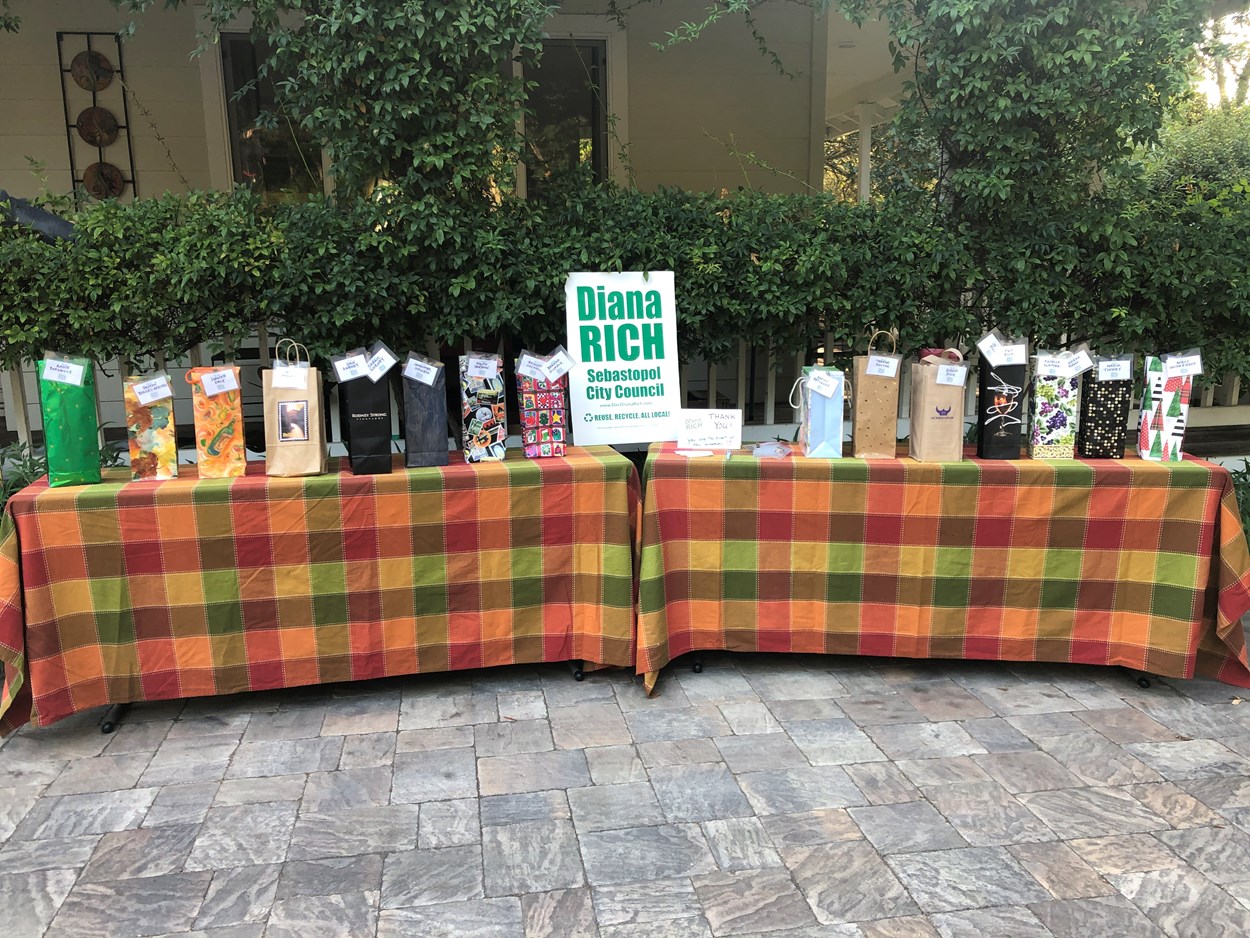 We've got 14 amazing volunteers (plus me!) heading out this week to distribute door hangers. If anyone else wants to join in the fun, let me know...you might be able to pry one of the remaining 9 routes out of my hands (but maybe not...block walking tops my list of fun parts of the campaign!). Got team!!
---
Friday, September 18, 2020 11:03 PM
9/18: SUNRISE ANALY HIGH SCHOOL. Impressive group of civically engaged high school students.
9/18: They interviewed me today. They were organized, insightful, engaged, prepared, and presented me with a series of very interesting questions. They were excellent listeners and independent thinkers. It gives me great hope for our future. Pivotal Moment: The announcement about RBG dying came in the middle of the interview. One of the students suddenly said she had just heard the news. It was emotional for all of us, tears came to my eyes, and I could see the young people who were interviewing me were struggling to maintain their composure. We stopped what we were doing, and shared a moment of silence. The students clearly knew the implications of her passing - not just the loss of a great mind, but the potential for a new appointment to the US Supreme Court by our current administration. It was so sad - I sat there faced with the raw disappointment of these very sincere young people. It made me realize how very tough it must be to be young these days...so many scary and sad developments that they're having to take in. We need to do our part to make this world better for them. They deserve it, and we absolutely need to step up to be there for them. They are our future. Their hearts and minds are so open and so hopeful. It's incredibly motivating!
---
Friday, September 18, 2020 10:05 PM
9/18: RBG DIES. Mourning the passing of an amazing woman.
I always admired her. She was charming, funny, and principled and such an a fabulous role model. Her passing marks an immensely sad moment in time. Not only do we lose a great jurist, but we also must ponder what will happen with our US Supreme Court as our current president attempts to fill the vacancy left by the passing of this incredible woman. So sad...for so many reasons...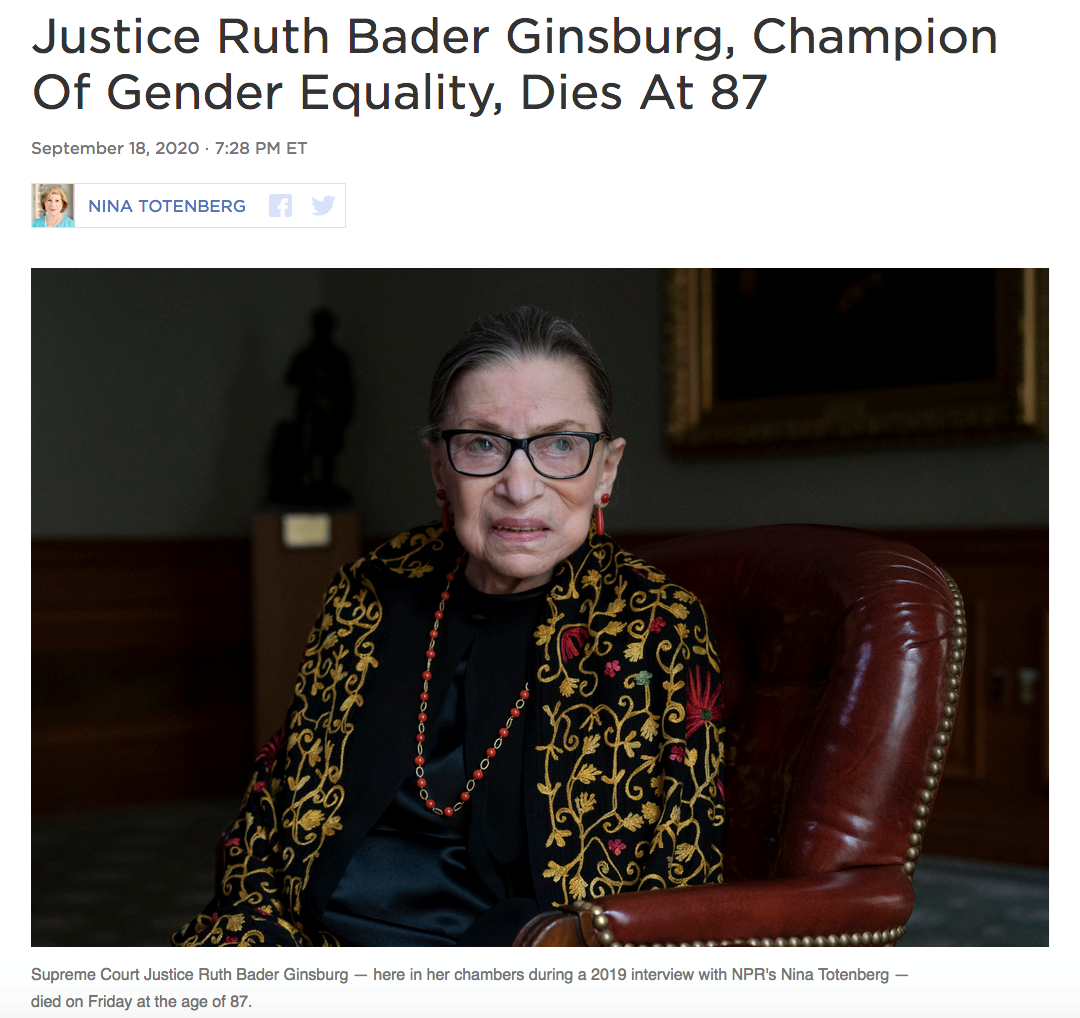 ---
Thursday, September 17, 2020 2:45 PM
A DAY IN THE LIFE OF A NEWBIE CAMPAIGNER.... Sometimes you just have to laugh...
---
Thursday, September 17, 2020 10:38 AM
9/17: HOUSING. FURTHER THOUGHTS. Yesterday in preparation for the Gen H Panel Discussion, I did a deep dive into Housing in Sebastopol.
I talked to our Mayor, Vice Mayor, and our Planning Director Kari Svanstrom. Read the "Housing Element" that lays out Sebastopol's housing plan (effective 2015-2023) in incredible (129 page!) detail.
Bottom line: It became clear to me that Sebastopol's housing polices already encourage building that is affordable and inclusionary. Ideas that are discussed in other jurisdictions are already allowable here: tiny homes, co-housing, dense (for us) projects, mixed use, multi-generational, ADUs, Jr ADUs, affordable by design, etc etc. We even have some policies that are particularly pro-affordable housing and won't be seen in other communities. For example, in other communities a developer can choose to pay a fee "in lieu of" complying with the requirement that affordable units be included in the project. Not in Sebastopol - if a project here has an affordable unit requirement, the developer has no choice but to include a certain number of those units.
The barrier we can't conquer? Astronomically rising building and land costs that drive developers away from smaller (more affordable) living units and towards larger (higher ticket price) homes.
Good news: We do have a few projects in town that (if they come to fruition) will be larger complexes that house more people in less space. And although this may sound scary for some (can you say "urban sprawl?") our very active Design Review Board can be relied upon to keep an eagle-eye on that piece of the puzzle.
What to do: We need to keep pushing on the larger denser developments (with a nod to our vigilant citizenry and to the Design Review Board as to monitor impacts: traffic, environmental, livable city issues, etc). And we need to examine our existing living spaces to see if there are financial or other methods to address the intersecting needs of our different population groups (e.g. seniors who want to downsize but have no good options within Sebastopol, and young families who need a home but can't afford one).
Are there easy solutions? No. We already know that. If it were easily solved, we wouldn't have panel discussions like the one last night. But that doesn't mean we can't tackle it. Having a space to call your own, where you can lay your head down to sleep and know that you and your family are safe for the night, is essential. It drives the rest of our quality of life issues, on an individual and community level: the economy, social stability, community involvement...joy and hope for the future....
---
Wednesday, September 16, 2020 10:25 PM
9/16: PANEL DISCUSSION ON HOUSING TONIGHT. Take a look at the video...
It was an interesting discussion. Thank you to Generation Housing and to Wine Country Young Democrats for hosting this candidate's forum on housing.
---
Wednesday, September 16, 2020 10:13 PM
9/16: SEBASTOPOL TOMORROW: Endorsed!!
I am so excited to be endorsed by this great local organization!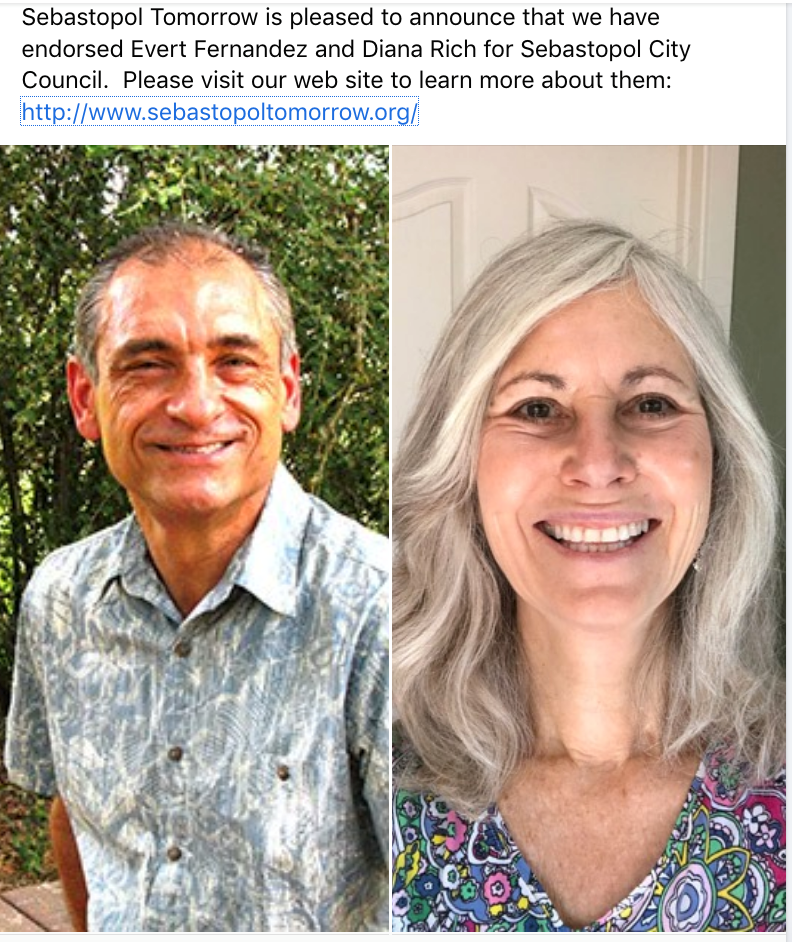 ---
Wednesday, September 16, 2020 10:06 PM
9/16: TWO ACRE WOOD. Great, socially distanced get-together yesterday.
Talked about housing, homelessness, families, and seniors. Enjoyed the good company, sharing of ideas, and lovely co-housing setting.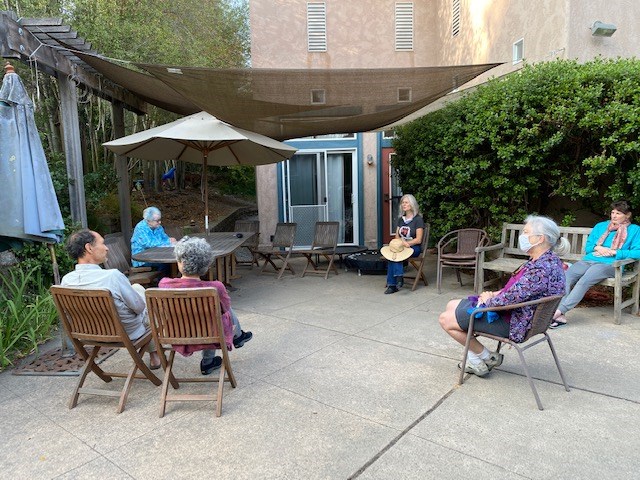 ---
Wednesday, September 16, 2020 9:04 AM
9/16: TONIGHT! I'm on the Gen H Panel Discussion on Housing in Sonoma County. 7pm.
Generation Housing is a Santa Rosa based nonprofit that's co-hosting (with Wine Country Young Democrats) a series of panel discussions with City Council candidates. The one tonight is for our Sebastopol City Council candidates. Sign on and watch. If you register, you'll get the zoom and Facebook live information. See you tonight!
Gen H's mission: "Our partnership champions opportunities to increase the supply, affordability, and diversity of homes throughout Sonoma County. We promote effective policy, sustainable funding resources, and collaborative efforts to create an equitable, healthy, and resilient community for everyone."

---
Wednesday, September 16, 2020 8:18 AM
9/16: HAPPINESS IS CLEAN AIR. Green dots with zeroes in them. Who knew this would make me so happy!
So nice to breath deep again and feel that cool California foggy air in my lungs. That's what that gray stuff is in the sky - just fog!!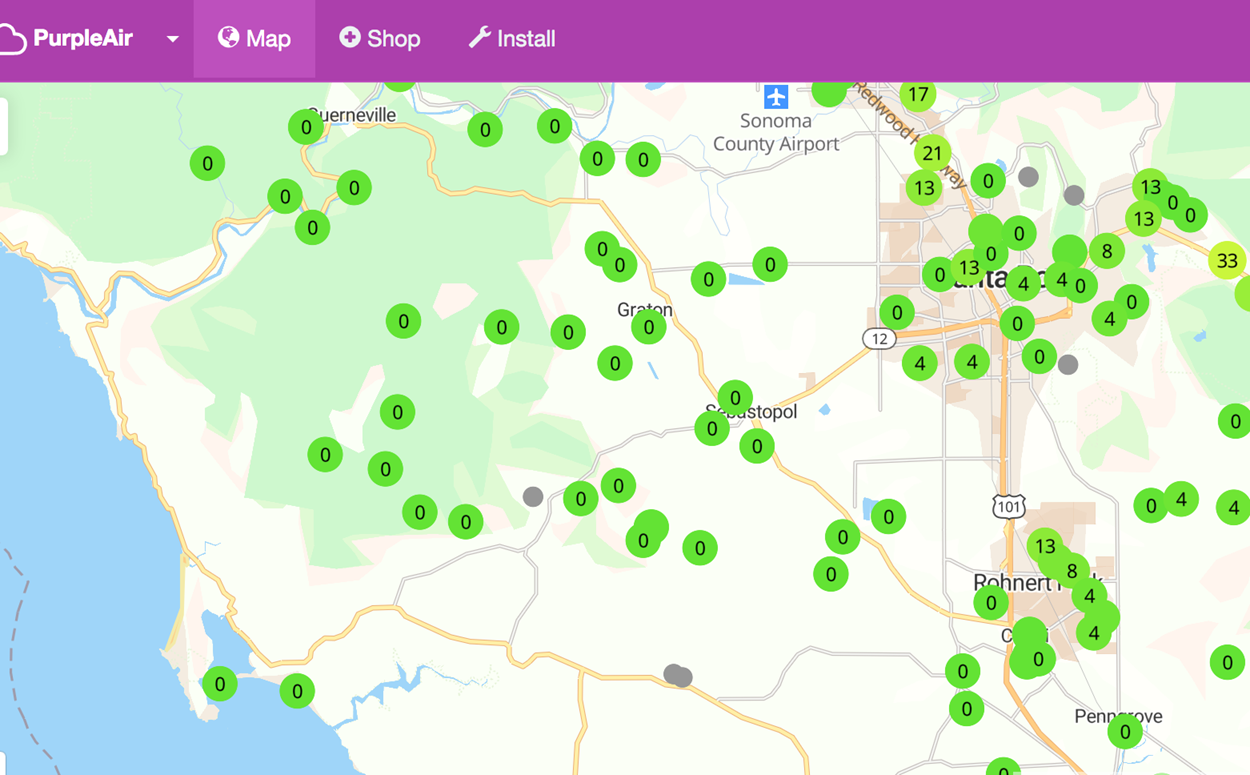 ---
Tuesday, September 15, 2020 3:21 PM
9/15: ENDORSEMENT BY LYNDA HOPKINS! Wow! Made my day.
I have such admiration for our hard-working, genuine, and approachable (and talented!) Supervisor of Sonoma County's Fifth District. I am so appreciative of her decision to endorse me!!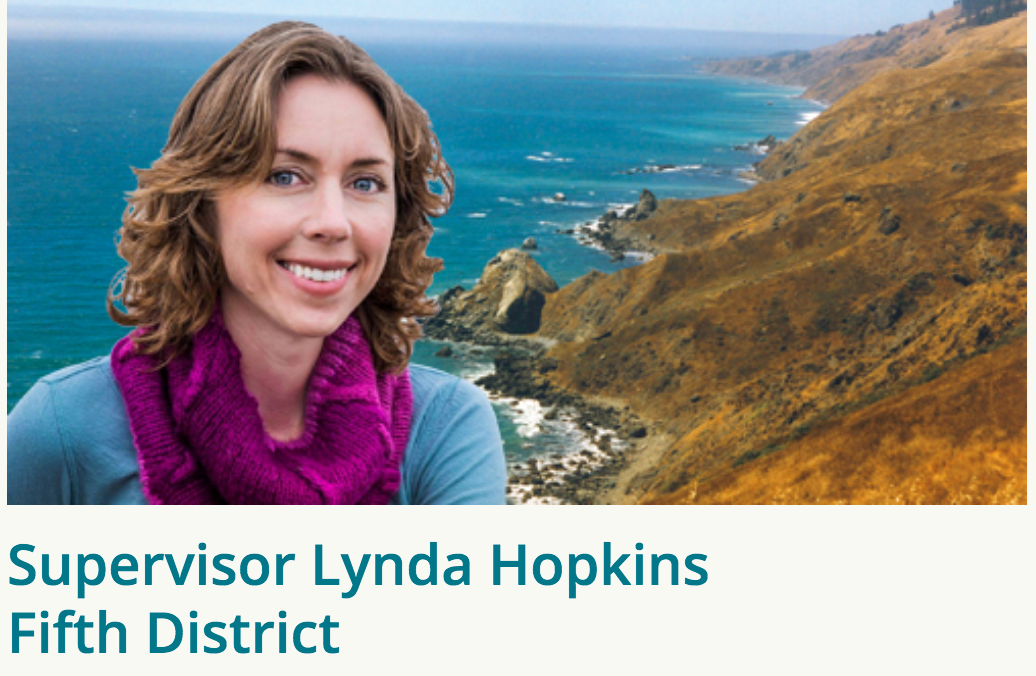 ---
Tuesday, September 15, 2020 1:27 PM
9/15: SHELTER IN PLACE KIT VIDEO. Hey, I've even got a bit part in this one!
---
Tuesday, September 15, 2020 9:14 AM
9/15: CLIMATE MIGRATION. An article worth reading...
This is from the NY Times. If you don't want to subscribe, you can get access to the article by providing your email address. This is an article that's definitely worth reading. Scary...real...a good reality-check.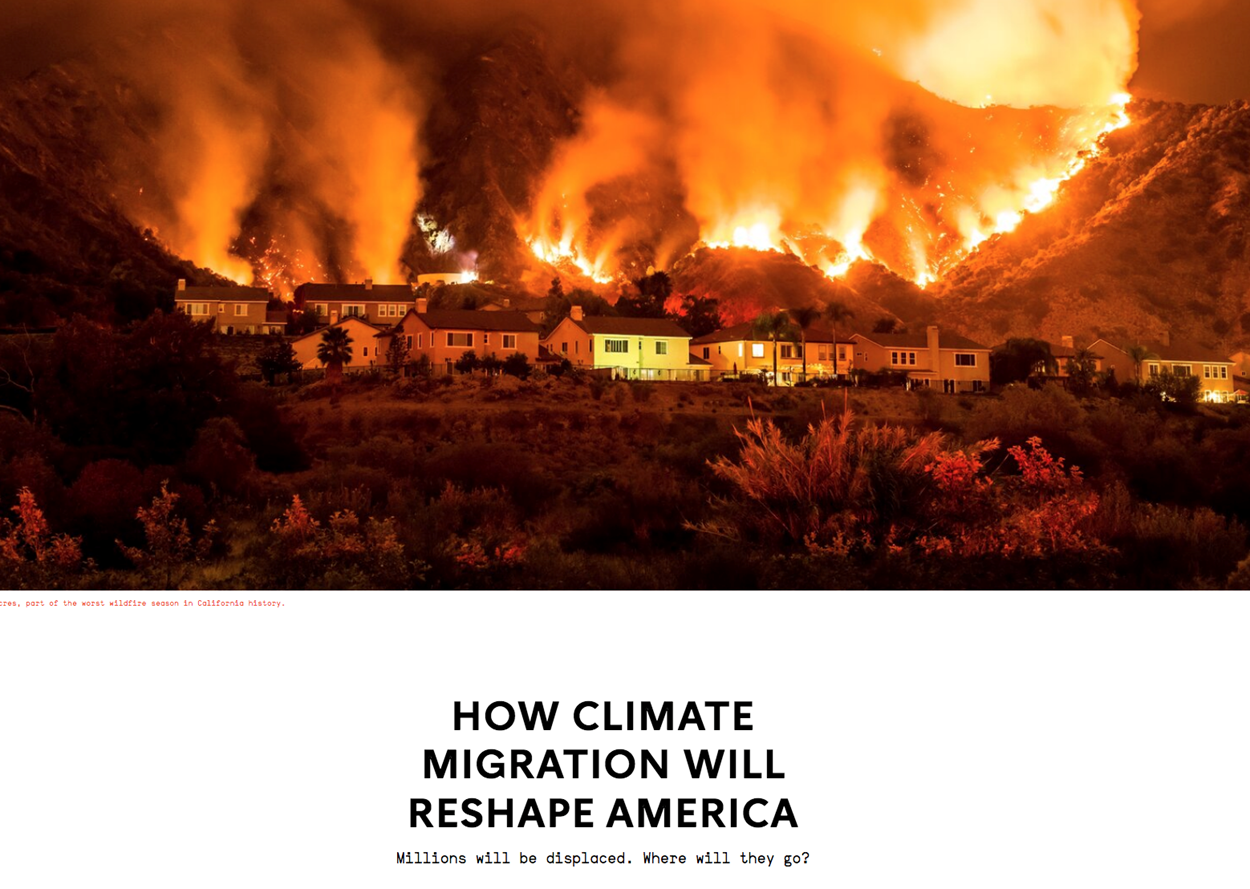 ---
Monday, September 14, 2020 10:00 AM
9/14: BEING A MOM. This is from 2011. My son Alex was only 17. He's on the right, working in the garden with local program GSE.
Global Student Embassy was founded and run by our own home-grown Oshun brothers (Lucas and Jasper). Great example of the productive, creative, community-minded drive in our little town. Sweet memories.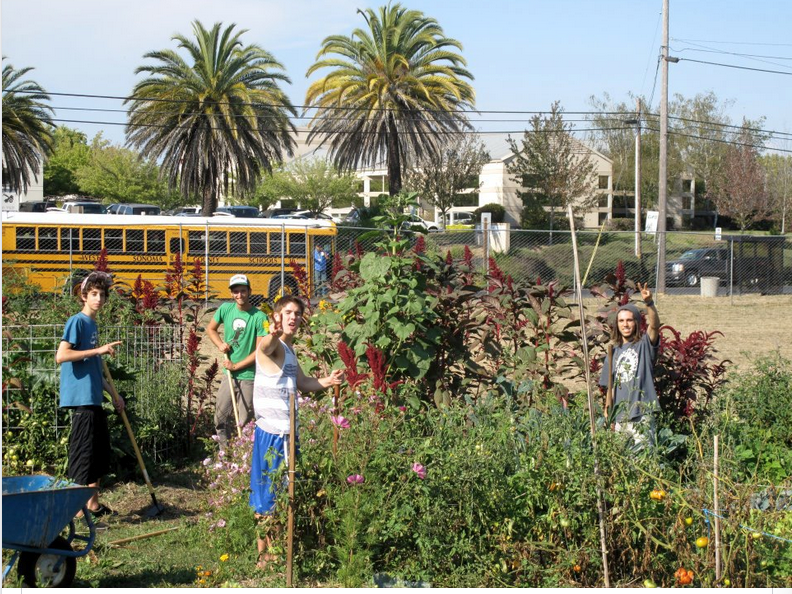 ---
Sunday, September 13, 2020 8:13 PM
9/13: FIRE & SMOKE. Wow. Still safe (but smoke reading is 168 right now!). The smoke map shows how far the smoke has spread...
...from the various fires in California, Oregon, and Washington. My son Alex is in Montana right now, at Yellowstone Park, and the smoke has reached him... Crazy... (These screenshots are from airnow.gov.)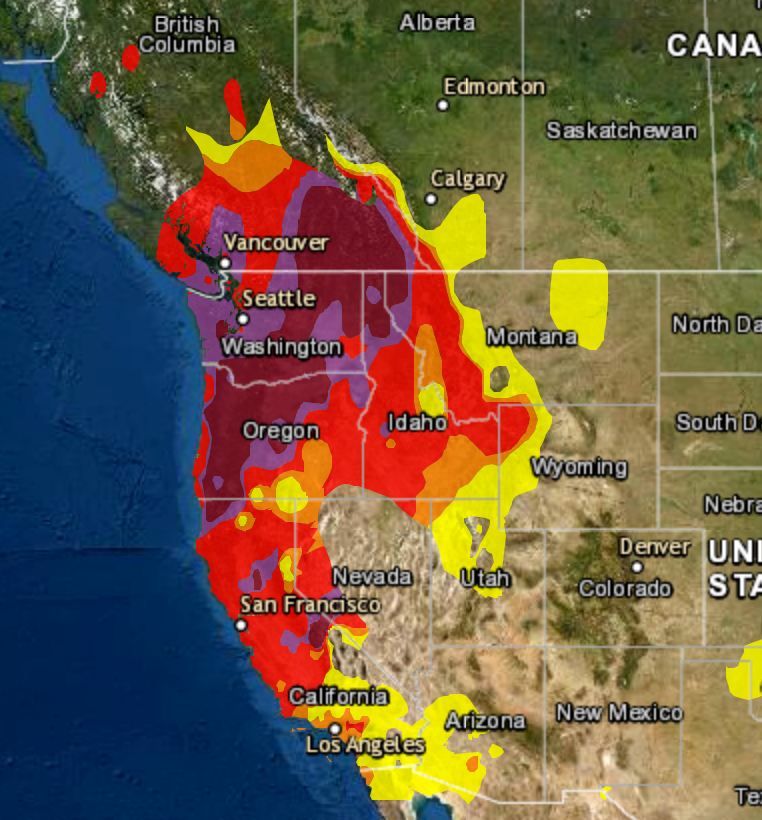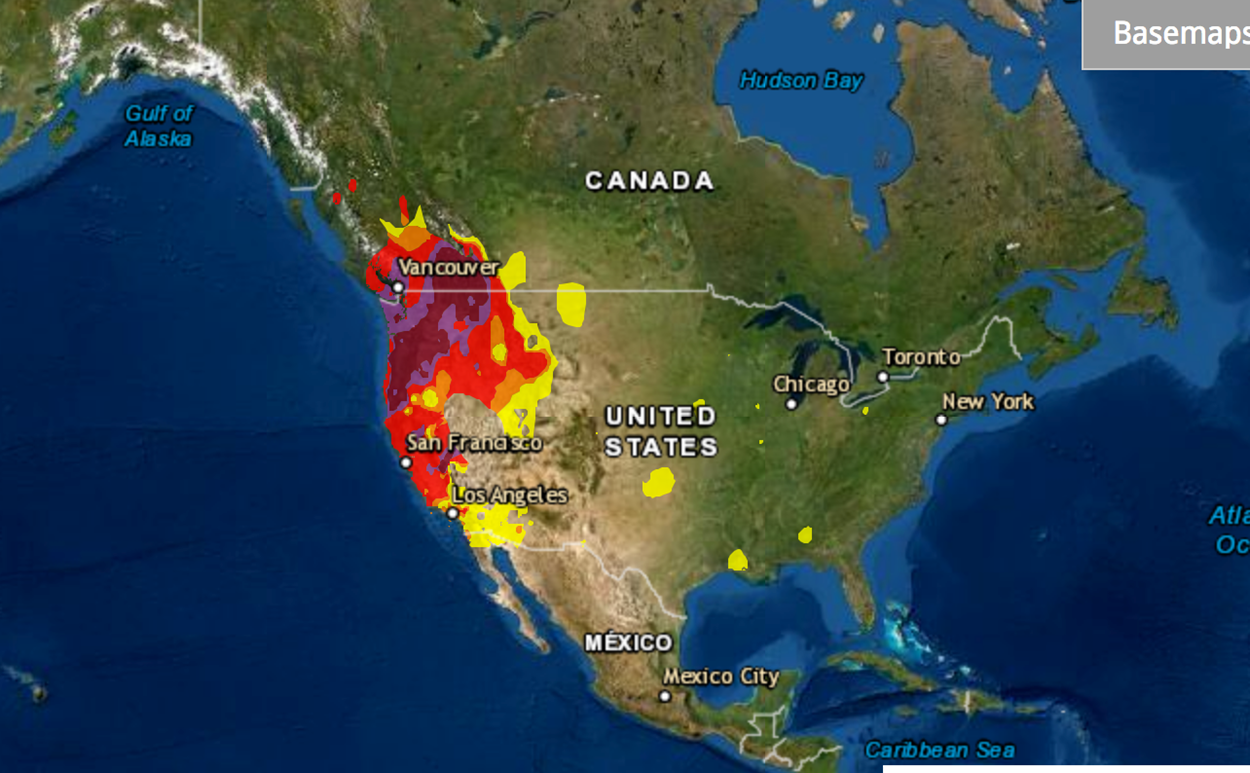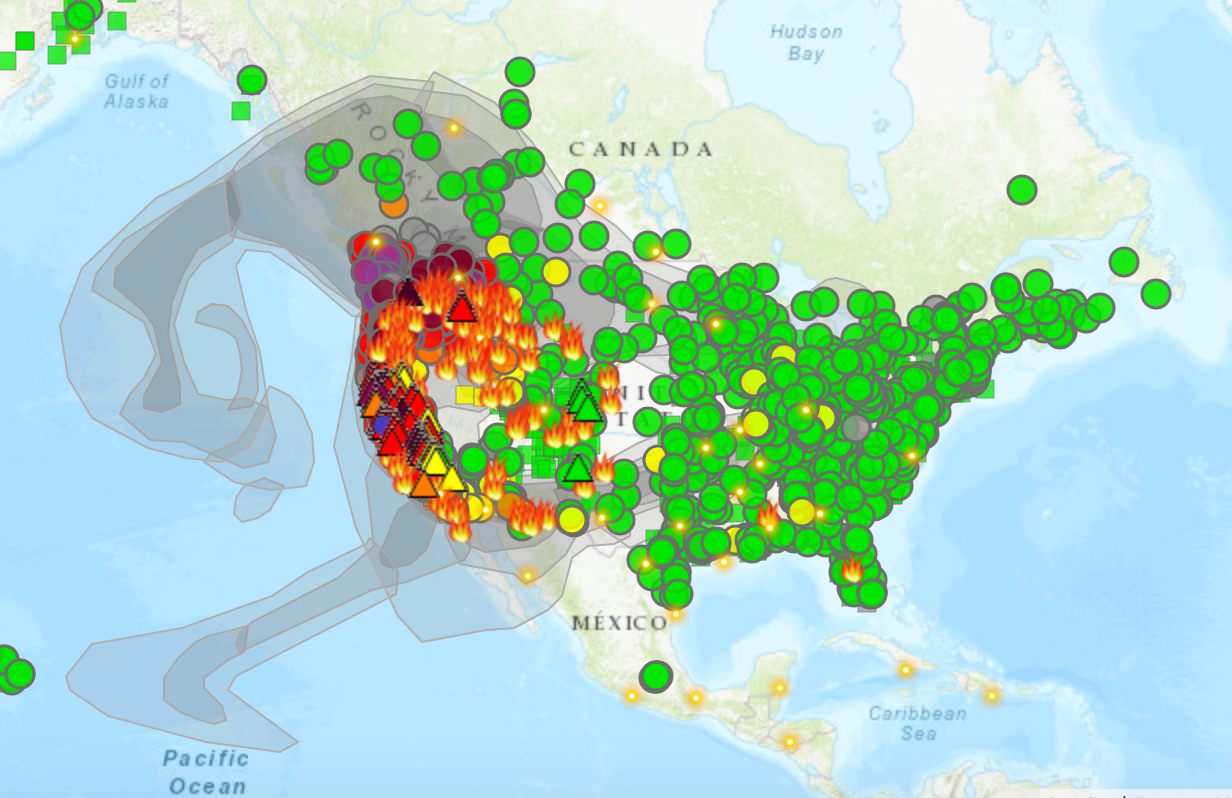 ---
Sunday, September 13, 2020 5:00 PM
9/13: THANK YOU to sign installing angels Peggy Tourje, Terry Dale, Patrick Slayter & Theresa Russo, Pam Davis, and Molly Underwood. You rock!
---
Sunday, September 13, 2020 12:00 PM
9/14: OUR PLANET. Just in case you needed more motivation to vote.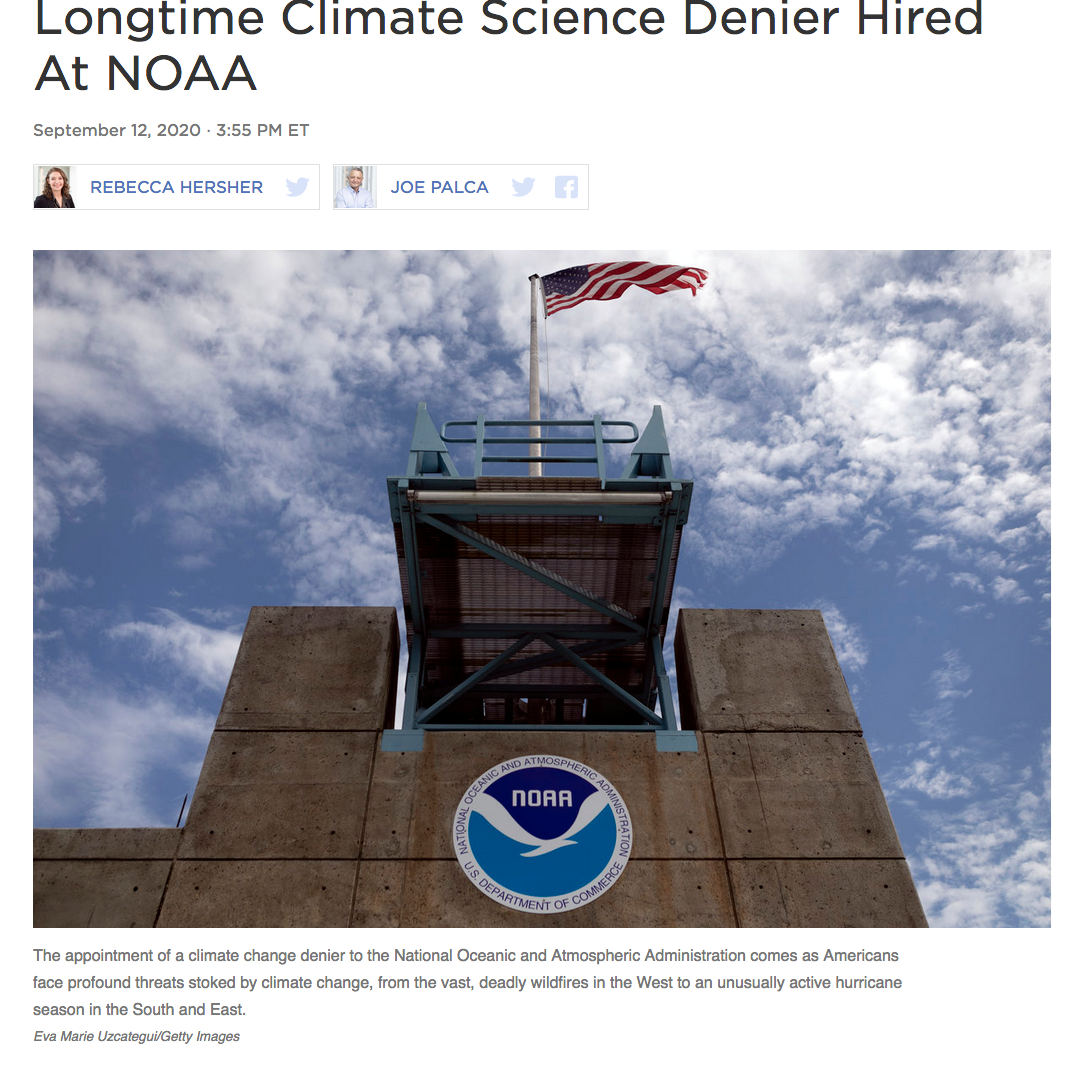 ---
Sunday, September 13, 2020 8:30 AM
9/13: SADNESS. Managed to push the memories aside for a bit, but then woke up today thinking of all that happened nineteen years ago.
The Twin Towers. We thought it was the worst. Maybe it was, but that's hard to say now, isn't it? But we got through it. We seem to always be stronger than whatever is thrown at us. That resonates with me...as a point in favor of hope.
---
Saturday, September 12, 2020 10:57 PM
9/12:SIGN HELP NEEDED! Hey, who wants to help put up campaign signs? Here's a "how to" video to engage your interest! Let me know if you want to help!
Contact me: electdianarich@gmail.com, or 707 861-0032. We've got all the supplies you'll need. Thanks!!
---
Friday, September 11, 2020 10:53 AM
9/11: SMOKE. Hmmmm....maybe staying indoors again today...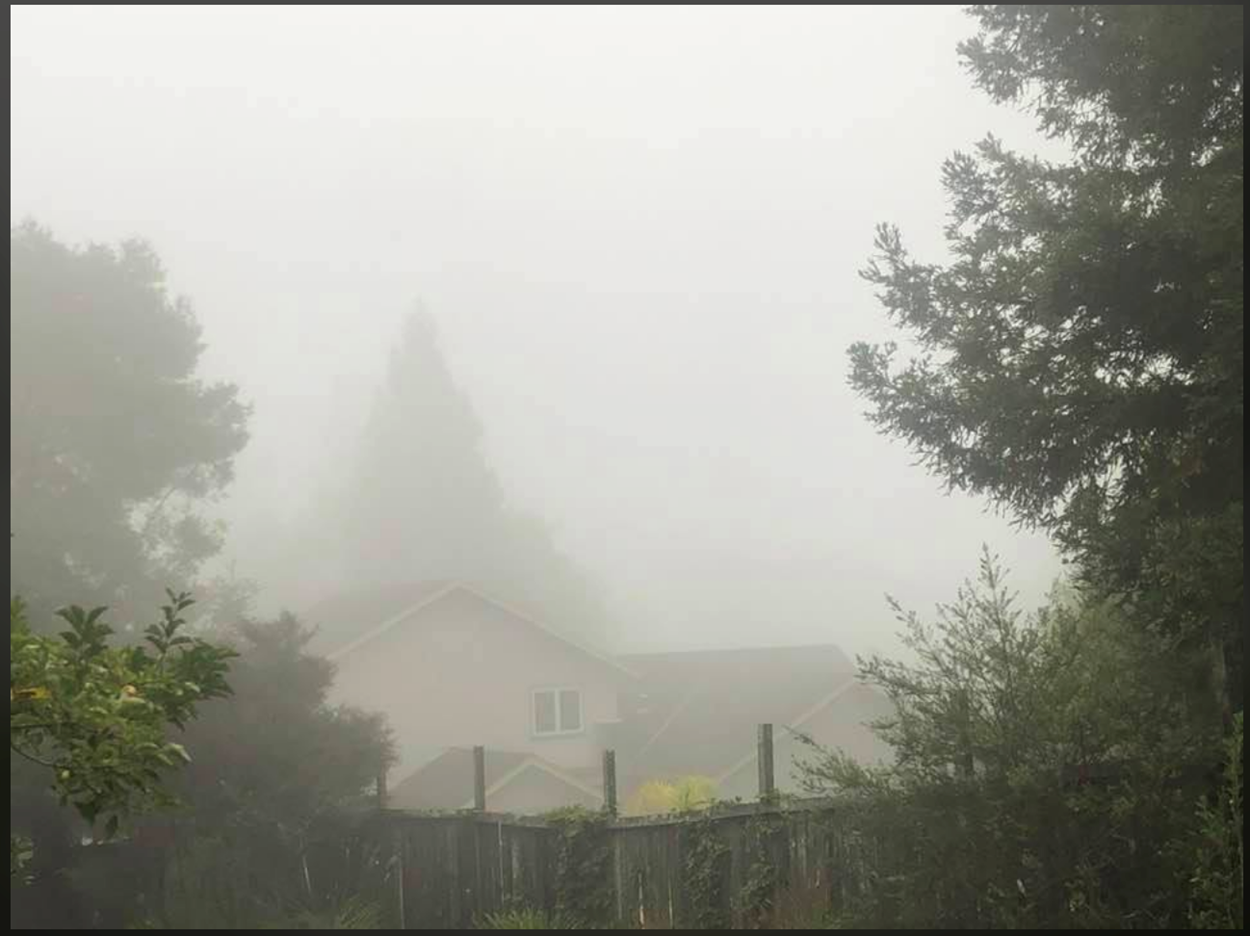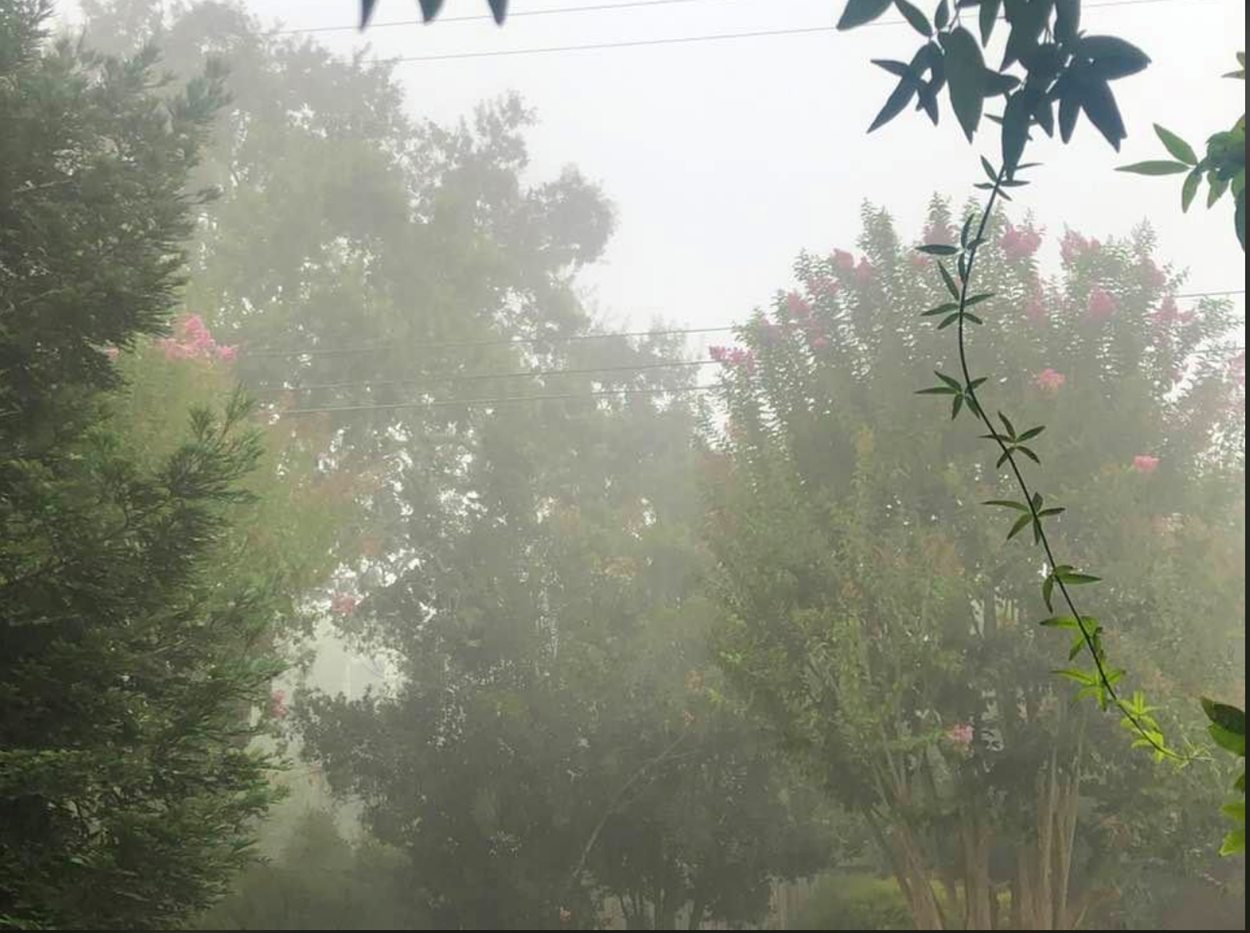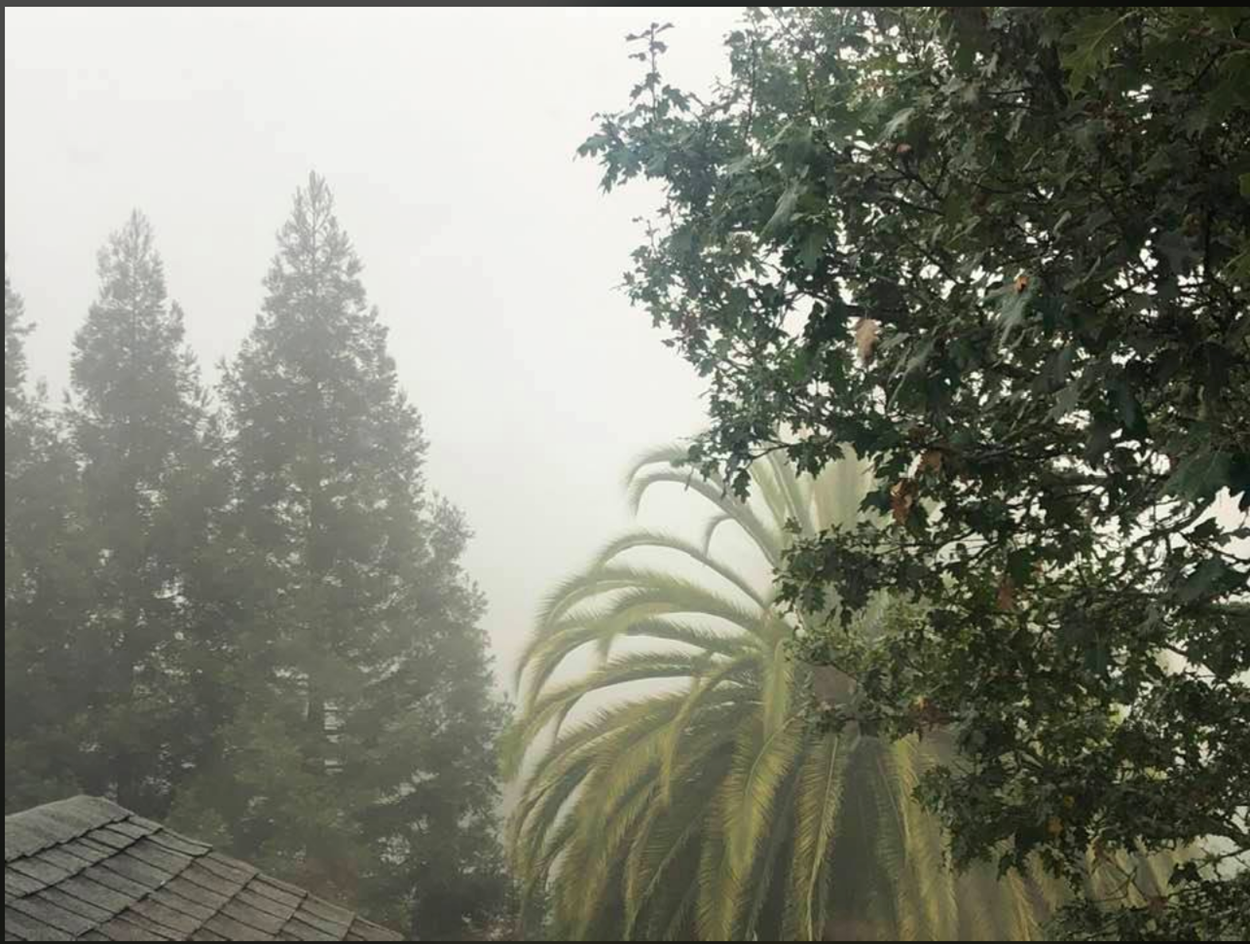 ---
Friday, September 11, 2020 9:00 AM
9/11: MUSIC. Our own Kate Wolf and Nina Gerber. Long ago, but still touches the soul and reminds us to embrace what life offers.
---
Thursday, September 10, 2020 11:05 AM
9/10: RAINBOW & RAIN. A video from 2014. A reminder of the beauty of Northern California.
---
Thursday, September 10, 2020 9:00 AM
9/10: AIR QUALITY. Using Purple Air. Yes, the air quality is awful this morning - making the West Coast look like NOT the place to be!
When you use Purple Air to check outdoor air quality, here's a few pointers I learned this morning to help accuracy: (1) uncheck the "inside air" box (unless you want to know about inside air), and (2) change the "conversion" option from "none" to "LRAPA" (this is Purple Air's correction for over-reading of air quality affected by fire smoke). No matter what, though, it's awful!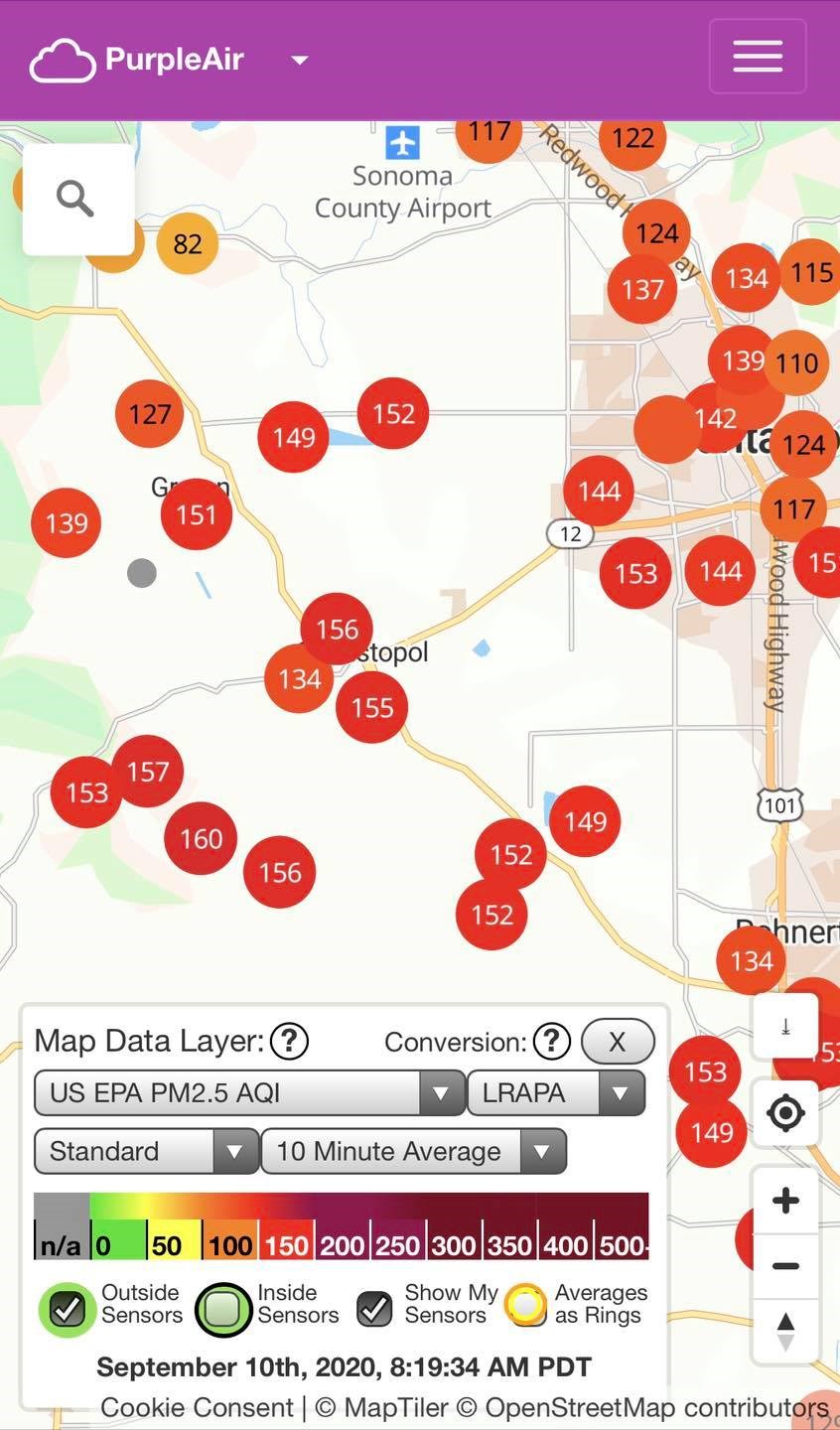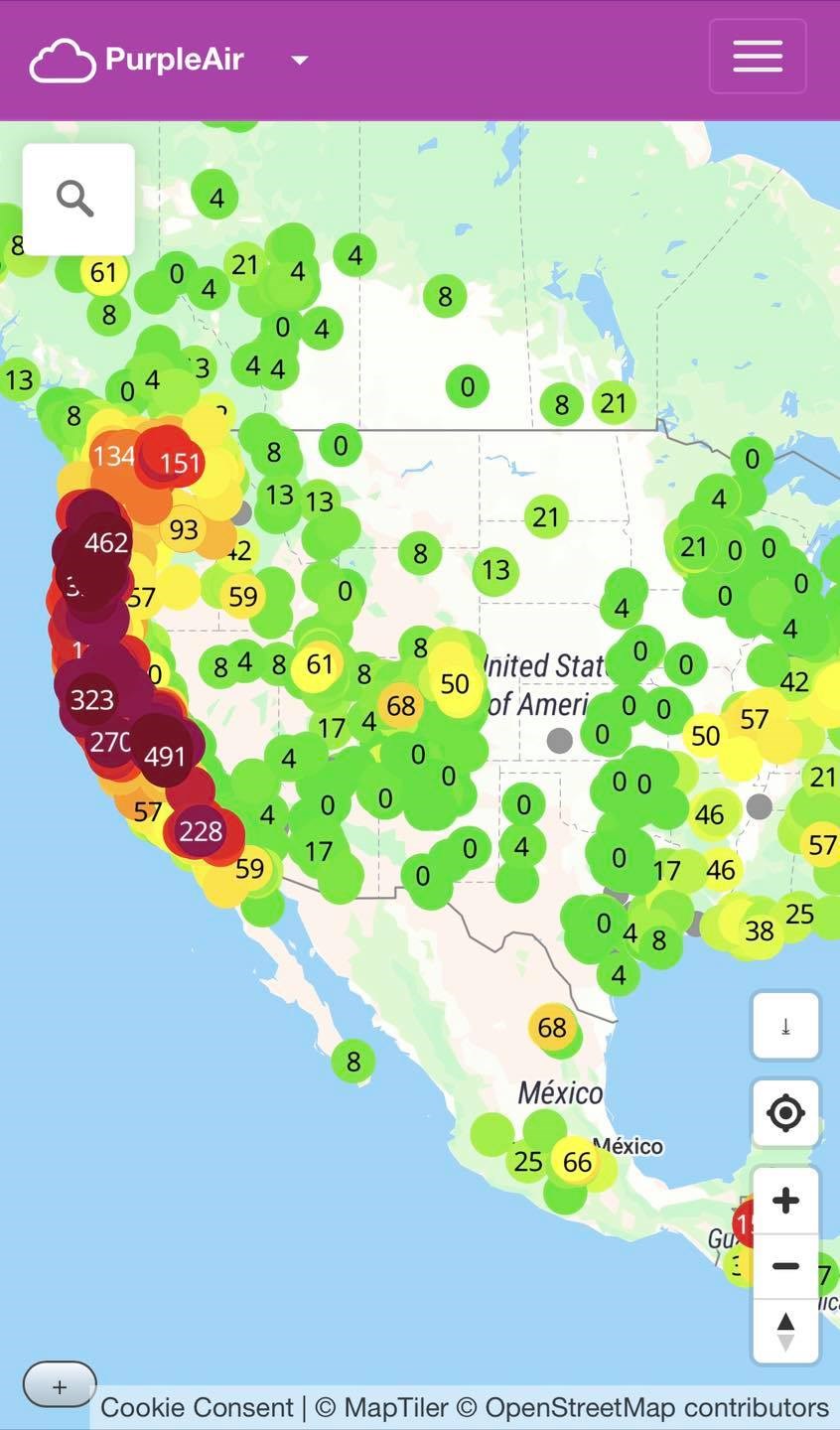 ---
Wednesday, September 9, 2020 11:14 AM
9/9: WHERE IS THE SUN? It's 8am...feels like night time. Had to turn on the lights in the house because there's no sunlight streaming in the windows.
So weird....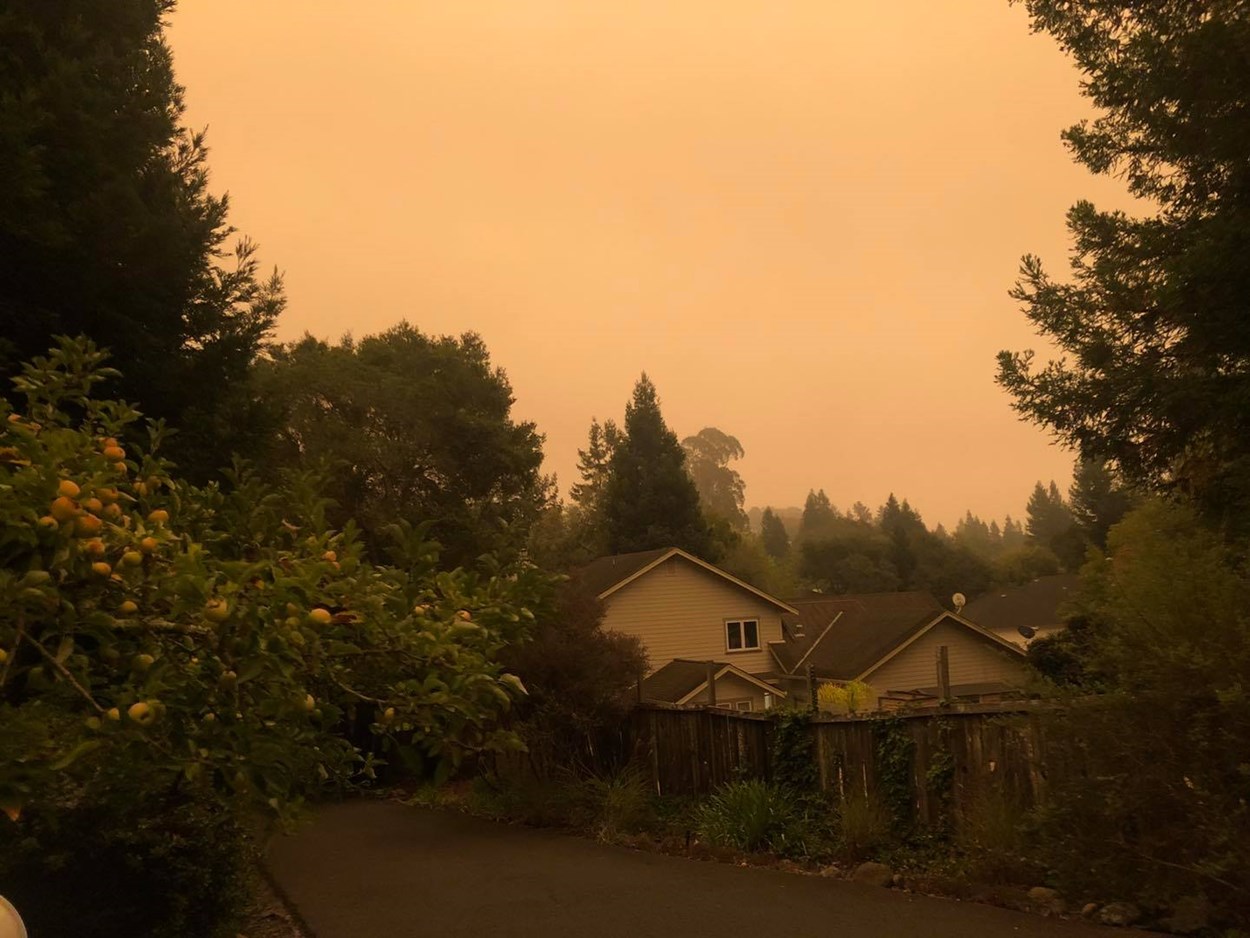 ---
Tuesday, September 8, 2020 11:29 AM
9/8: LOVE THIS...for so many reasons. Originally posted on August 26th on Facebook by Christine West. Re-posted by Peter Coyote.
"Kenyan runner Abel Mutai was just a few feet from the finish line, but became confused with the signage and stopped, thinking he had completed the race. A Spanish runner, Ivan Fernandez, was right behind him and, realizing what was happening, started shouting at the Kenyan to continue running. Mutai didn't know Spanish and didn't understand. Realizing what was taking place, Fernandez pushed Mutai to victory. A journalist asked Ivan, "Why did you do that?" Ivan replied, "My dream is that someday we can have a kind of community life where we push and help each other to win." The journalist insisted "But why did you let the Kenyan win?" Ivan replied, "I didn't let him win, he was going to win. The race was his." The journalist insisted, and again asked, "But you could have won!" Ivan looked at him and replied, "But what would be the merit of my victory? What would be the honor in that medal? What would my Mother think of that?" Values are passed on from generation to generation. What values are we teaching our children? Let us not teach our kids the wrong ways and means to WIN. Instead, let us pass on the beauty and humanity of a helping hand. Because honesty and ethics are WINNING!
#Ethics
#Honesty
#passitdown
#teachlove"
---
Tuesday, September 8, 2020 9:00 AM
9/8: MUSIC. Jim Corbett, Mr Music, Sebastopol style. Only one year ago at the Community Center. So much joy and togetherness!
---
Monday, September 7, 2020 1:00 PM
9/7: FIRE UPDATE. Hello All. Just alerting you that the Walbridge Fire is active again.
We're OK in Sebastopol, but many areas north of us (north of the Russian River) are back in evacuation warning status, with one area having a mandatory evacuation order. The evacuation map has been updated - click here.
---
Saturday, September 5, 2020 2:00 PM
9/5: HOUSING & COMMUNITY. Happiness as part of our GDP? Tiny home communities with substantial shared outdoor community space..
...as a means to increase our happiness (and housing capacity)? Yes! Thank you to local realtor Cory Maguire for saying so at a recent Generation Housing panel discussion. Example:
---
Friday, September 4, 2020 8:00 PM
9/4: SIGNS & BIRDS. Campaign signs Sebastopol style.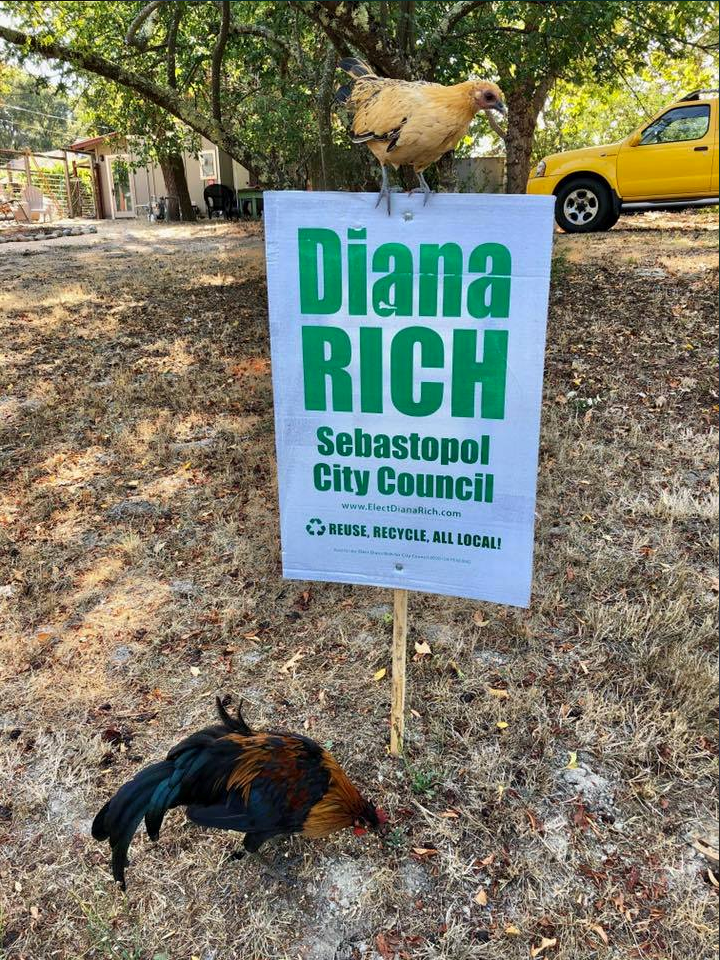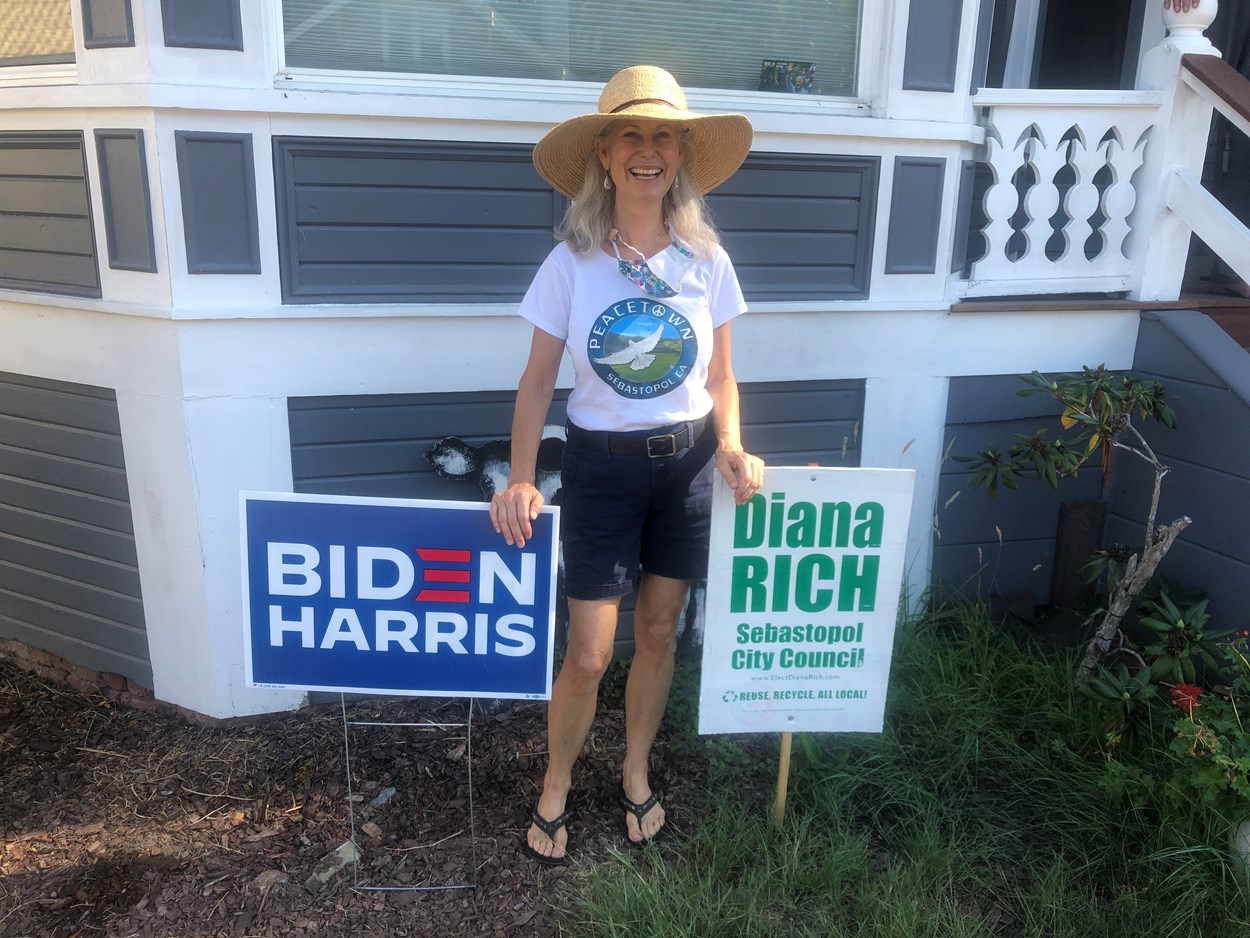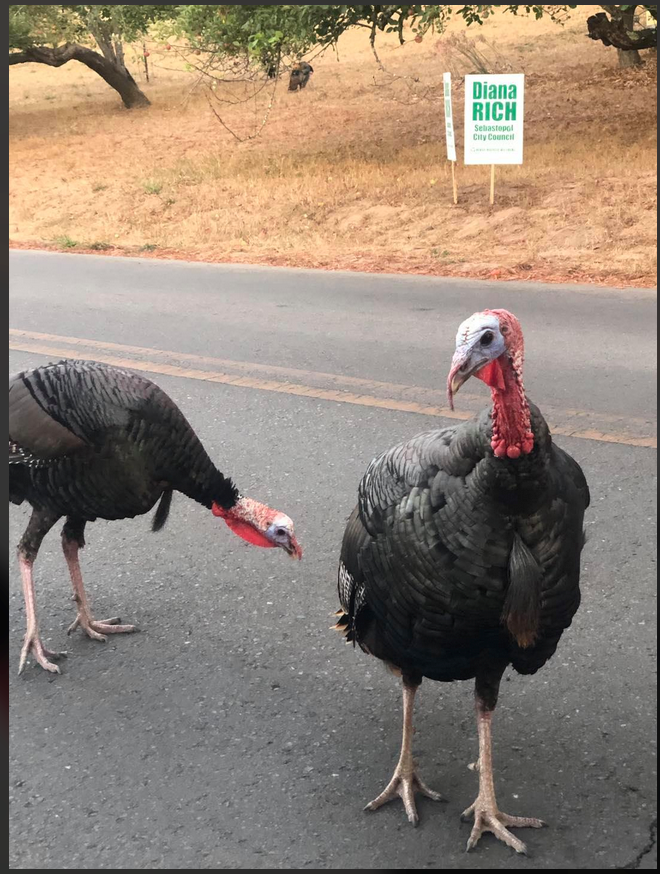 ---
Friday, September 4, 2020 4:00 PM
9.4: FLOWERS. Two blocks in Sebastopol in September. We are so fortunate!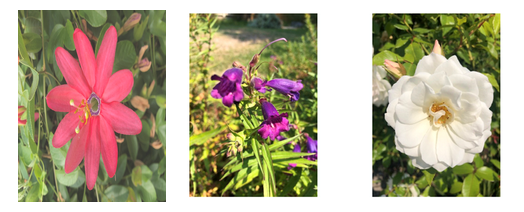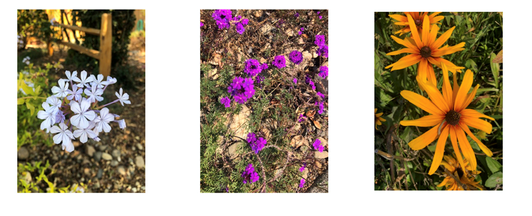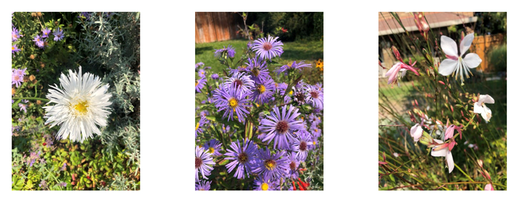 ---
Friday, September 4, 2020 9:00 AM
9/4: STREETS. Help the City collect data about pavement needs . Fun photo project?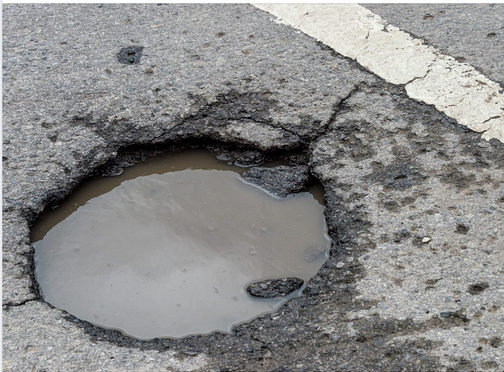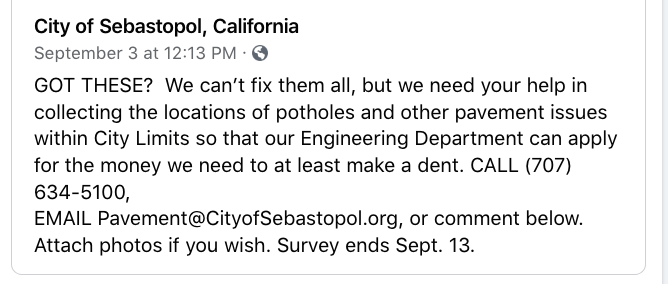 ---
Thursday, September 3, 2020 7:00 PM
9/3: GOOD NEWS! The Walbridge Fire is now 88% contained! Thank you First Responders!
From Press Democrat: 8 AM: Walbridge fire containment now at 88%Additional containment was achieved overnight in the Walbridge fire, which now stands at 88 percent corralled, according to Cal Fire early Thursday.Wednesday night, the fire in northern Sonoma County was listed at 87 percent contained.In Napa and Lake counties, the Hennessey fire increased from 76 to 78 percent contained overnight.Overall, the Lightning Complex fires in five counties was listed at 81 percent containment and a steady 375,209 acres.Firefighters on Thursday planned to continue clear bulldozer lines to connect the containment lines, mop up and douse any hotspots. Full 9/3 updates, see the article below.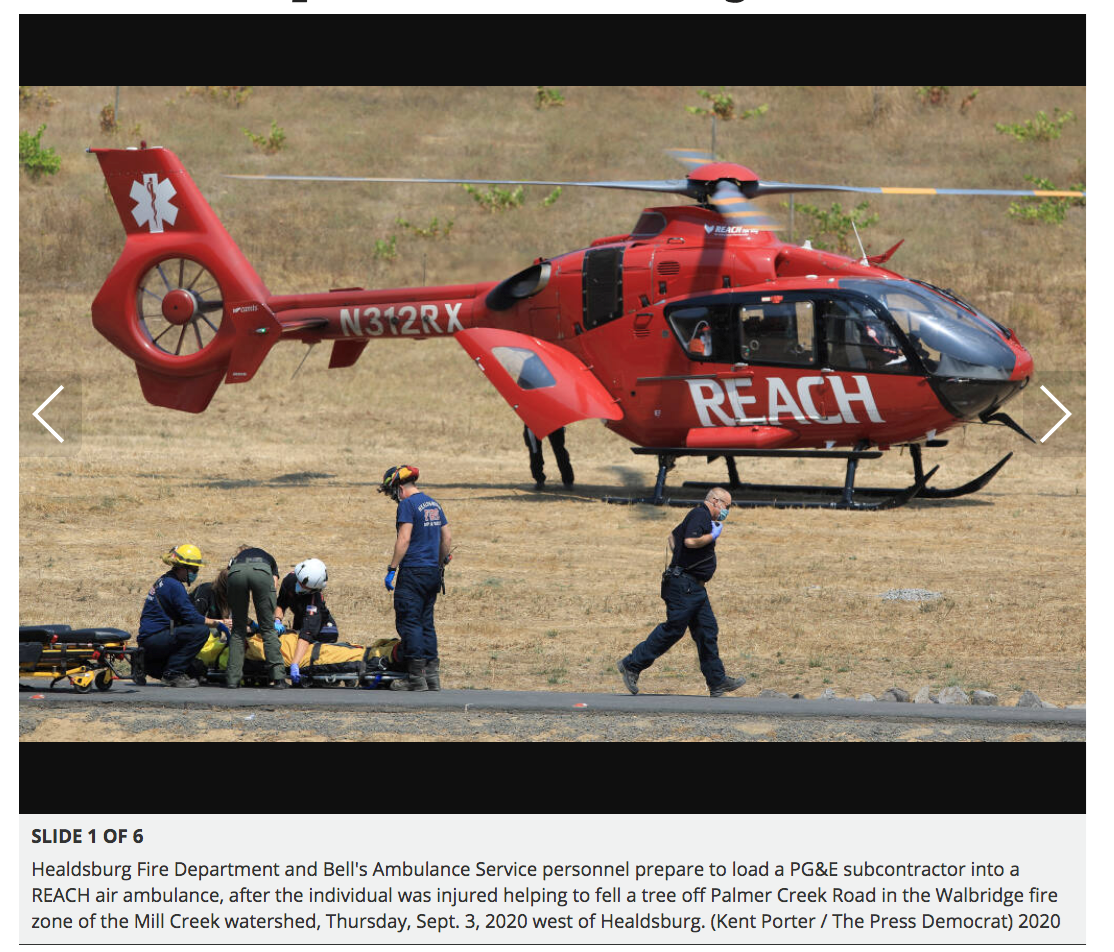 ---
Thursday, September 3, 2020 1:00 PM
9/3: RACE & BIAS. Wow! Short Video - "The Look." Worth watching.
Given lots of play since June by Proctor & Gamble. Originally produced in 2019. Used at educational institutions across the country to build empathy, change perspectives, prompt personal introspection, and bring people together for conversation. Amazing filmmaking.
Posted by Loren Ferguson on Facebook. Here are his comments: "Man, hats off to Procter & Gamble ("P&G") for this bold commercial. This is powerful. I can say I honestly relate to this on so many levels. Receiving "The Look" so many times, just feeling the prejudgment and bias thrown my way without even opening my mouth, regardless of how I'm dressed, being followed in department stores, being in a neighborhood that I "shouldn't" be in and so on. If you wonder what it's like being in "my skin" just watch this commercial and acknowledge how it makes you feel. It'll give some insight into what it's like having to rise against biases, prejudgment, prejudices, and stereotypes (I'm aware that everyone deals with "cultural stereotypes"). This, I can say I've never felt a commercial so personally like this one. Head over to " us.pg.com/talkaboutbias/ " for more on this and be educated even more."
---
Thursday, September 3, 2020 10:00 AM
9/3: LARGE SIGNS. Designed by Toby Cowan and made by Joshua Thwaites.About 4'x4'. Going up this weekend!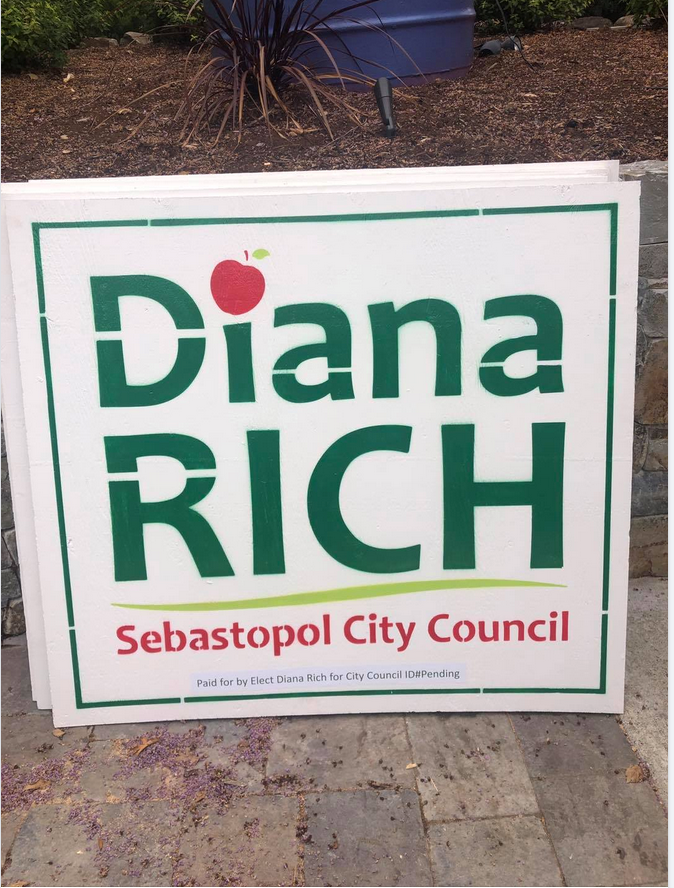 ---
Thursday, September 3, 2020 8:00 AM
9.3: REALITY CHECK. This is a depressing assessment, but astute and insightful. Don't read it until you've had your first cup of coffee (at least).
For me, the take-away is a call to action.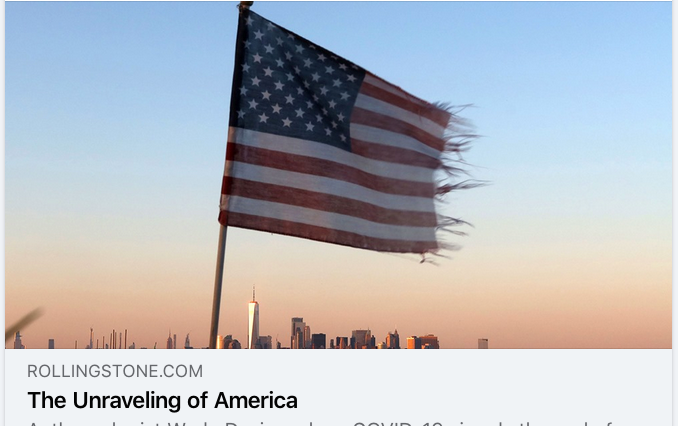 Why did I step up to run for office? Because we are at risk in this country of losing what binds us together as a people and gives value and joy to our lives: our commitment to the betterment of all in our community. Covid-19 is exposing that risk, and it is forcing us out of complacency and into action. In Sebastopol, we need to heed that call, and on a local level put to action policies and practices that serve all of us as a community, knowing that improving for all is the key to our future.
---
Wednesday, September 2, 2020 4:00 PM
9/2: HUMANITY ROCKS. Celebrating the care, concern, and ingenuity that drove all these people to spend days saving the life of one young whale.
Yes, we humans can be hard on our environment, but we can also do so much good.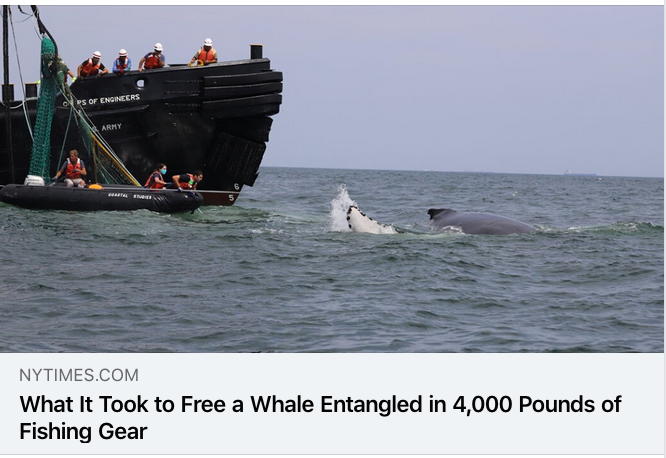 ---
Wednesday, September 2, 2020 1:00 PM
EARLY POSTINGS. September 2nd and before...
9/2/20: My mom. Woke up early thinking of her. I'm not certain why.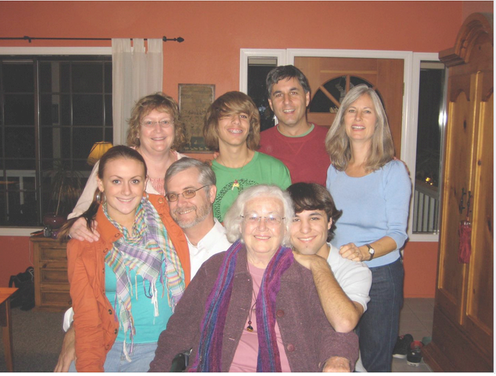 This photo was taken just five months before she passed away. She was kind, giving, and principled. What she had, she shared, with an open heart and mind. She believed in the goodness of people and in democracy. I credit her with much of what drives me to serve and to give of myself to my community. I love you Mom.
8/31/20: Good news. It's nice to have a bit of good news on the COVID-19 front - relief for at least some of our local businesses.
From Lynda Hopkins, on her Facebook page today: "COVID-19/Economic News: Barber shops, hair salons and malls allowed to reopen in Sonoma County Barber shops, hair salons and malls in Sonoma County will be allowed to resume indoor operations with modifications on Monday due to revised health orders issued by Gov. Gavin Newsom on Friday and confirmed by Sonoma County Public Health Officer Dr. Sundari Mase. The reopening of these operations coincides with the launching of a new four-tiered structure for determining how each of the state's 58 counties is doing in slowing the spread of the coronavirus and the extent to which businesses and other activities will be allowed due to the pandemic. Under the new framework, titled Blueprint for a Safer Economy, each county has been grouped into one of four colored tiers – Purple (Widespread), Red (Substantial), Orange (Moderate) and Yellow (Minimal) – based on the prevalence of COVID-19 is in the county and the rate of community spread. Sonoma County is one of 38 counties that will start in the purple tier. The new state directive creating the Blueprint framework replaces a July 13 State Order that had placed Sonoma County on the state monitoring list and prohibited activities such as indoor operations at restaurants, gyms and museums. Those restrictions will remain in place with the exception of barber shops, hair salons and malls, which will be allowed to reopen under detailed modifications to limit the spread of the virus. For example, malls will not be allowed to open food courts or common areas and must limit capacity to 25 percent of normal operations. Dr. Sundari Mase confirmed the adoption of the state's order over the weekend after reviewing the state's new framework and the data to better understand the risk in Sonoma County. "We feel comfortable in opening up this sector of our economy as the data show we've had only a handful of cases from indoor salons," said Dr. Mase. "But we still have a ways to go before we will be able to move to the next tier and allow more activities to reopen under the state's blueprint." The state's new framework focuses primarily on two metrics: the number of new cases per 100,000 residents per day (based on a 7 day average with 7 day lag) in each county and the percentage of COVID-19 tests that come back positive Counties must remain in each tier for a minimum of 21 days before being eligible to move to the next level.

Peluquerias, salones de belleza y centros comerciales autorizados a reabrir en el condado de Sonoma
Peluquerias, salones de belleza y centros comerciales en el condado de Sonoma se le permitera resumir las operaciones en interiores con modificaciones el Lunes debido a las ordenes de salud revisadas emitadas por el gobernador Gavin Newsom el Viernes y confirmadas por la Dra. Sundari Mase, oficial de salud publica del condado de Sonoma. El reabrise de estas operaciones coincide con el lanzamiento de una nueva estructura de cuatro niveles para determinar cómo le está yendo a cada uno de los 58 condados del estado para desacelerar la propagación del coronavirus y hasta qué punto se permitirán negocios y otras actividades debido a la pandemia. Bajo el nuevo sistema, titulado Blueprint for a Safer Economy, cada condado se ha agrupado en uno de los cuatro niveles de colores: Morado (Generalizado), Rojo (Sustancial), Naranja (Moderado) y Amarillo (Mínimo), según la prevalencia de COVID-19 esta en el condado y la velocidad de propagación comunitaria. El condado de Sonoma es uno de los 38 condados que comenzarán en el nivel morado. La nueva directiva estatal que crea el sistema de Blueprint (state directive creating the Blueprint framework) reemplaza una orden estatal del 13 de julio que colocó al condado de Sonoma en la lista de supervision estatal y prohibió actividades como operaciones en interiores en restaurantes, gimnasios y museos. Esas restricciones permanecerán en lugar, con la excepción de las peluquerías, los salones de belleza y los centros comerciales, que podrán reabrir con modificaciones detalladas (detailed modifications) para limitar la propagación del virus. Por ejemplo, no se permitirá que los centros comerciales abran patios de comidas o áreas comunes y deben limitar la capacidad al 25 por ciento de las operaciones normales. La Dra. Sundari Mase confirmó la adopción de la orden estatal durante el fin de semana después de revisar el nuevo sistema del estado y los datos para comprender mejor el riesgo en el condado de Sonoma. "Nos sentimos confortable abriendo este sector de nuestra economía, ya que los datos muestran que solo hemos tenido un puñado de casos de salones de interior", dijo la Dra. Mase. "Pero todavía tenemos mucho camino por recorrer antes de que podamos pasar al siguiente nivel y permitir que se vuelvan a abrir más actividades bajo el plan del estado." El nuevo sistema del estado se enfoca principalmente en dos métricas: el número de casos nuevos por 100,000 residentes por día (basado en un promedio de 7 días con un retraso de 7 días) en cada condado y el porcentaje de pruebas de COVID-19 que dan resultados positivos. Los condados deben permanecer en cada nivel durante un mínimo de 21 días antes de ser elegible para pasar al siguiente nivel."
8/31/20: Thank you First Responders, for protecting us and the precious trees of Armstrong Redwoods. These men and women are amazing - they are our heroes! From 101 Things to Do Sonoma County: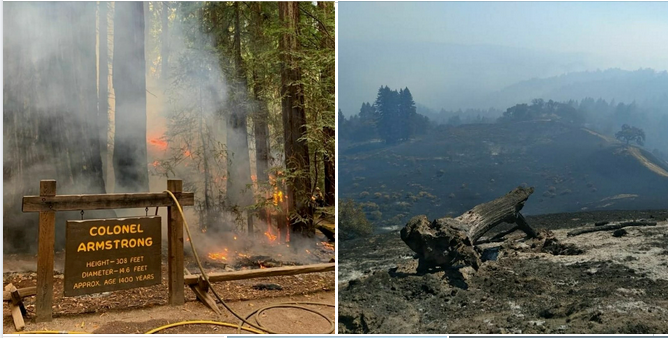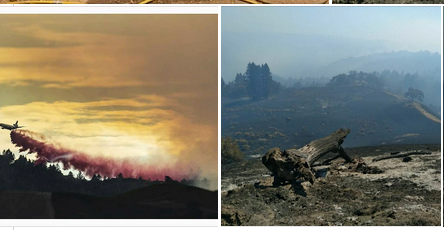 8/31/20:
8/30/20: Mark Your Calendars! Sebastopol City Council Candidates Forum is Sept 29th 6:30-8pm. The forum will be live-streamed on Facebook and then the video will be posted on YouTube. Click here to learn more about our local League of Women Voters.
8/28/20: Did you notice those purple, yellow and white flags along Main Street two days ago? Yes, it's the 100th anniversary of the passage of the 19th Amendment! Nice to see our town recognizing it. Check out the website (click the image below) for more information about the Sonoma County Women's Suffrage Project.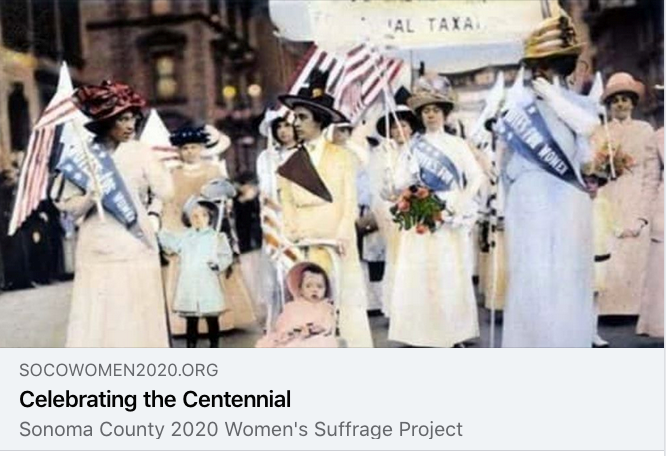 8/28/20: Affordable housing ideas for Sonoma County. Timely. Definitely worth watching. Robin Bartholow of North Coast Builders Exchange and local realtor and longtime Sebastopol resident Cory Maguire are both panelists.
8/28/20: Affordable Housing: I sat in on a great meeting on this topic yesterday (Zoom of course). Hosted by Gen H (Generation Housing), with panelists from the construction industry and local realtors, plus others. Thank you to Cory Maguire for alerting me to it, and to Amie Windsor for joining me in the meeting. Very innovative ideas were discussed. It was true brainstorming by informed people. This is such a tough question. Yes, we want our locals to be able to afford to live here. But we also value those who are part of our community and have invested in property that they are now selling or renting out. And our true reality check for new housing (affordable or otherwise) is the lack of land within town that isn't already developed. What can we do to support our locals who need housing in order to stay here? Demand is super high now, which means housing sales and rental rates are high. That forces out many people, especially young families, who contribute to our economy and provide the youthful energy to get things done. Case in point: a local church that has such an aging population in its congregation that there's no-one to keep up the landscaping. My point: keeping young families in our town benefits all of us. And no, I don't have a solution, but it's on my radar, big time. Check out out the Generation Housing website here.
8/26/20: My dog Arya. What a pose! So stately.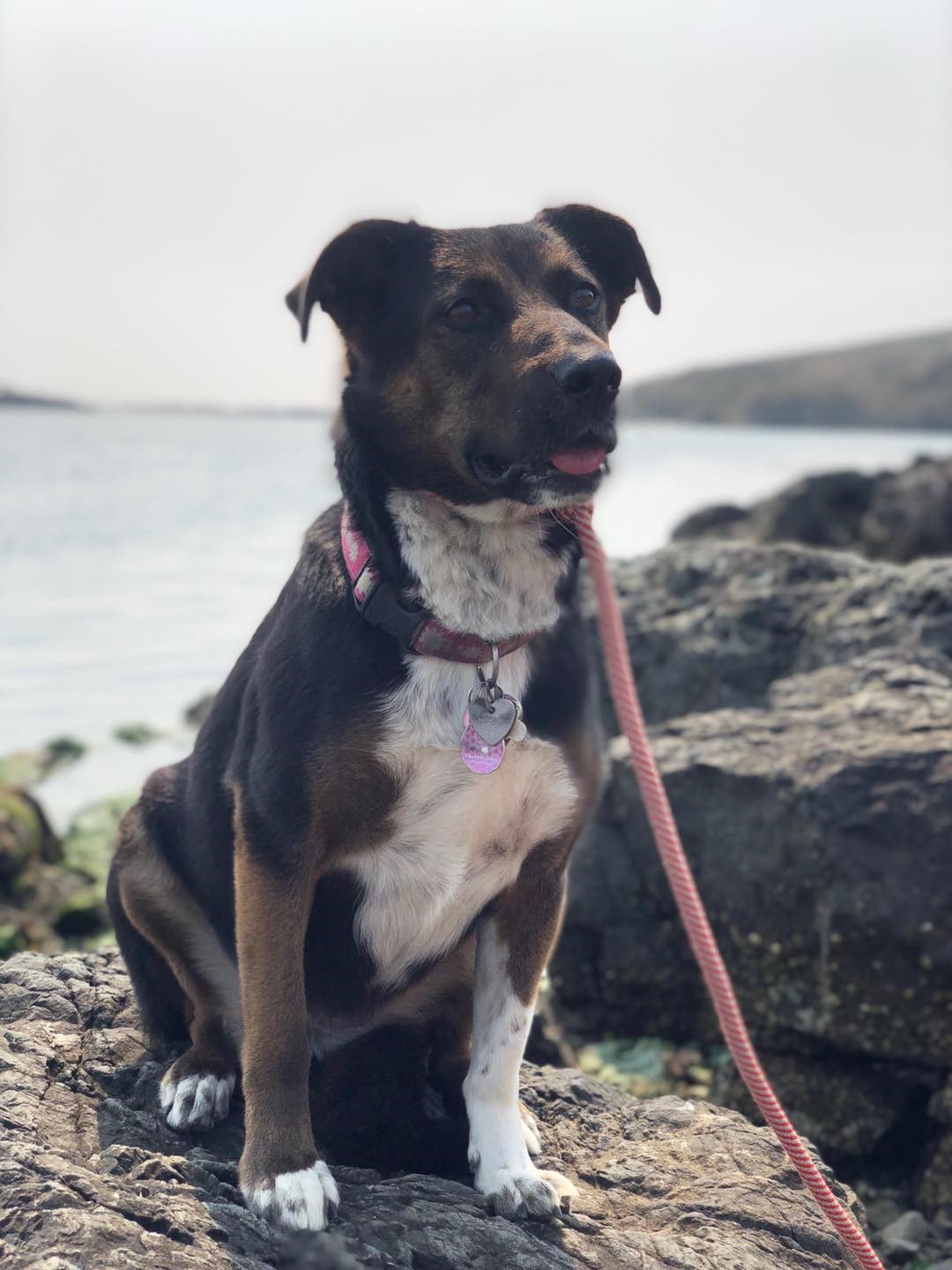 8/26/20: Had to share this... Budweiser to put out a fire? Well..you use what you have available, right?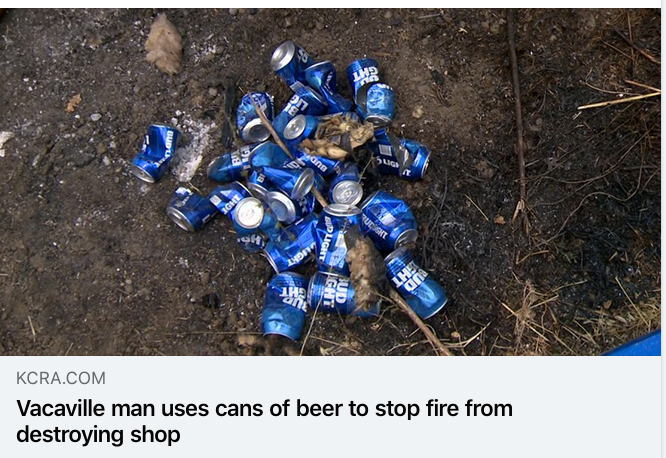 8/26/20: I'm a fan! Pat Kerrigan's morning news show on KSRO. Mon-Fri 6-10am.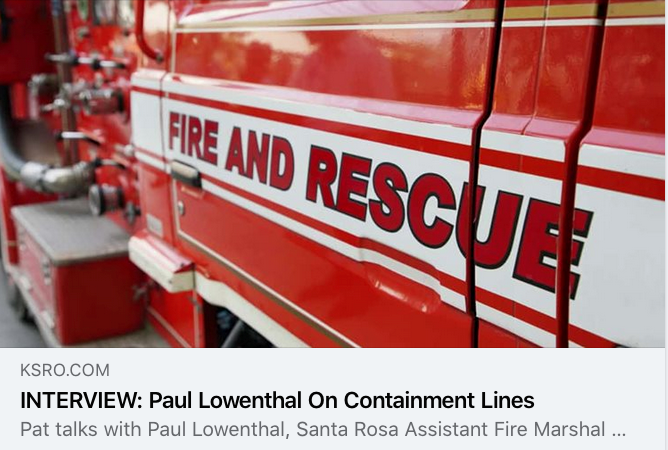 This interview from a few minutes ago is a perfect example. Direct, full of content, asks the questions we want to ask, and uplifting. Live streaming, plus each interview is available to listen to within 10-15 minutes after its on her show. This morning: Santa Rosa Assistant Fire Marshal & Cal Fire PIO Paul Lowenthal, Sonoma County Fire Chief Mark Heine, Marin Fire Chief Jason Weber, Senator Mike Maguire, Supervisor Lynda Hopkins, Assemblyman Jim Wood.
8/25/20: Gotta love our supervisor Lynda Hopkins. Keeps us informed. Knows her facts. Shows compassion and appreciation.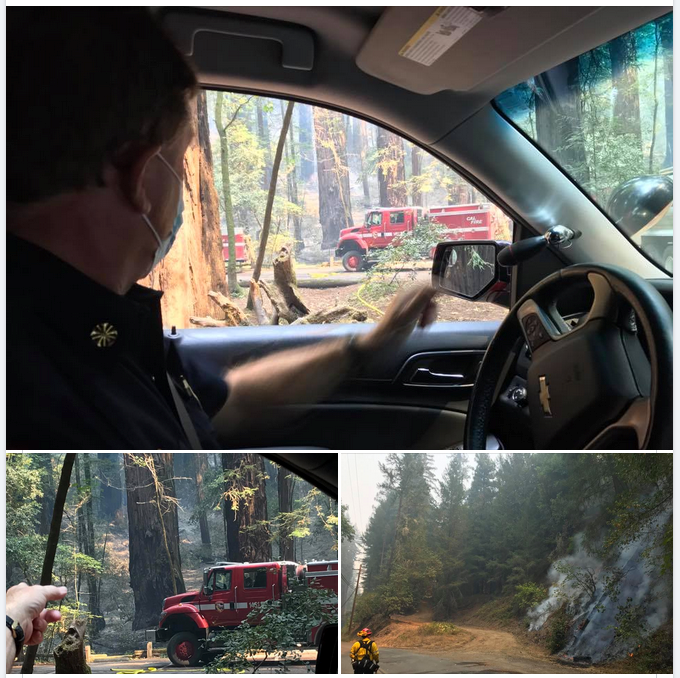 From Supervisor Lynda Hopkins: "8.25.2020 @6PM — observations & thoughts on why we need to keep respecting the Walbridge (and the evacuation orders) — I'm grateful to have had an opportunity to spend a couple of hours out on the fire lines with Sonoma County Fire Chief Mark Heine today. It was a sobering reminder that, while today is a day of celebration for many Russian River residents who will have an opportunity to sleep in their own beds and cook in their own kitchens for the first time in days, we do still have an active fire front — and active firefight — on our hands. There is good reason for the north side of Guerneville and the community of Rio Nido to remain under mandatory evacuation. I know the air is clear in the Lower Russian River right now. I know it *feels* like the danger has passed. I know it's challenging and frustrating and financially draining to be out of your home. But the Walbridge continues to burn. The fire is active along Mill Creek and Sweetwater Springs Roads. It is active on the floor of Armstrong Woods. It's important to remember that this fire is not functioning as a wind-driven wall of fire. Instead, it often takes the form of small fingers of fire "backing" its way downslope towards a valley floor. The good news is that this kind of fire behavior affords us an opportunity to defend structures, and even to defensively "guide" the flames towards roads and other fire breaks. The bad news is that these small fingers can burn gradually down to the floor of a valley, hit bottom, and then run back up to a ridgeline — gaining heat and speed as it heads upwards — making a sort of zig-zag pattern in the same canyon for days, even weeks. It's also worth remembering that low-intensity fires are generally a good thing for our fire-adapted ecosystems. They clear grass and brush from the forest floor, reducing fuel for a future fire. But the same area *could* actually burn twice. If the wind were to pick up, the fire could get into the canopy. (And the second time around, the canopy would be extremely dry, having been 'baked' from the ground-fire below.)
While county roads and dozer lines are currently functioning as fire breaks, even *without* wind causing spot fires, all it takes is one rolling smoldering log, or one falling fiery tree, to catch the other side of the road on fire. And given the steepness of the terrain, it doesn't take much in the way of ladder fuels to facilitate fire running up a tree and catching the canopy on fire. (Think of it this way: a shrub on a very steep hillside might burst into flames, and because the hillside is so steep, that shrub is adjacent to the leafy mid-section of a tree that's rooted further down the slope.) If those burning trees fall across a road, or a burning log rolls across a road, and there's no firefighter present to catch it early, it can cause the fire to cross the fire break. Good news: fire crews have been hard at work preparing properties and laying hose lines in areas of active fire. Also good news: crews are on hand to monitor the hotspots, so that a log or tree doesn't roll across a fire break and cause the fire to leapfrog. One of the most beautiful things I witnessed today were the firefighters attending the active fire in Armstrong Woods. The fire is there in the heart of the valley floor, burning in places I've walked dozens of times with my children through rain, frigid fog, or filtered sunshine. And what I saw was this: firefighters treating our old growth redwood trees like the great beings that they are. Firefighters clearing away the bracken and brush at the bases of their mammoth trunks, protecting these 1,000+ year old giants, armed with hoses in case the fire made a run at our trees. At the moment, the goal is not to extinguish the fire; the goal is to guide it. And in Armstrong, the goal is to keep it along the ground, out of the canopy. I am extraordinarily grateful to the CAL FIRE fighters out on the lines who have come to the Walbridge from throughout the state of California; to our local firefighters, who worked the fire in the early days without any kind of break; to our battle-hardened Fire Chiefs and Battalion Chiefs commanding crews, analyzing fire behavior, and making mission-critical decisions; to the peace officers assisting with evacuations and keeping our neighborhoods safe while we were gone; to the County 'second responders' helping at evac centers, supporting pets and livestock, and running the Emergency Operations Center around the clock. (Oh, and also a shout out to the Caz crew for some killer dozer lines.) Stay safe, y'all. May we all be home soon.
"
8/25/20: Excellent news shared by my friend (and supporter!) Oren Noah. And here outside my window? Blue skies and clear air!!!! Yahoo!!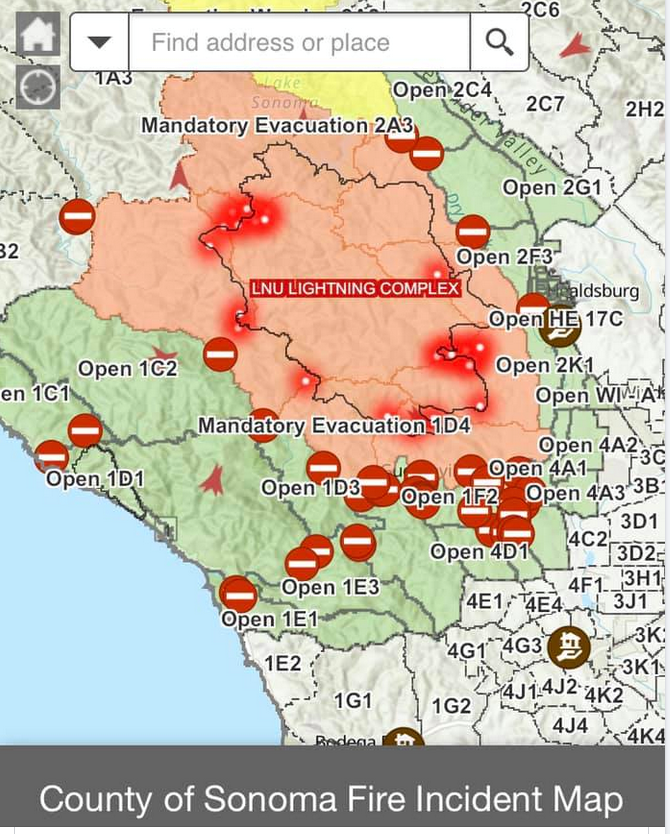 8/25/20: This morning's good news. Those redwoods... Amazing..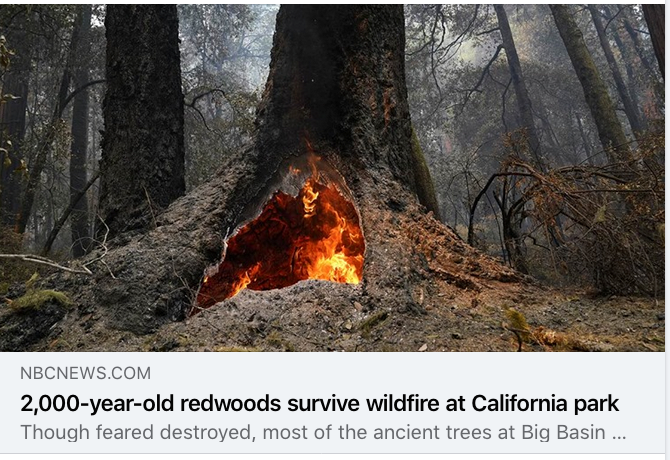 8/24/20: Reuse, Recycle, All Local!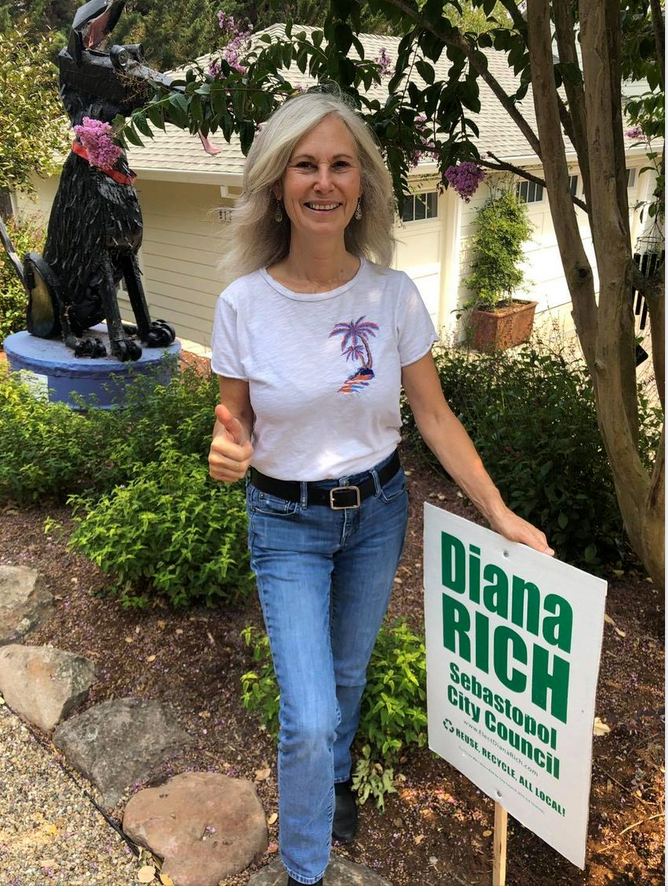 Want one of these environmentally-friendly yard signs in your yard? Of course you do. Let us know ASAP! Email me - electdianarich@gmail.com, or sign up on the volunteer page at
electdianarich.com.
These yard signs rock! Made from cardboard-with-a-history (think dumpster diving!), hand cut to size, painted white with latex paint salvaged from other projects, deigned by local designer Toby Cowan (
pdg1.com
), screen printed individually by the amazing young Sebastopol artist Caitlin Clark (
https://underrated-moth.square.site
). All inspired by our own Patrick Amiot. The team: Patrick Amiot, his daughter artist Mathilde and her partner Joshua the amazing recycling sourcer and all-around-I'll-figure-it-out-kind-of-guy, Caitlin Clark the screen printer, Toby Cowan the graphic designer, Pam Davis for her insistence on deeper research into the difference between "recyclable" and "actually recycled," Wayne Stanfield, Dan Gurney, and Daniel Rich for cutting, sourcing, and installation expertise, Sebastopol Hardware for an excellent supply of needed hardware, Friedman's for those few items Sebastopol Hardware didn't have on hand, and Wild Brine for the final pile of cardboard sitting on my driveway waiting to be cut up for the final 70 signs!!! Collaboration and creativity in action!!! Wow. Love this town!!
8/23/20: Offering a safe haven for horses who are evacuated.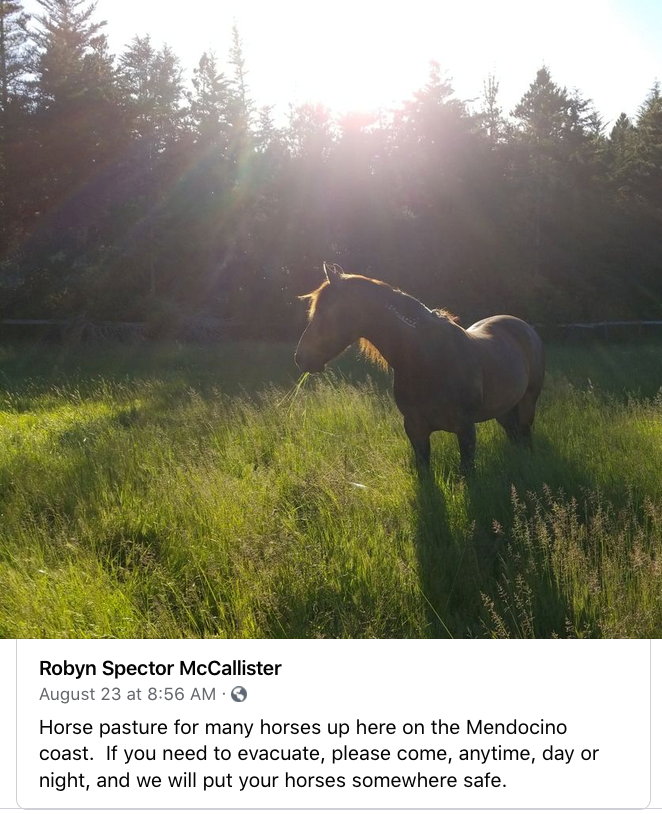 8/23/20: From Lynda Hopkins: CAL FIRE/County Briefing Update 8.23.2020 @4:30PM — Summary of CAL FIRE Chief Ben Nicholls' remarks — [en español abajo]
Meyers: Meyers fire should be able to go to 100% containment tomorrow. Chief Nicholls was able to fly it this afternoon at 2PM and it was looking good. Most of the fire that is still burning is burning in the interior of the footprint. Stay tuned for information on repopulation in areas that were evacuated due to the threat of the Meyers Fire.
Walbridge:Walbridge is still the priority fire in the LNU Lightning Complex for the entire Sonoma Lake Napa CAL FIRE unit. There was limited growth overnight, and the fire has behaved as expected. It continues to push towards the Dry Creek Valley and Westside Road areas. It is continuing to back down towards the communities of Rio Nido and Guerneville. CAL FIRE's top concerns right now are the thunderstorms that are forecast to come in this evening. The red flag warning has continued to grow across the state — from Monterey to Oregon border, over to Tahoe. The Red Flag Warning runs from 5am this morning to 5pm tomorrow night. CAL FIRE's meteorologists are anticipating that the most likely chance for significant lightning will become between 6 and 11 o'clock tonight, and possibly continue throughout the night. CAL FIRE has bolstered resources along the fire lines, and has resources pre-identified to launch to new starts outside that main fire body area. As a reminder, 96% of CAL FIRE's resources are committed to these active fires — all stops are being pulled out across the state. Out-of-state mutual aid continues to roll in: resources from Oregon and Washington came into the incident base camp this morning. With respect to weather, even if the storm front doesn't produce lightning, we have the risk of down drafts coming from the system. They could reach 30-40mph, which is less than the cells from the initial storm. However, the air moving down pushes the fire in a 360 degree direction around the base of that wind, and it can create an extreme fire condition that facilitates rapid growth or spread of the fire. Containment is challenging on both the southern end of the fire in Guerneville and Rio Nido as well as the Dry Creek area due to the heavy vegetation component, as well as the number of structures. CAL FIRE isunable to use the bulldozers the way they'd like to because of the topography. They're constructing dozer lines and as they begin to receive hand crews at the fires, those hand crews are getting deployed as well, but they're still few and far between. Where they can make breaks, they're making those breaks, and they're trying to connect the dots between those breaks with engines and air drops to hold those fires above the Dry Creek Valley and the communities of Rio Nido and Guerneville. Guerneville is not as much of a concern for Chief Nicholls right now as Rio Nido, which is closer to the fire. But the good news is that the fire is a backing fire and has not made any significant runs in those areas for some time. Smoky air is actually a good sign with respect to fire behavior — it's a result of atmospheric conditions that essentially keep a lid on the fire, so it is burning at a lower intensity. Unfortunately, the conditions have grounded air attacks from the entire area. Even Ukiah is smoked in. When asked why Forestville and Dry Creek areas are allowed to repopulate, Chief Nicholls noted that those orders were put out with an abundance of caution in case fire conditions drastically increased. We didn't see those fire conditions increase as expected, which allowed CAL FIRE to reduce those to an advisory. But just because you're back home, doesn't mean you'll stay there. Please maintain situational awareness.
CAL FIRE/ Resúmen de la Actualización del Condado Agosto 23, 2020 @4:30PM – Resúmen de los comentarios del Jefe Nicholls, compilados por Lynda Hopkins
MEYERS: Es posible que el incendio Meyers sea contenido al 100% para mañana. El Jefe Nicholls pudo volar esta tarde a las 2PM y se ve bien. La mayor parte del incendio que todavía esta ardiendo es en el interior de la huella del incendio. Permanezca sintonizado para más información sobre el regreso a casa en las áreas evacuadas debido a la amenaza del incendio Meyers.
WALBRIDGE: El incendio Walbridge es todavía el incendio prioritario en el complejo LNU Lightning para toda la unidad Sonom Lake Napa CAL FIRE. Hubo crecimiento limitado por la noche y el incendio se ha comportado como se esperaba. Continúa avanzando hacía el Dry Creek Valley y el área de Westside Road. Continúa bajando hacia las comunidades de Rio Nido y Guerneville. Las principales preocupaciones de CAL FIRE al momento son las tormentas eléctricas que se pronostican para esta noche. La alerta de bandera roja continúa creciendo en el estado – desde Monterey hasta la frontera con Oregon, y sobre Tahoe. La alerta de bandera roja durara desde las 5AM esta mañana hasta las 5PM de mañana. Los meteorólogos de CAL FIRE anticipan que los la probabilidad relámpagos más significativos sean durante las 6 y las 11 de esta noche, y posiblemente continúen durarnte la noche. CAL FIRE ha reforzado los recursos a lo largo de las líneas del incendio, y tiene preidentificado recursos que puedan enviarse a nuevos incendios fuera del área del incendio principal. Como recordatorio, 96% de los recursos de CAL FIRE están comprometidos para las actividades de estos incendios – se están usando recursos de todo el estado. La ayuda mutúa de fuera del esta continua llegando: recursos de Oregon y Wasington llegaron al campamento base del incidente esta mañana. Con respecto al pronóstico del tiempo, aún si el frente de la tormenta no produce relámpagos, hay riesgo de ráfagas que bajan desde el sistema. Estas ráfagas pueden alcanzad 30-40MPH, lo cual es menos quee las celdas iniciales de la tormenta. Sin embargo, el aire que baja, dispersa el fuego en todas direcciones (360 grados) en la base del viento, y puede crear condiciones de fuego extremas que facilitan el crecimiento o dispersión del incendio. La contención del incendio es difícil en ambos límites del incendio, al sur en Guerneville y Rio Nido y en el área de Dry Creek debido a la componente de vegetación densa, así como el número de estructuras. CAL FIRE no puede usar excavadores de la forma que quisiera debido a la topografía. Están construyendo líneas de entrada y en cuanto reciben personal de mano, son enviados al incendio, aún así son pocos y poco frecuentes. Donde se puede, están rompiento el área del incendio, y están tratando de conectar las zonas de rompimiento con motores y descargas desde el aire para prevenir que el incendio llegue a las zonas de Dry Creek Valley y las comunidades de Rio Nido y Guerneville. Guerneville no es de tanta preocupación para el Jefe Nicholls al momento como lo es Rio Nido, el cual está más cerca del incendio. Las buenas noticias son que el incendio no está avanzando significativamente hacia ninguna de esas área por el momento. Aire con humo es de hecho una buena señal con respect al comportamiento del incendio – es el resultado de condiciones atmosféricas que esencialmente mantienen una tapa en el incendio, de manera que arde a una intensidad menor. Desafortunadamente, las condiciones han detenido los esfuerzos aéreos en toda el área. Las condiciones de humo llegan hasta Ukiah.
Translation by Marisol Garcia Reyes
8/23/20:Yard Signs!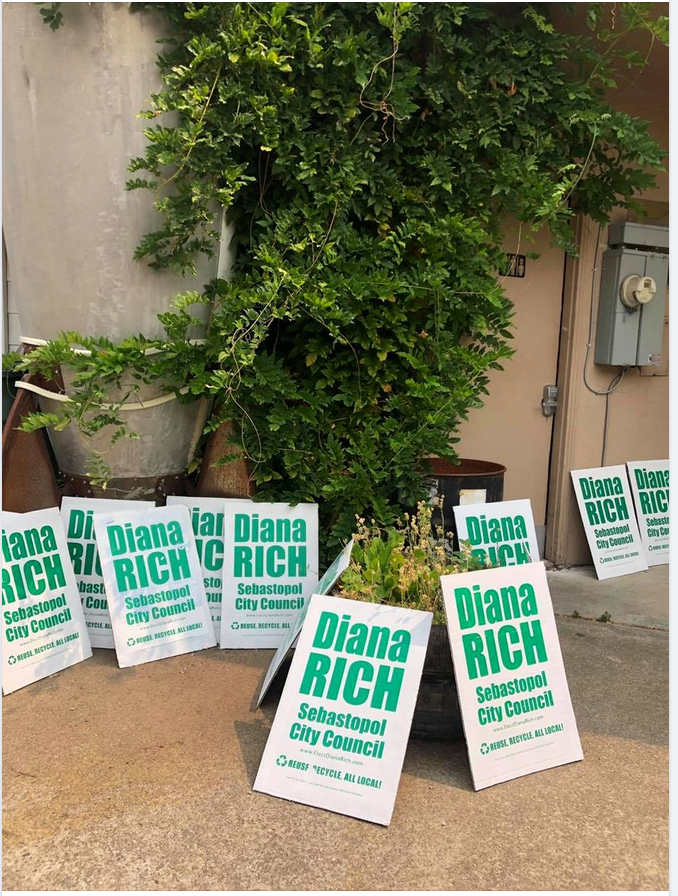 8/23/20: Yard signs! Silk screening is fabulous!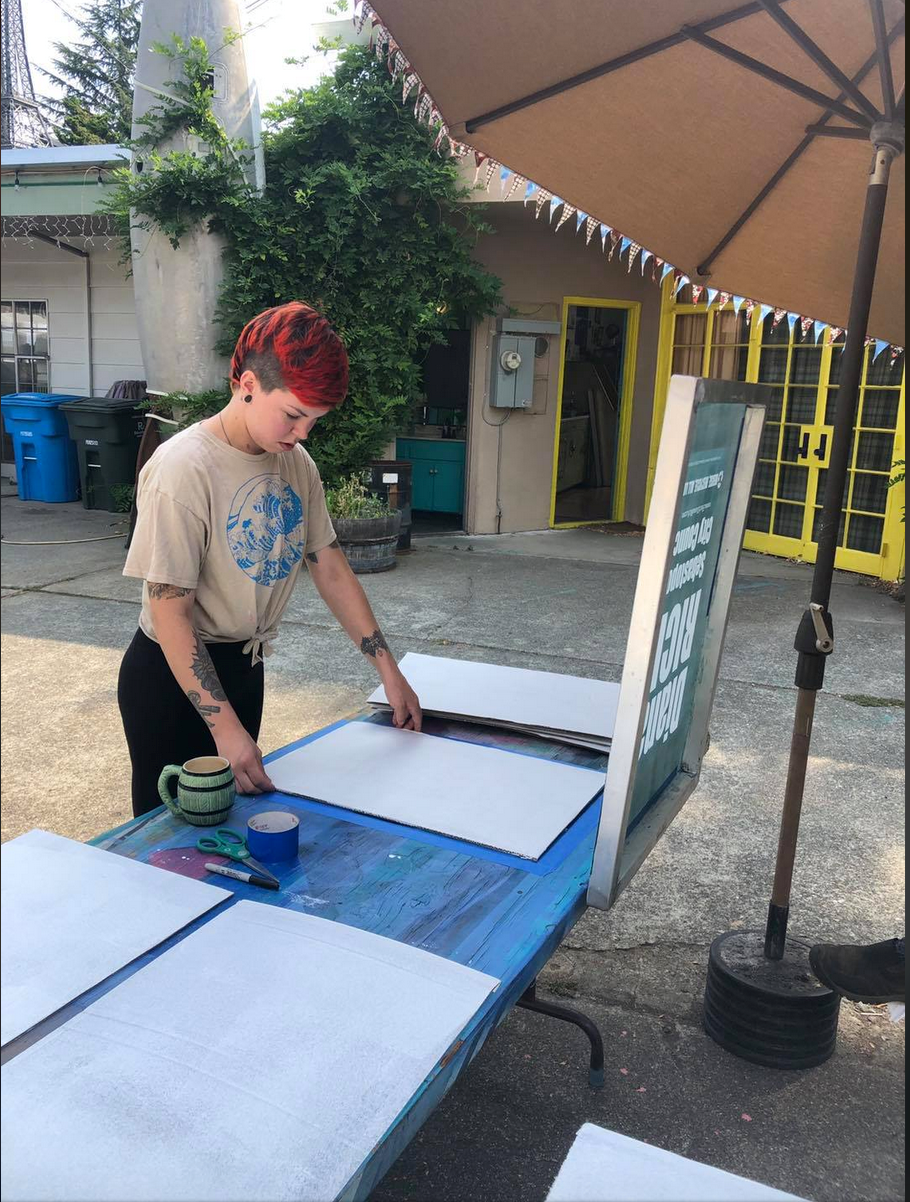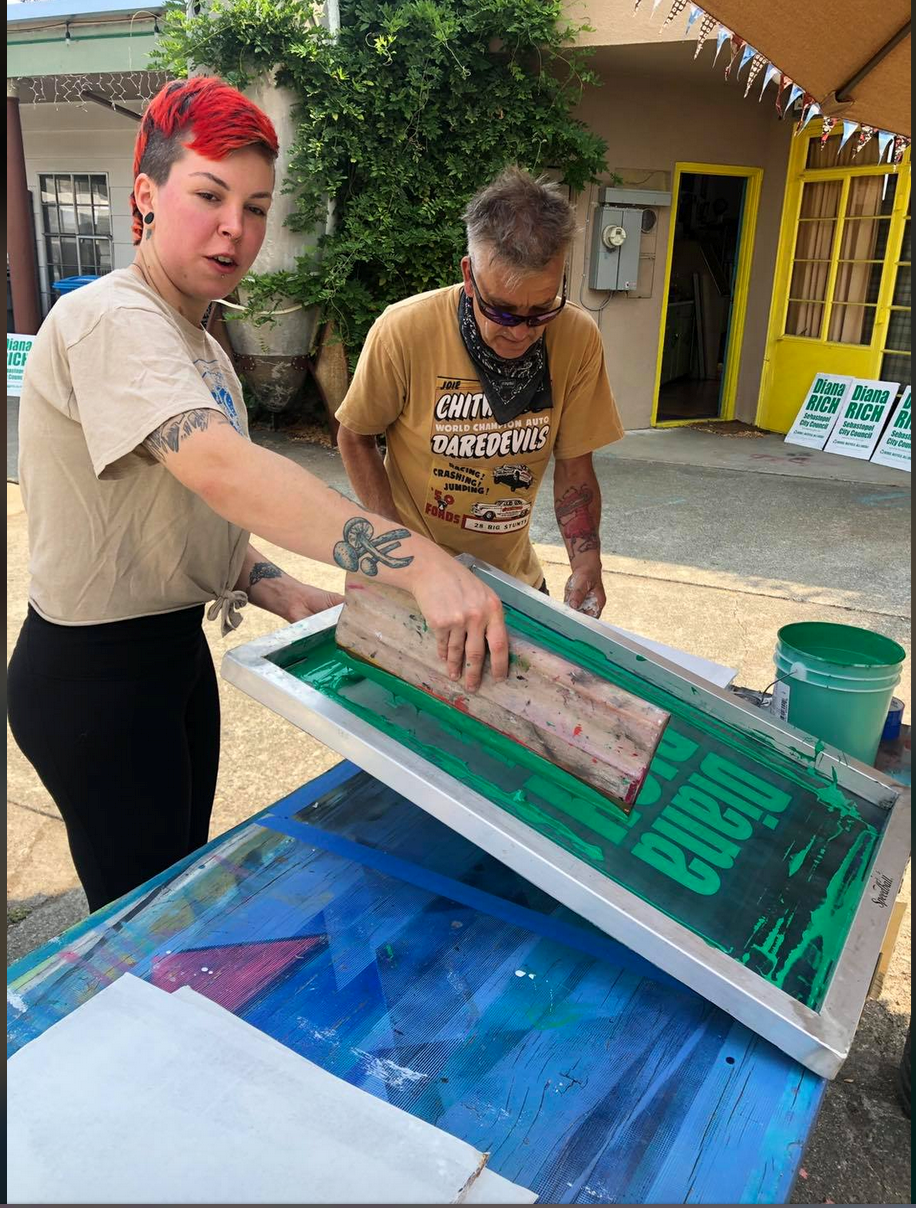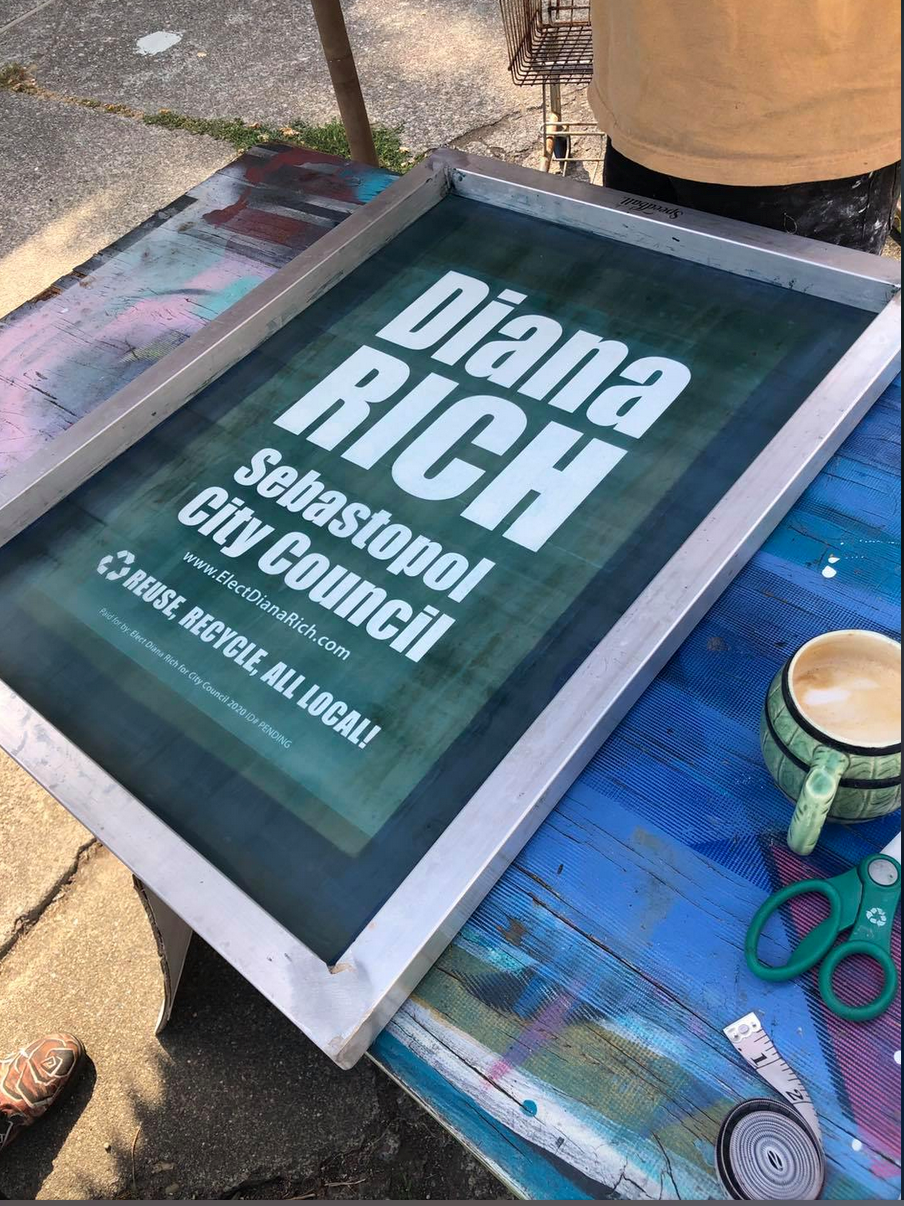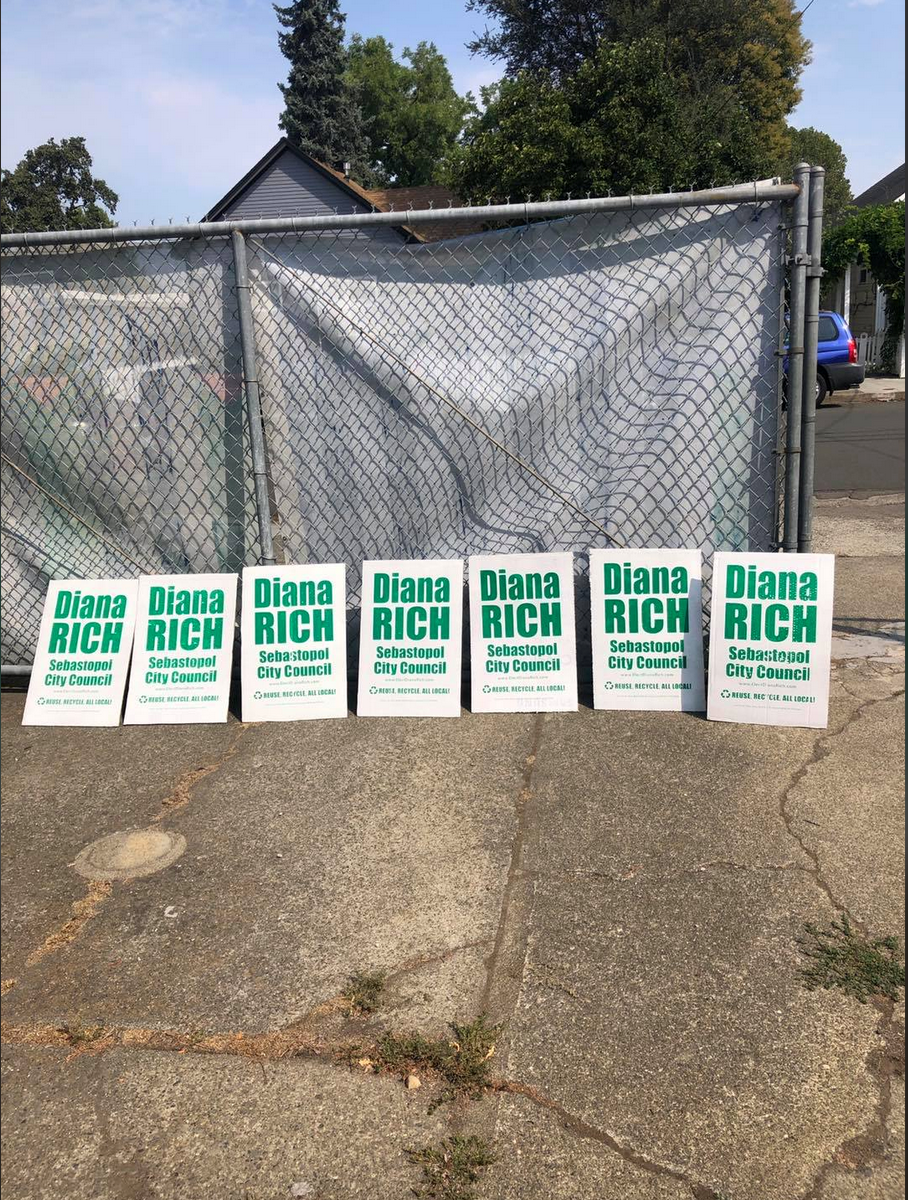 8/23/20: Reassuring map shows very little fire growth overnight - yellow is old, red is the overnight addition. Nice to have the source behind the statement that the fire was quiet overnight...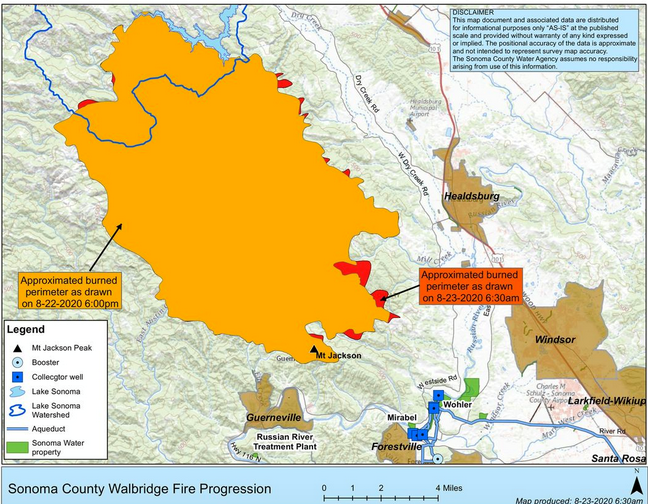 8/22/20: Local Talent: AJ Lee & Blue Summit. Jesse Fichman is Sebastopol home-grown.
8/22/20: Fire Update from Cloverdale Fire Chief.

8/22/20: From Chris Rogers, update on the Walbridge Fire: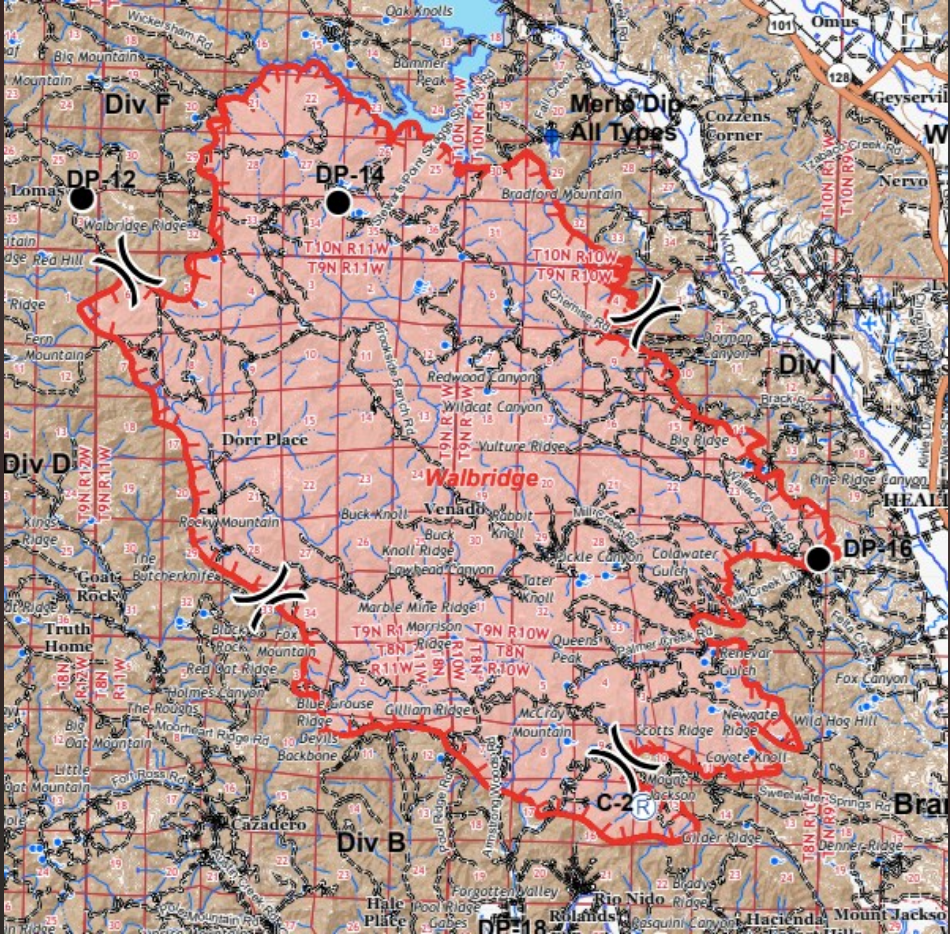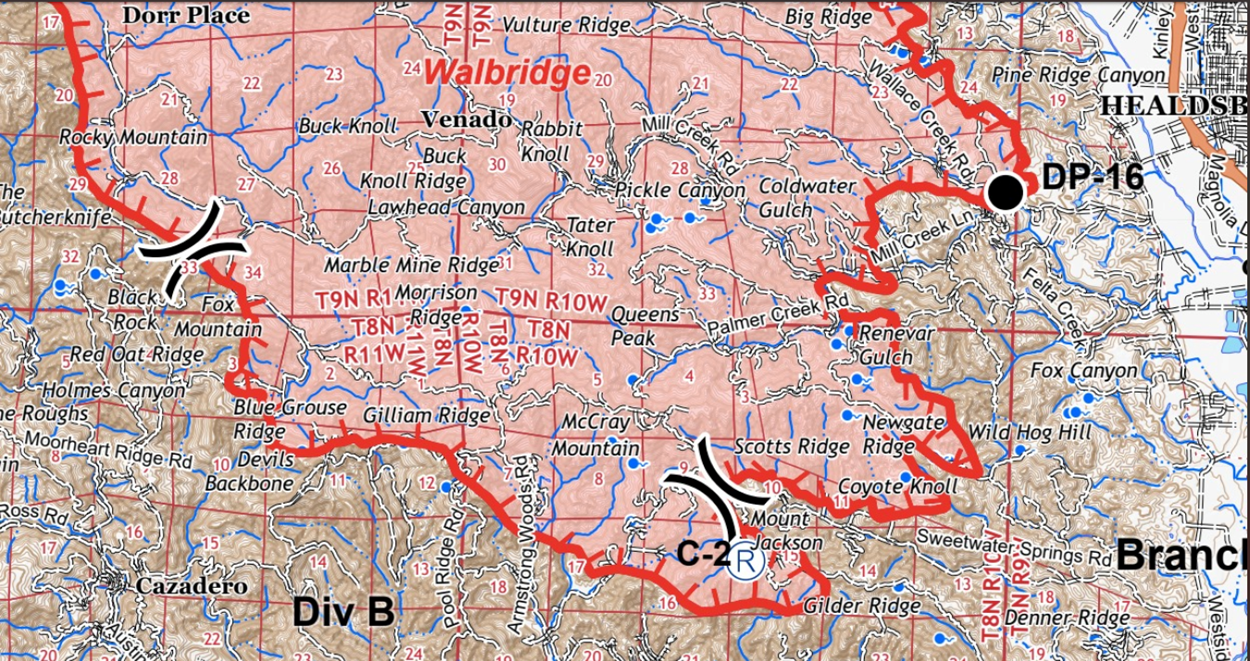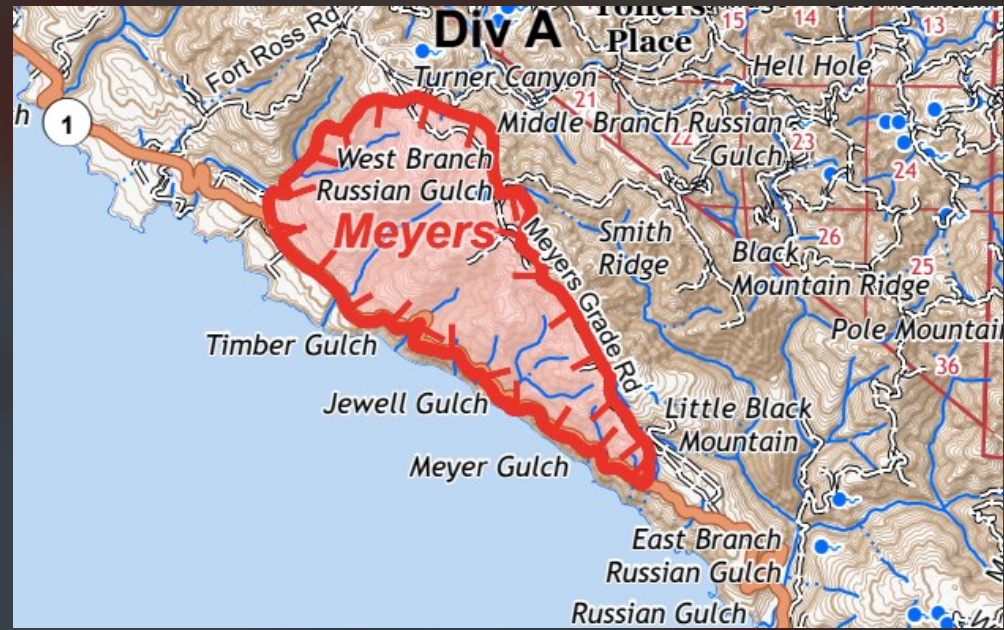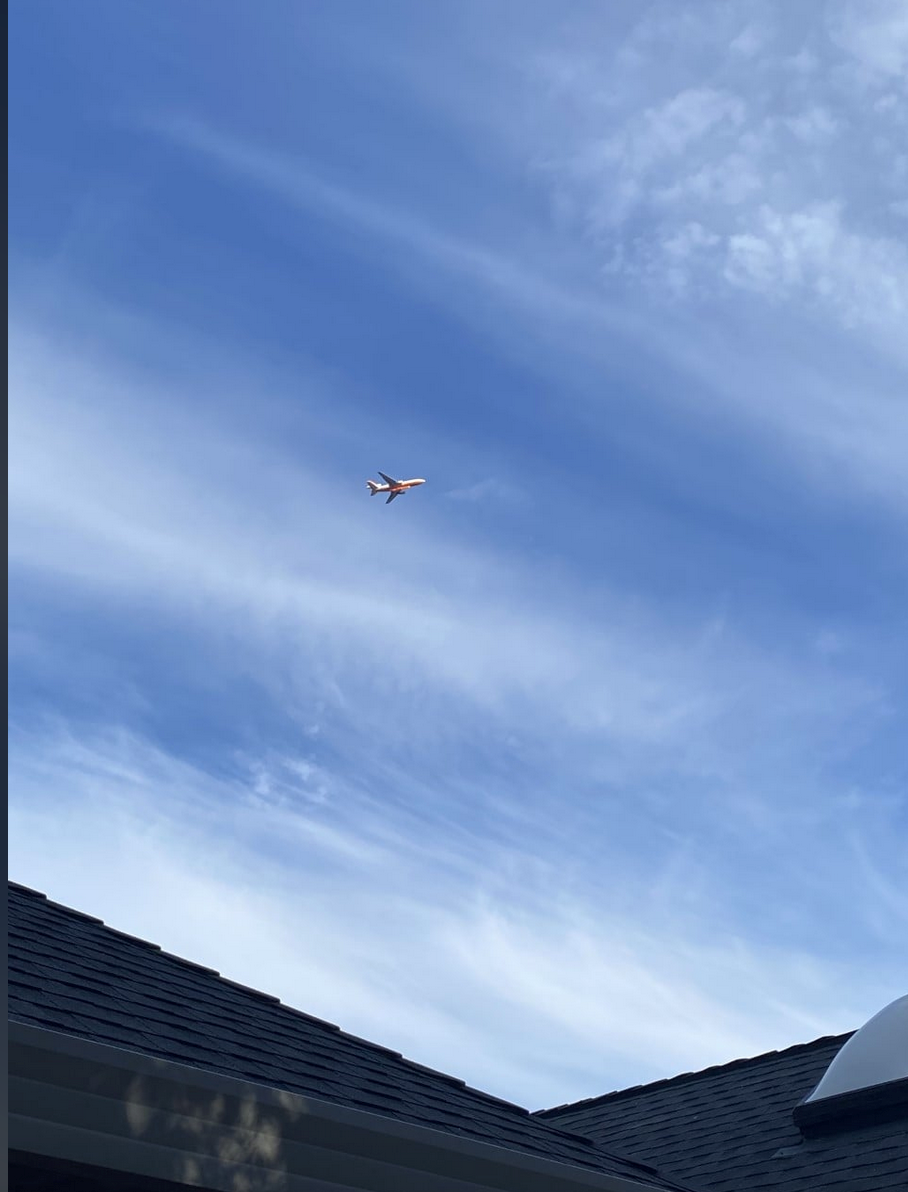 The Walbridge fire is sitting at 51,069 acres, with 0% containment. The Meyers fire is at 2,345 acres, also with 0% containment. The LNU lightning complex fires have destroyed at least 845 structures, damaged another 231, and taken four lives.There are currently 233 engines, 33 water tenders, 11 helicopters, 15 hand crews, 37 dozers, and 1,704 personnel on the lines. After being grounded for a bit this afternoon due to smoke/visibility, air attack resumed on the fire and they hit it hard, including with the VLAT (Very Large Air Tanker) 747. I think that's what I snapped a picture of below. As of this writing, it sounds like the fire is still a ways away from Rio Nido and also Healdsburg. Finally, today President Trump declared a federal disaster, which will allow seven counties (including Sonoma County) to access public assistance and individual assistance from FEMA. It allows the state to access additional resources as well. According to the Governor, CalFire has responded to 56,000 fires since January, and currently 96% of their entire engine fleet is fighting fires. Saw an interesting stat today that I had never heard - CalFire's air bases are located in a way where they can reach any fire in the state within 20 minutes. EDIT: People keep asking me where to find the full map. It's a huge file, but you can find it here:
https://tinyurl.com/y375kdt3
El incendio de Walbridge tiene una superficie de 51,069 acres, con 0% de contención. El incendio de Meyers está en 2,345 acres, también con 0% de contención. Los incendios del complejo de rayos de LNU destruyeron al menos 845 estructuras, dañaron otras 231 y se cobraron cuatro vidas. Actualmente hay 233 motores, 33 botes de agua, 11 helicópteros, 15 equipos de mano, 37 topadoras y 1,704 personal en las líneas. Después de estar un poco en tierra esta tarde debido al humo / visibilidad, el ataque aéreo se reanudó y lo golpearon con fuerza, incluso con el VLAT (Very Large Air Tanker) 747. Creo que eso es lo que saqué una foto de abajo. Al momento de escribir estas líneas, parece que el fuego aún está muy lejos de Rio Nido y también de Healdsburg. Finalmente, hoy el presidente Trump declaró un desastre federal, lo que permitirá a siete condados (incluido el condado de Sonoma) acceder a asistencia pública y asistencia individual de FEMA. También permite al estado acceder a recursos adicionales. Según el gobernador, CalFire ha respondido a 56.000 incendios desde enero y actualmente el 96% de toda su flota de motores está combatiendo incendios. Hoy vi una estadística interesante que nunca había escuchado: las bases aéreas de CalFire están ubicadas de manera que puedan alcanzar cualquier incendio en el estado en 20 minutos.
8/22/20: Beautiful evening sky. The wind blew all the smoke north east. Not great for Healdsburg, but it really is wonderful to breath clean air for a bit.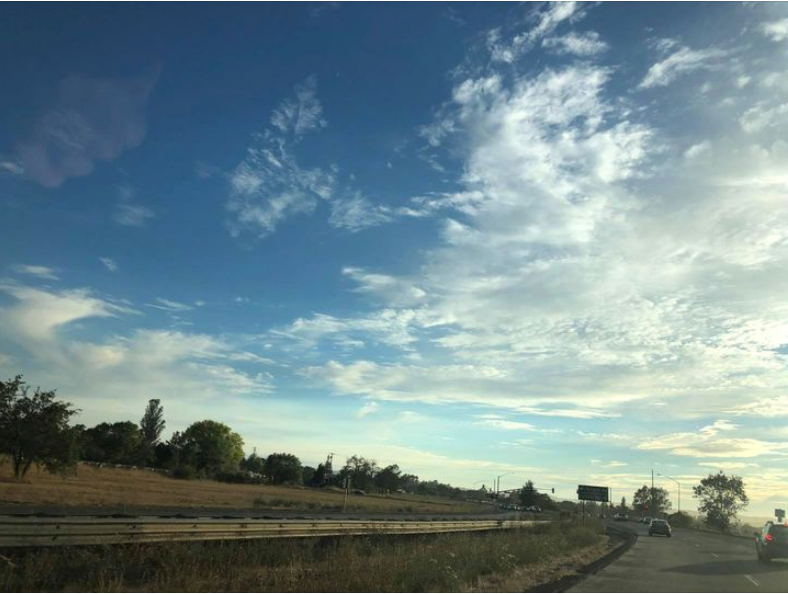 8/22/20: Yard sign update: 100 pieces cut! Hot smoky work!! Thank you to Wayne Stanfield and my dedicated husband Daniel Rich for all the amazing g help! Next? Painting both sides white in prep for screen printing. Stay tuned! (Work is an excellent antidote to free floating are-we-going-to-be-evacuated worry.)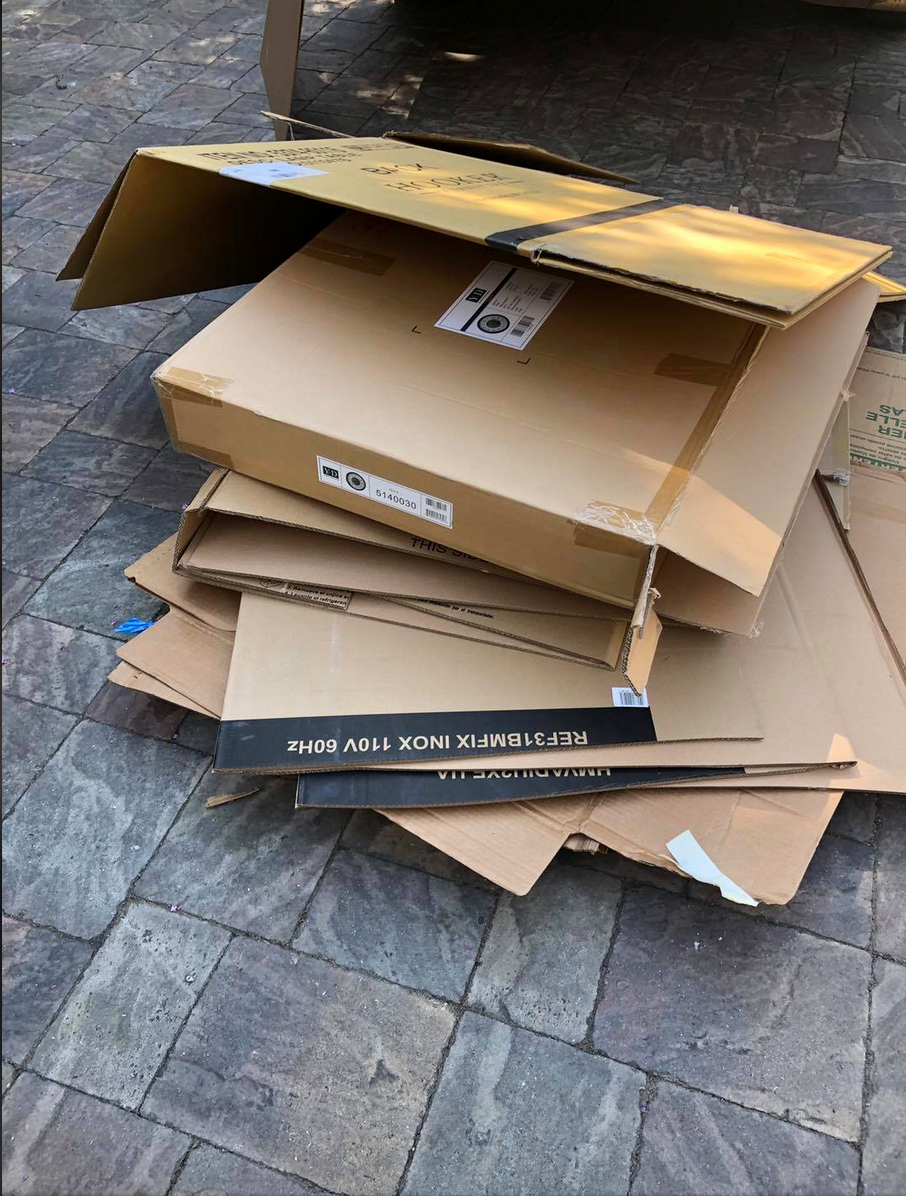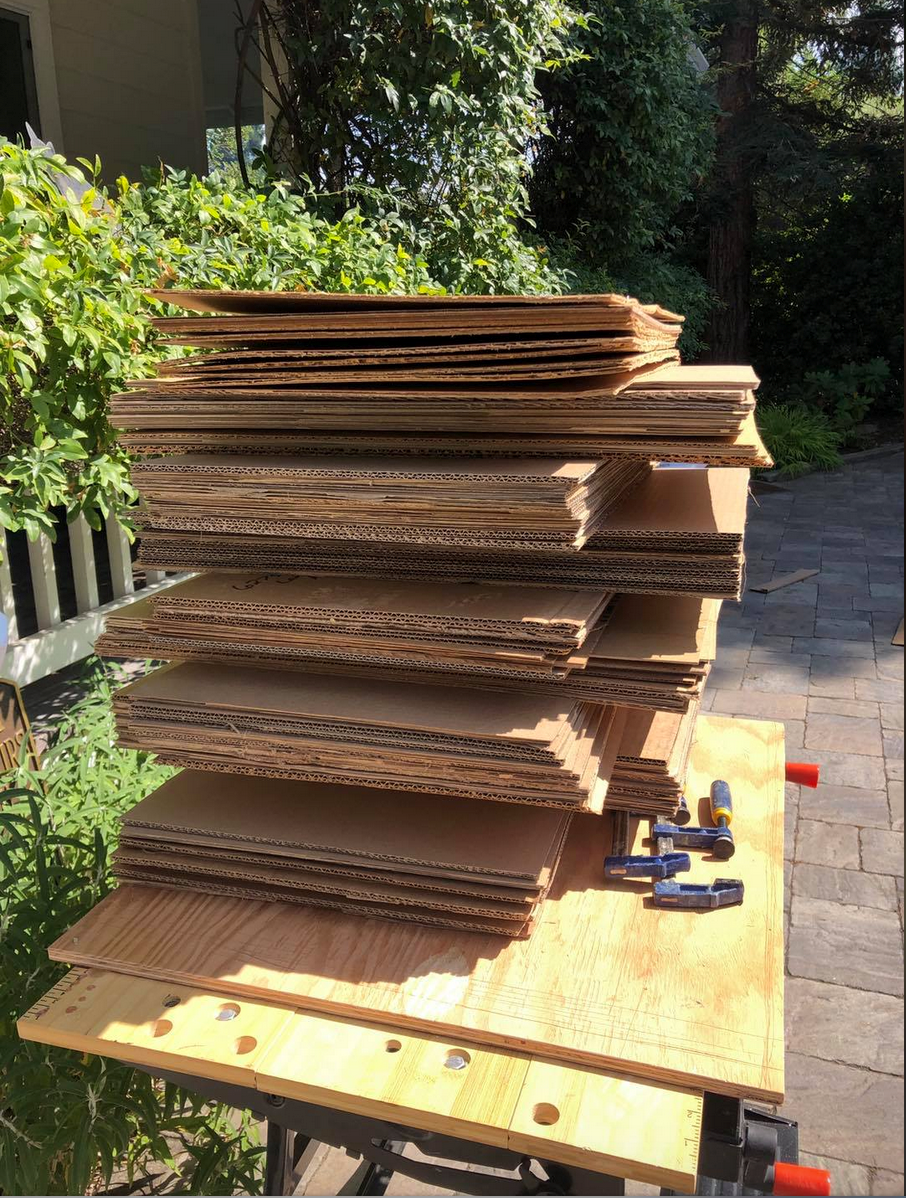 8/22/20: While you were sleeping... From the Sonoma County Sheriff's Facebook Page. Raw video footage from a nightime rescue by Henry 1 of two firefighters who became trapped by a fire and could not escape the advancing fire.
8/22/20: Forestville evacuating. Warnings extended south to just short of Graton. Air quality bad. Sebastopol still solidly OK.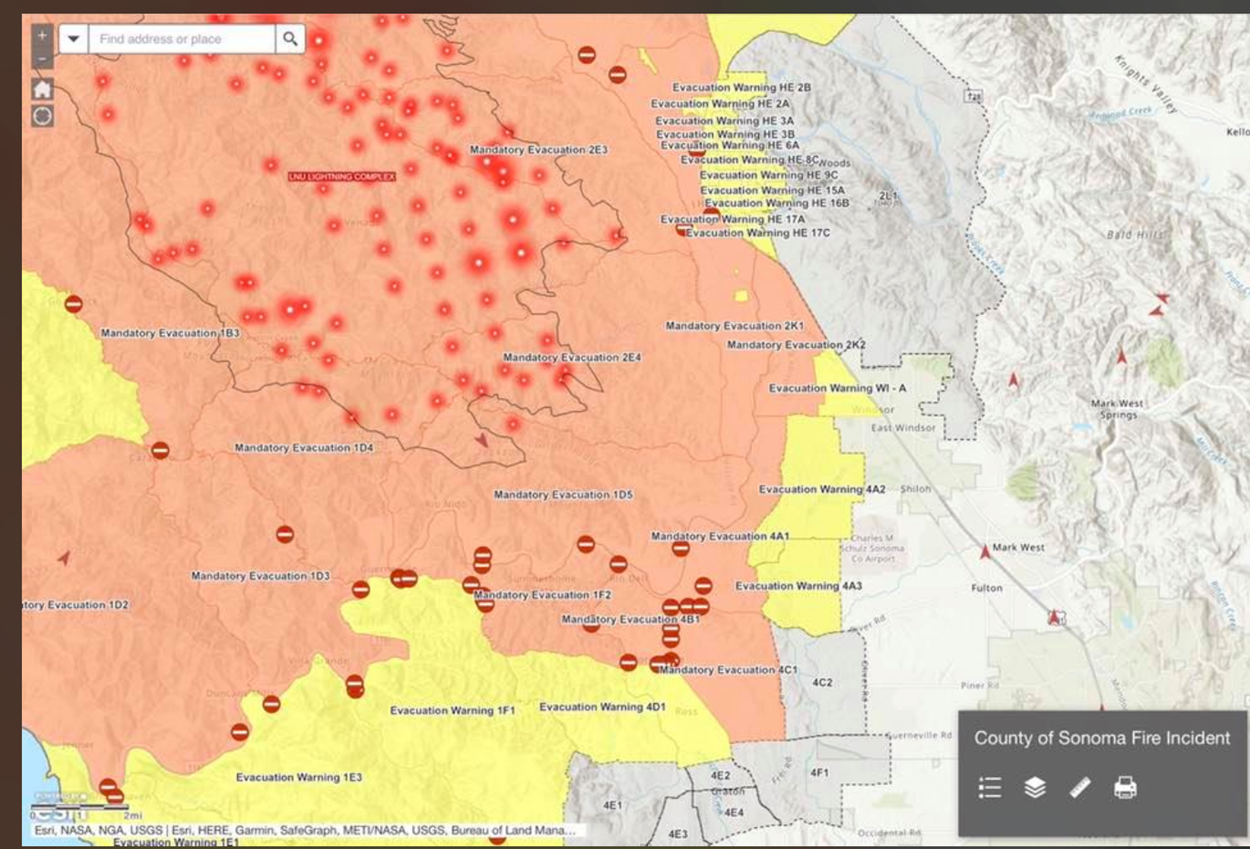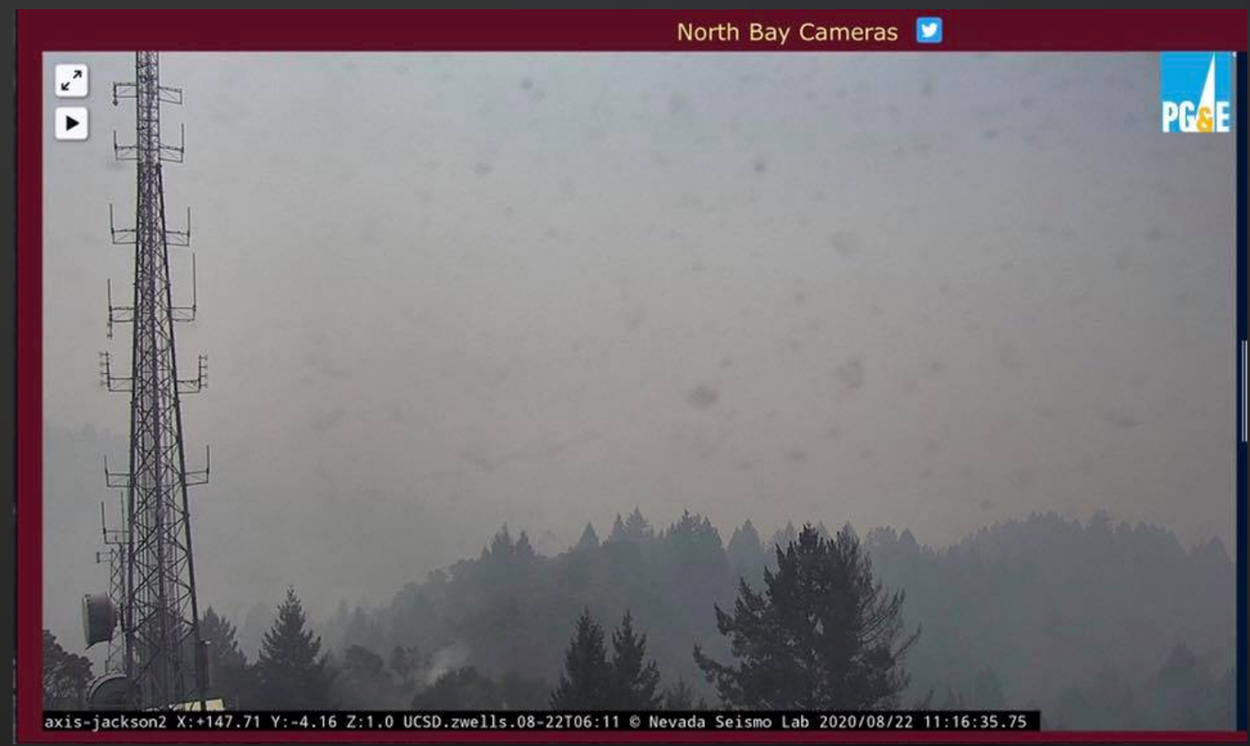 8/22/20: More Work on Campaign Signs!

8/22/20: Love this video. So much compassion and caring - just what we need in leadership to bring us all together. It was taken a few months ago, when 13 year old Brayden Harrington (who spoke at the Democratic National Convention this past week) first met Joe Biden. This brought tears to my eyes. So sweet and genuine. From Joe Biden: "I remember when I first met Brayden on a rope line in New Hampshire. I knew he was an extraordinary kid. Little did either of us know he'd be a convention speaker a few months later. Proud as ever of this brilliant young man."
8/22/20: Gotta love Supervisor Lynda Hopkins. This is courtesy of her, last night at 11pm, clearly tired but hanging in there for all of us in West County. And yes, I agree with her: a bit of gallows humor can definitely help!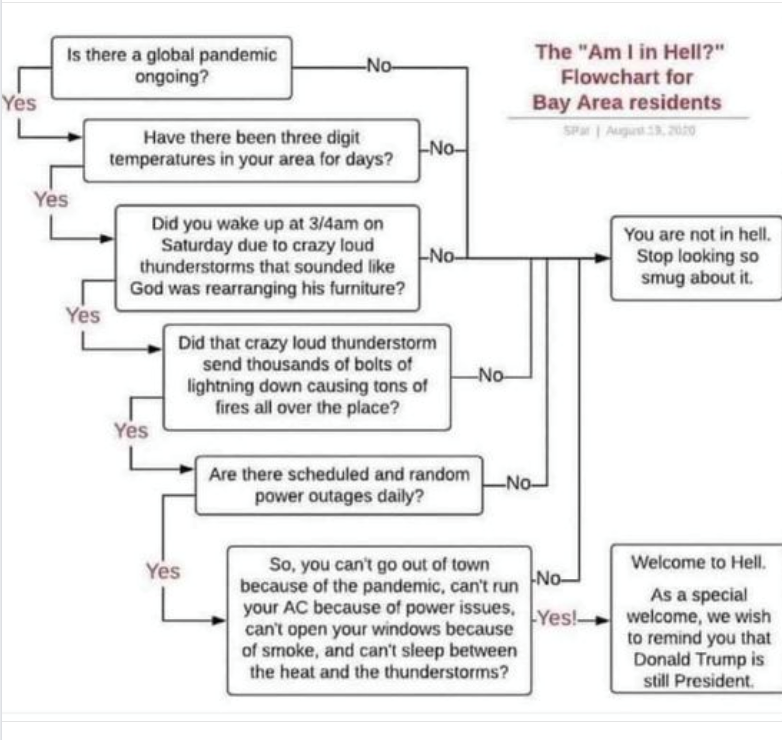 8/22/20: Meyers & Walbridge Fire Update from Lynda Hopkins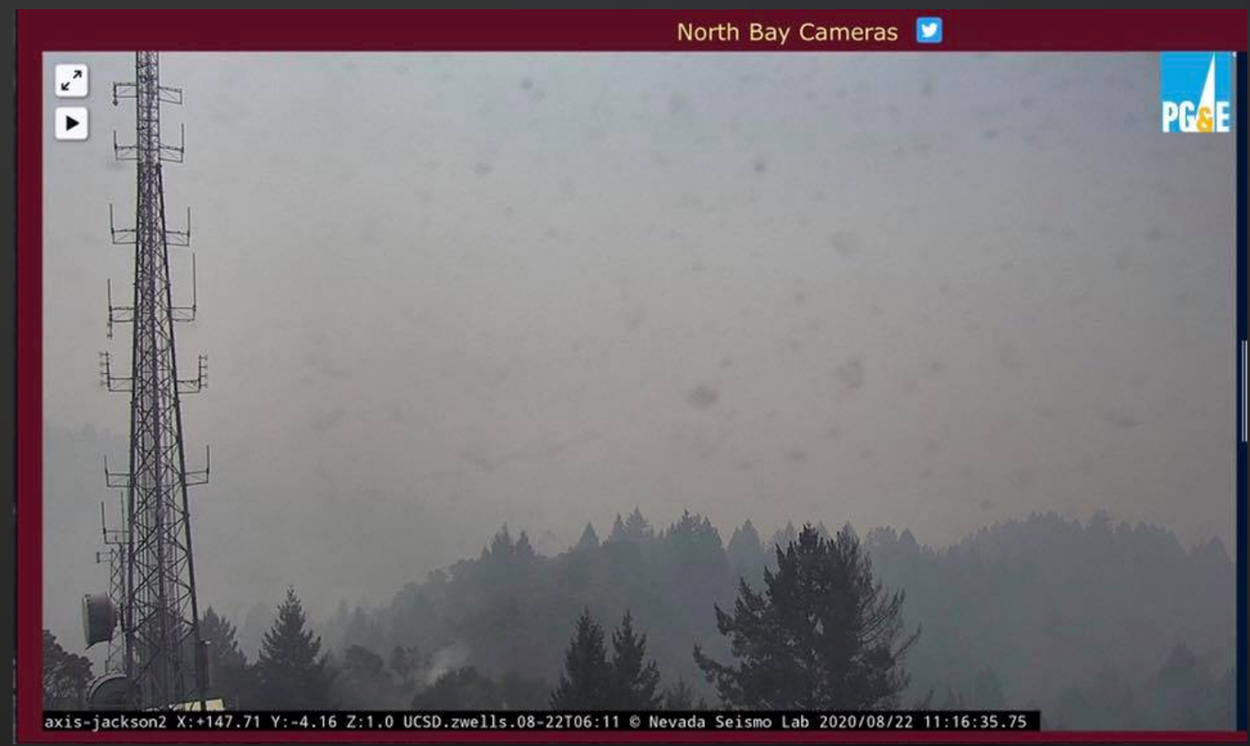 EOC Morning Briefing Update — 8.22.2020 @8:30AM — En Español Abajo — ***** 9:30AM update — confirmed that winds have already shifted. We are now looking at a southeastern wind (AKA, pushing towards the northwest), raising concerns about areas of Lake Sonoma. Cloverdale residents, just be aware. This will take pressure off of the river communities but poses danger along the eastern edge of the fire.
***** SITUATIONAL UPDATE according to Emergency Management Director Chris Godley:
Meyers:Meyers is downgraded to 2,400 acres, in terms of more accurate perimeter. They're feeling pretty good about that one. It's staying south of Fort Ross Road. Walbridge:The fire behaved itself last night. The marine layer came in, the high humidity effectively allowed a lie-down of the fire, especially around the periphery. Fire advance was relatively limited. The fire of course is 0% contained, so it's making moves in all directions, albeit slowly. We do expect to start to see some containment lines coming up as the firefighters find some cold edges and feel that the fire won't make any advances in that area. Might see containment numbers this evening.
Fire is continuing to progress very slowly and at a low level through Armstrong, up and around Mt. Jackson. There were some flare ups last night around Mt Jackson but they maintained the security of the communications site.We expect the fire to try to push southerly, southeasterly, down near and around Korbel. Another focus today is Sweetwater Springs canyon, which is the most currently aligned with wind direction.
It's NOT in the canyon of Rio Nido, it's up above, on the hillside, close to where the slide was back in the 90s. But not into the canyon yet. That is not now the leading edge of the fire. It's kind of sliding over southerly towards river. It may literally, if we are lucky, just skip the top of Rio Nido. The fire continues to burn at a lower intensity, and Armstrong Woods should fare better in this fire than Santa Cruz did.
On far eastern side, fire made progress around Wallace Creek drainage, the one that's most proximate to Healdsburg. At this point it's looking pretty good because yesterday they were able to pound it from the air. That made a really significant dent, especially on the Eastern flank due to topography and the type of vegetation that's burning. Aircraft are not quite as effective in heavily timbered areas, which is the challenge around the Lower Russian River.With respect to weather, the marine layer will burn off, fire will get hotter and more active later this afternoon. Lower winds and higher elevation winds may be running at cross purposes... with lower winds pushing the fire to the east and southeast, and higher winds pushing north.
The National Weather Service just updated the fire weather watch. It will now start at 5am Sunday, 8/23. There is potential for dry lightning. Heavy gusty winds will exacerbate our fire conditions.
Fire resources continue to come in — substantial arrivals from other parts of the state. We expect another big shipment today. Local fire agencies had placed into rotation their crews so they could rest. But the fire is so erratic that they canceled that last night, and they've now asked the fire agencies to keep these engines out on the line. Some have been on the line quite literally for 4 days.With a two day dry lightning threat, they want to make sure we're ready. It's important to know that dry lightning and winds tend to ground aircraft. That's why we want to have as much on the ground as possible. CAL FIRE Damage inspection teams will be on the ground today assessing structure damage and loss, and will be plotting that via GIS. Permit Sonoma staff will accompany them. It will take a couple days for them to generate specific information to share publicly. Focus is above Mill Creek, that's where the largest number of damaged and lost structures are.
*Gracias a Belle Sweeney* Actualización del informe matutino de EOC - 8.22.2020 @ 8:30 AM
ACTUALIZACIÓN SITUACIONAL según el Director de Manejo de Emergencias Chris Godley: Incendio Meyers: Meyers se rebajó a 2,400 acres, en términos de perímetro más preciso. Se sienten bastante bien con eso. El incendio se queda al sur de Fort Ross Road. Incendio Walbridge:El fuego se portó bien anoche. La capa marina entró y la alta humedad permitió efectivamente que el fuego se acostara, especialmente alrededor de la periferia. El avance del fuego anoche fue relativamente limitado. El incendio, por supuesto, está contenido en un 0%, por lo que se mueve en todas direcciones, aunque lentamente. Esperamos comenzar a ver algunas líneas de contención a medida de que los bomberos encuentren algunos bordes fríos y que sientan que el fuego no hará ningún avance en esa área. Podría ver números de contención esta noche.El incendio continúa avanzando muy lentamente y a un nivel bajo a través de Armstrong Woods, hacia arriba y alrededor del Mt. Jackson. Anoche hubo algunos brotes alrededor de Mt Jackson, pero mantuvieron la seguridad del sitio de comunicaciones.Esperamos que el fuego intente empujar hacia el sur, hacia el sureste, cerca y alrededor de Korbel. Otro enfoque hoy es el Cañón de Sweetwater Springs, que es el más alineado actualmente con la dirección del viento.En el perímetro este, el incendio avanzó alrededor del drenaje de Wallace Creek, el más cercano al pueblo de Healdsburg. En este momento se ve bastante bien porque ayer pudieron machacarlo con aire. Eso hizo una mella realmente significativa, especialmente en el flanco oriental debido a la topografía y al tipo de vegetación que se está quemando. Las aeronaves no son tan efectivas en áreas con mucho entramado de madera, que es el desafío alrededor del Río Ruso (Russian River).Con respecto al clima, la capa marina se quemará, el fuego se volverá más caliente y más activo esta tarde. Los vientos en las elevaciones más bajas y más altas pueden correr con propósitos cruzados con vientos más bajos empujando el fuego hacia al este y al sureste, y con vientos más altos empujando hacia el norte.El Servicio Meteorológico Nacional acaba de actualizar la alerta meteorológica contra incendios. Ahora comenzará a las 5am del domingo 23 de agosto. Existe la posibilidad de que se produzcan rayos secos. Los fuertes vientos racheados exacerbaran nuestras condiciones de incendio.
Los recursos de incendios continúan llegando, llegadas sustanciales desde otras partes del estado. Esperamos otro gran envío de bomberos hoy. Las agencias de bomberos locales habían puesto en rotación a sus equipos para que pudieran descansar. Pero el fuego es tan errático que cancelaron de descanso anoche, y ahora le han pedido a las agencias de bomberos que mantengan estos motores en las líneas de contrafuego. Algunos han estado en la línea literalmente durante los últimos 4 días.Con la amenaza de rayos secos anticipados en dos días, quieren asegurarse de que estemos listos. Es importante saber que los rayos y los vientos secos tienden a aterrizar los aviones. Es por eso que queremos tener tantos recursos como sea posible sobre el terreno.
El incendio no ha llegado al Cañón del Río Nido, pero si se presenta arriba, en la ladera, cerca de donde estaba la avalancha de lodo en los años 90. Pero no está en el Cañón todavía. Esta zona por el momento no es el borde progresiva del fuego. Esta como deslizándose hacia el sur = hacia el río. Puede ser que, literalmente, se salte la cima del Río Nido. El fuego continúa ardiendo a una intensidad muy baja, y Armstrong Woods saldrá mejor en este incendio que en Santa Cruz. Los Equipos de Inspección de Daños de CAL FIRE estarán hoy en el terreno para evaluar el daño y la pérdida de estructuras, y lo trazarán a través de GIS. El personal de la oficina de permisos del Condado de Sonoma los acompañará. Les llevará un par de días para generar información específicamente para compartir públicamente. Ahora, el enfoque está por encima de Mill Creek, que es donde se encuentra la mayor cantidad de estructuras dañadas y pérdidas. Vía Lynda Hopkins.Translation by Jacqueline Ocana
8/22/20: Really? Thunderstorms and dry lightning Sunday through Tuesday? Are you kidding me??!!
8/21/20: On a lighter note...
8/21/20:Dumpster Diving!
8/21/20: Driving toward Sebastopol from Santa Rosa.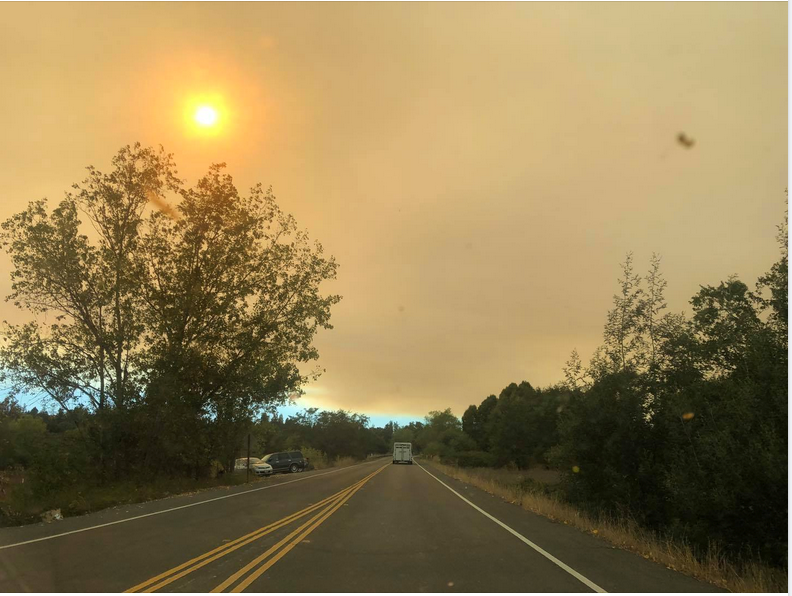 8/21/20: FYI. as of 11:08am, Forestville under mandatory evacuation, also the Lake Sonoma area.
8/21/20: Hello All. Warning zones for the Walbridge Fire have been extended south along 116 to (basically) Green Valley Road and Guerneville Road. Winds are going southeast now, and expected to push to the north tonight. Sad sad news for our neighbors to the North and East, but reassuring news (at least for now) for the Sebastopol area. If you know anyone in Forestville or Windsor or Healdsburg, reach out to them. They haven't had to evacuate yet, but that may be coming up for them. If you can offer any help or even a bit of a safety net, you'll help them feel just a little less anxious, and you'll feel happy to have helped someone else in a tough time. All good...
8/21/20: ...and a great way to track wind speed and direction...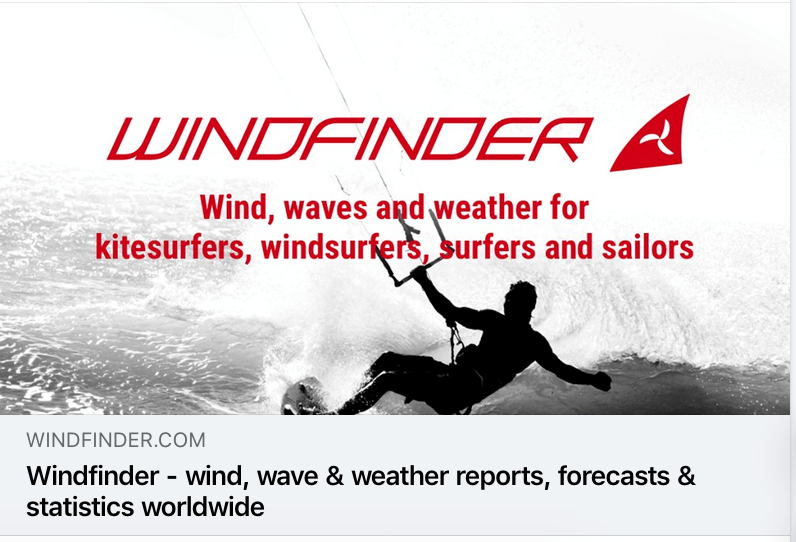 8/21/20: Super interesting heat map that shows updated fire activity.